It seems the Government's war on entitlements does not apply to wealthy tax shelters, with Prime Minister, Tony Abbott, last night ruling-out changes to negative gearing because he doesn't want to raise taxes. From The SMH:
Asked whether he would rule out changes to negative gearing, following an Australian Council of Social Service report that called for the tax break to be restricted, Mr Abbott said: "Yes".

"The thing that worries me about so many of the contributions to our national conversation is that in the end they're all about increasing taxes," he said.

While he was supportive of "closing loopholes and ending anomalies" to try and make the tax system fairer, this would not include major changes to the popular tax break used by millions of Australians.

"The government I lead wants taxes to be lower, simpler, fairer," Mr Abbott said.
Let's once again look at how the Hawke Government's 1987 Cabinet Submission on negative gearing (viewable via searching here) described the tax lurk [my emphasis]:
The negative gearing measure was introduced [in 1985] to partially close-off a generally recognised tax shelter, a rationale which remains broadly valid…

The three basic features of a typical tax shelter are the absence of a full nominal capital gains tax, the deductibility of full nominal interest expenses, and the mis-match in the timing of the deductions and the recognition of taxable income (for example, because capital tax is payable on a realisations rather than accrual basis).

Rental property investment clearly exhibits each of these features, as do some other activities, and so effectively obtains tax benefits under the current tax system.
So, it negative gearing was classified by the Hawke Government as a "tax shelter", which was made worse by the Howard Government's decision to halve the rate of capital gains tax (CGT) in 1999, which made negative gearing even more attractive and led to an explosion of its use, in turn draining the Budget of revenue (see next chart).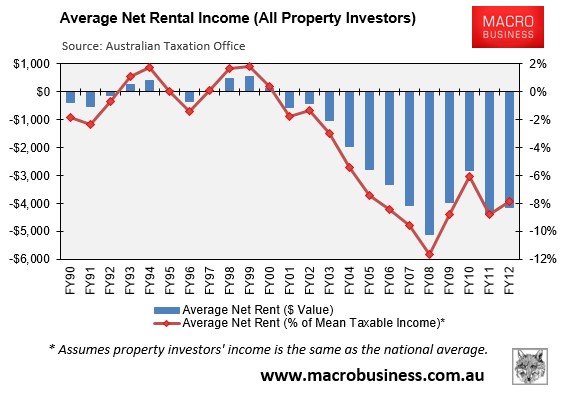 Yet, despite these facts, Prime Minister Abbott sees no justification to tighten the rules, despite facing a gaping revenue hole and a housing affordability crisis like no other.
Pathetic Mr Abbott. Absolutely pathetic.
Leith van Onselen is Chief Economist at the MB Fund and MB Super. Leith has previously worked at the Australian Treasury, Victorian Treasury and Goldman Sachs.
Latest posts by Unconventional Economist (see all)