Exclusively for MB paying members from Gerard Minack of Minack Advisors.
Australia enjoyed two booms over the past 20 years: the well-known once-in-a-century mining boom, as well as an unprecedented boom in banking, borrowing and buying houses.  The economy is now struggling with the end of the mining boom.  The bear case for Australia is that a mining bust bursts the banking boom.
Australia's 24 year expansion has run on the back of two booms, in mining and housing/banking.  Exhibit 1 shows the rising share of real GDP for both sectors.  This under-states the impact of their growth.  For mining, it misses the income boost from the sharp rising in the price of mining output, and also the rise in mining-related investment.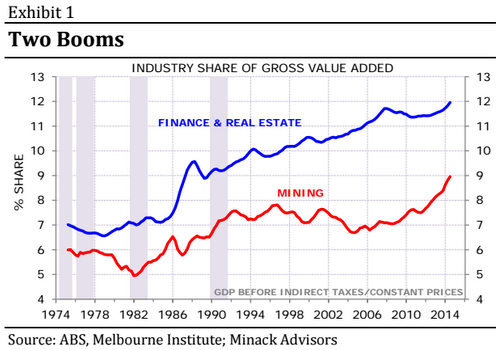 For finance and real estate, a focus on 'real' output misses the economic impact – and now, in my view, the economic risks – of the associated rise in leverage and house prices.  Rising finance sector profits have gone hand-in-hand with a significant rise in economy-wide leverage (Exhibit 2).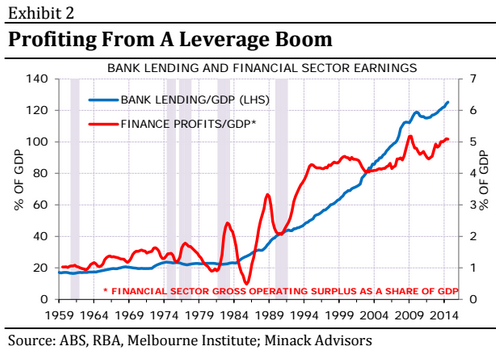 Through the 25 year boom banks morphed from handmaidens of industry into brides of the real estate sector: housing finance has risen from under 25% of credit outstanding to over 60% (Exhibit 3).  Housing finance for home building – as opposed to buying an established home – has fallen from near 35% of new commitments in the 1970s to 15% now (excluding refinancing of existing loans).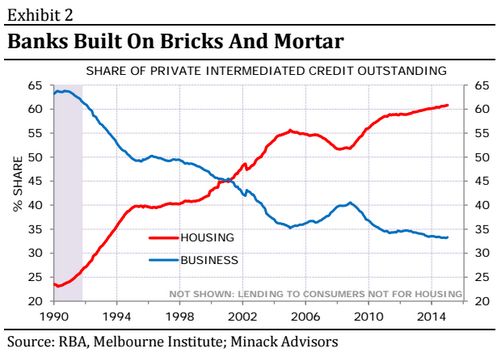 Regardless of whether this was good for the economy, it was clearly good for the banks.  For 25 years banks have been in a 'GDP-plus' growth boom: housing credit growth has persistently out-paced nominal GDP growth (Exhibit 4).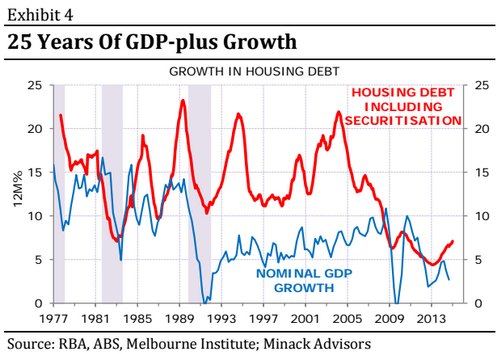 This was also good for investors.  Australian banks have persistently out-performed the broader Australian market and foreign banks.  Consequently, the Australian equity market is now dominated by banks (Exhibit 5).   The financial sector in aggregate now accounts for 47½% of the ASX200's market capitalisation.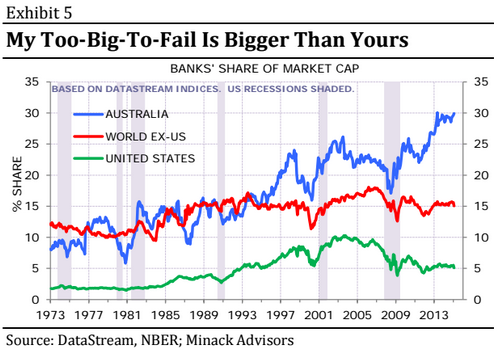 In my view the combination of high household debt, elevated house prices, and housing-focused banking is now a major economic vulnerability and, clearly, a risk to the Australian equity market.
There are well-rehearsed arguments about whether or not Australia has a housing bubble.  I think the major reason why Australian house prices are high has been the willingness and ability of Australians to leverage up to buy homes.  Nothing else, in my view, explains the breadth of the bubble.
As is well known, large cities tend to be more expensive than small cities.  Australia has expensive large cities by global standards.  But the truly jaw-dropping prices are for small- and mid-sized Australian cities.   Every city in the Anglo world with a population of less than 100,000 and house prices over five times median income is in Australia (Exhibit 6).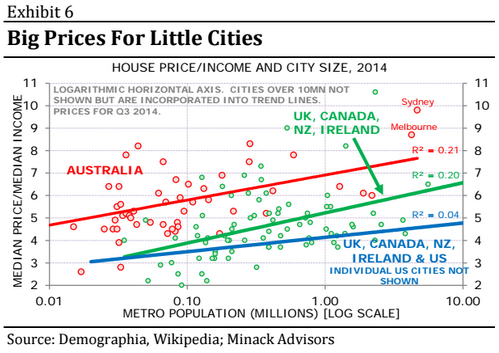 I think it is unlikely that the main reason house prices are high by global standards in, say, Sydney and Melbourne, is because of supply shortages, or foreign buying, or a coastal premium.  But it is totally implausible that those factors explain why Australia's small cities are so expensive.  Supply shortages in Bendigo?  Foreign buying in Dubbo?  Ballarat is coastal?  These 'cities' average just under 70,000 inhabitants and an average median house price to median income ratio of 5.3 times.  That is more expensive than all but 14 of the 74 non-Australian Anglo cities with a population over 1mn.
The Australian housing market has appeared expensive for some time.  Some have forecast the bubble popping before (guilty, your honour).
My view is that the required catalyst is broad-based job losses.   Australia avoided broad-based job losses in 2008-09 and avoided a major housing correction.  The obvious potential cause of job losses now is the end of the mining boom.  However, that for now remains a risk rather than a forecast: leading indicators of employment (which, to be fair, are not far-sighted) remain reasonable.
This, in turn, suggests that it is too early to expect material weakness in Australia bank stocks.  I discussed in a recent note (Sectors In A Low Yield World), how financials tend to out-perform when long-rates fall in 'normal' markets.  The behaviour changes after a financial crisis.  US banks now out-perform when long-end yields are rising.  Australia is pre-crisis, and banks continue to offer a high yield.  The spread between banks' dividend yield and the real bond yield remains wide (Exhibit 7).  Australian banks are expensive.  But before a crisis they may get more expensive if bond yields fall.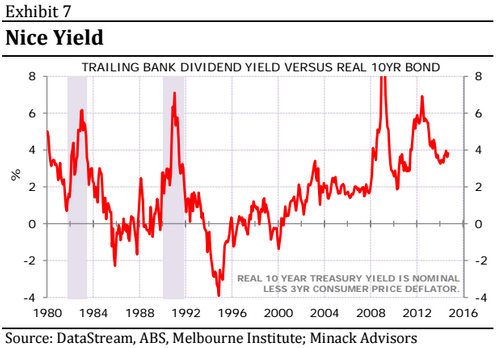 Disclosure: I'm selling a house, so don't want prices to crash for at least 6 weeks.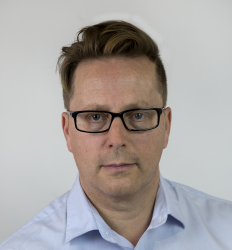 Latest posts by David Llewellyn-Smith
(see all)