From The Guardian:
Ann Pettifor of Prime Economics, who foreshadowed the credit crunch in her 2003 book The Coming First World Debt Crisis, says: "We're going to have another financial crisis. Brazil's already in great trouble with the strength of the dollar; I dread to think what's happening in South Africa; then there's Malaysia. We're back to where we were, and that for me is really frightening."

…Brazil's already in great trouble with the strength of the dollar; I dread to think what's happening in South Africa Ann Pettifor Developing countries are using the UN to demand a change in the way sovereign defaults are dealt with…It calls for a once-and-for-all write-off, instead of the piecemeal Greek-style approach involving harsh terms and conditions that knock the economy off course and can ultimately make the debt even harder to repay.

However, when these proposals were put to the UN general assembly last September, a number of developed countries, including the UK and the US, voted against it, claiming the UN was the wrong forum to discuss the proposal, which is anathema to powerful financial institutions.

Pettifor shares some of the UK and US's scepticism. "The problem for me is that the UN has no leverage here," she says. "It can make these moralistic pronouncements but ultimately it's the IMF and the governments that make the decisions."

…Brazil's economy is likely to be seriously tested as the greenback rises; Turkey, Malaysia and Chile have large dollar-denominated debts and sliding currencies; and a string of African countries face sharp rises in debt repayments. Ghana and Zambia have already had to turn to the IMF to ask for help. It's as if, as Pettifor warns, "absolutely nothing has changed since the crisis".
That's not entirely true. There's more debt. Especially here. And this is not so much a rerun of the GFC that began at the core as it is a traditional cycle-ending emerging markets bust at the periphery. This will kill commodities stone dead and will be the moment to buy for long term investors.
The reasoning of Jeremy Grantham remains most persuasive vis timing, with a positive 2017 via the US Presidential cycle followed by the bust. Two US rate hikes next year would set that up nicely! A chart from Soc Gen forecasting a shrinking Fed balance sheet is a useful illustration: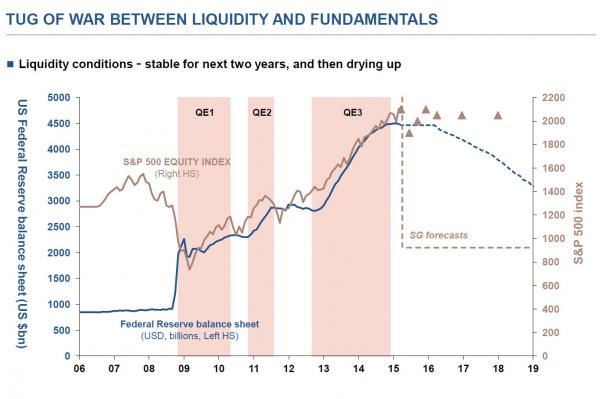 In the meantime Greece and China worry.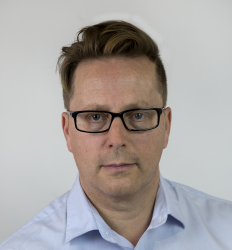 Latest posts by Houses and Holes
(see all)