Today's housing finance data for January registered the fourth consecutive monthly decline in buyer demand for newly constructed dwellings, with the number of commitments for construction and new dwellings down a combined 5.3% in January and by 5.6% over the year (see next chart).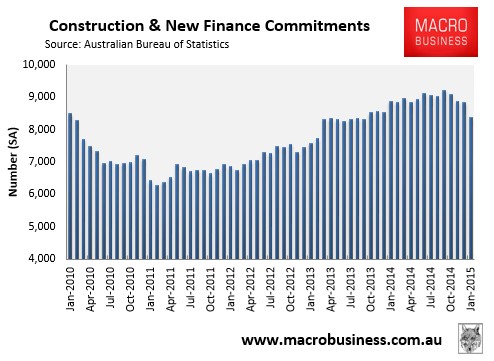 The boom in new housing commitments also looks to have have past its November 2014 peak (see next chart).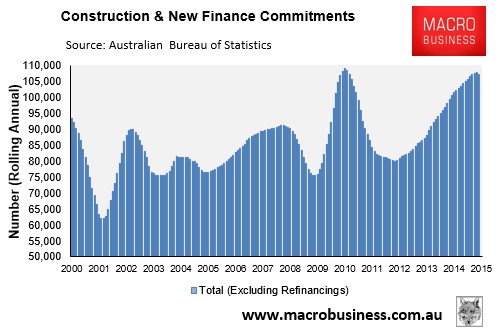 Looking at at the state-by-state breakdown, which is presented below on a rolling annual basis since it is not seasonally adjusted, shows that the uptrend in new home finance commitments has given away across all major jurisdictions, with all states appearing to be past their peak (see next chart).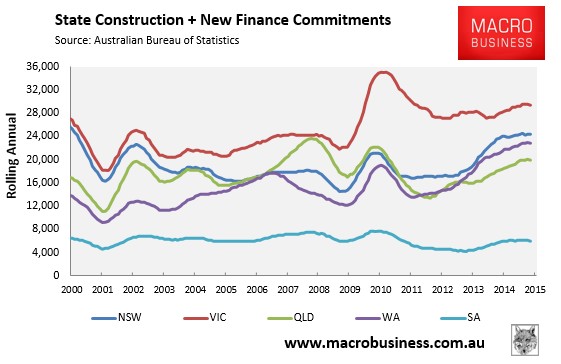 Overall, the data is bad news for the RBA's plan for housing to fill the construction void as the once-in-a-century mining investment boom unwinds, with the peak seemingly in for both finance commitments and new home sales.
That said, the data does pre-date February's interest rate cut. Therefore, the next few month's data is crucial as it will confirm whether the new home market has been re-ignited on the back of cheap credit, thus delaying the inevitable construction slowdown.