Here are the iron ore charts for March 26, 2015:

Benchmark Tianjin iron ore fell 1.3% to $54.80 a tonne, 60 cents from a new low. Qingdao was  a bit better. 12 month swaps are eroding toward their lows and rebar average is tanking but the cake today goes to Dalian 6 months futures which are limit down 5% this morning. It's a very good bet that all of the above will be at record lows Monday morning.
As well, CISA released its mid March production output numbers for major steel mills and they fell 1.92% from the preceding ten days to 1.64 million tonnes, now running clearly below the comparable month in 2013: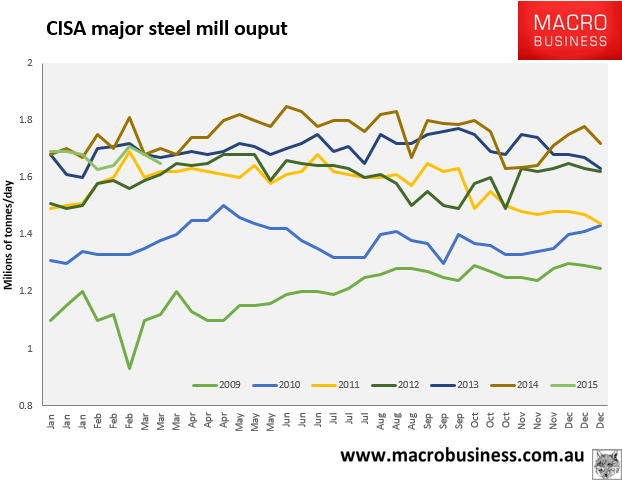 The year-to-date average is still down 2.3% from 2014, exactly matching 2013 output. Even worse, apparent steel consumption – that is demand minus inventories – was smashed 7.5% year-on-year according to CISA.  Platts has texture:
Industry participants were pessimistic about the outlook on the iron ore market as buying appetite continued to shrink in China, the world's largest consumer of iron ore for its steelmaking needs. Recent crude steel output cuts have been enforced among some mills due to greater regulatory pressure from the government to reduce emissions among steel mills, major contributors to the country's pollution problem. Iron ore, as a core steelmaking raw material, has suffered from poorer demand as a result.

With steel prices unable to recover, mills were also heard to be suffering with weaker margins, and some were looking to mitigate their losses by cutting production and leaving offline blast furnaces that had earlier been going through maintenance.
We are a month or two from RIO launching into its next large expansion even as the Chinese property shakeout rolls on and anti-pollution drive intensifies.
You could be forgiven for concluding that nothing can save this market.