The Oxford University Smith School Stranded Assets Programme has produced a new report into global coal and the news for Australia is poor:
Coal provides 40% of the world's electricity, with 1,617 GW of global capacity. Of this capacity, 75% is subcritical, 22% supercritical, and 3% ultra-supercritical. Subcritical is the least efficient and most polluting form of coalfired generation – it requires more fuel and water to generate the same amount of power, and creates more pollution as a result. The average subcritical coal-fired power station (SCPS) emits 75% more carbon pollution than an average advanced ultra-supercritical – the most up-to-date form of coal-fired power station – and uses 67% more water.

While the average age of all coal-fired power stations globally is 21 years, ultra-supercritical power stations are considerably younger, with an average age of just 5 years. To limit global emissions to a level consistent with a 2°C future, the IEA estimates that it will be necessary to close 290 GW of subcritical generation worldwide by 2020. Subcritical coal accounted for 8.6 GtCO2 of emissions globally in 2009. For context, in 2010 annual gross greenhouse gas emissions globally totalled ~50 GtCO2-equivalent, with ocean and land sinks absorbing just over 50% of these emissions, resulting in net atmospheric emissions of around 22 GtCO2 per annum.

Since SCPSs are the least efficient and most greenhouse gas (GHG) intensive centralised generation technology, they are both vulnerable to regulation and a logical first step in any climate mitigation strategy. Furthermore, because subcritical plants are typically the oldest part of nations' power generation fleet, they may also represent a practical policy choice for closure by budget-constrained policymakers looking for costeffective emissions reductions.

In addition to climate change policies targeting GHG emissions, due to their greater average fuel-burn, SCPSs are also more vulnerable to non-GHG policies, such as policies regulating the emission of PM, NOx, SOx, and mercury. SCPSs are also highly vulnerable to water policies. Given these three potential drivers of asset stranding – carbon intensity, air pollution, and water stress – we have examined the exposure of SCPSs to these risk factors. We have also examined which country and company SCPS portfolios are most exposed to these risks. As part of this process we have ranked company exposure to SCPSs affected by these three different environment-related risk factors. The full rankings of company exposure can be found in Section 5.

The objective of this research is to provide investors with the information required for screening, engagement, or divestment actions on the basis of exposure to the SCPS assets at most risk. SCPS assets are not identical, and investors (and companies) need the tools to identify which portfolios have assets with more (or less) exposure to environment-related risks.
And who has most these plants?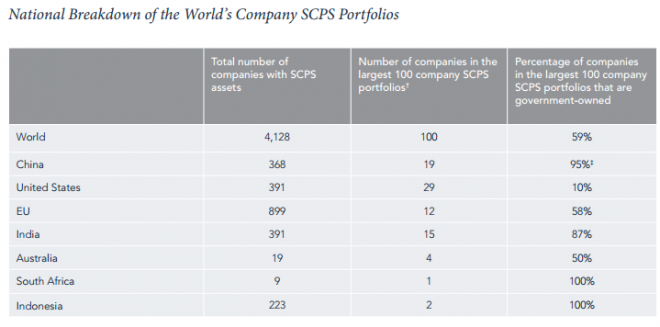 Straya punching above its weight with 90% of its coal-fired power sub-critical. That puts large utilities at very high risk.
But that's not the end of it, coal mines are equally precarious. Check out where the dirtiest Chinese coal plants are located:
The outlook for the Chinese SCPS fleet is poor. The GHG, non-GHG, and water regulatory regimes around coalfired power generation in China are tightening. While it is likely that the impact on generation will be nationwide, SCPSs in the heavily polluted and water-scarce northeastern region will be most heavily impacted. Given the young age of Chinese SCPSs and enormous size of the SCPS stock in northeastern China, this may well create a significant number of stranded SCPS assets through forced closure and impairment of profitability. In addition to regulatory risk, physical water scarcity is a serious risk to a significant portion of the SCPS fleet, with nearly 37% of the fleet located in watersheds with high water stress and 33% of the fleet in watersheds with both high water stress and mean 100km Radius PM 2.5 pollution above WHO levels.

Because of the severity of this pollution, both water availability and air quality should be considered a significant direct risk to the profitability of plants and indirectly via reputation. Potential reputational risks will increase over the short term in northwestern provinces as a result of tightening regulatory regimes that will push coal-fired generation westward, away from population centres and water resources. Previous analysis suggests that this shift will cause severe supply capacity problems beginning in 2015.
China is swiftly turning from coal to gas and various renewables as pressure builds for environmental reform. But wait, the pressure is global:
The US and EU SCPS fleets face similar and seemingly final challenges. Both fleets are ageing, significant amounts of subcritical generation capacity have recently been closed by regulation, and future regulations promise further closures. Footnotes: 3 Greenpeace (August 2012). Thirsty Coal: A Water Crisis Exacerbated by China's New Mega Coal Power Bases. Stranded Assets and Subcritical Coal: The Risk to Companies and Investors 11 In the US, non-GHG policies will force the closure of at least 16% of SCPS capacity in 2015. Proposed regulations on maximum allowable GHG emissions will essentially preclude the construction of coal-fired power plants without carbon capture and storage. Furthermore, proposed state-based GHG emission reductions promise to put further pressure on existing SCPSs. Early analysis of this proposed regulation suggests that $28 billion in industry value will eventually be stranded, though immediate plant closures are expected to be minimal.

In the EU, little regulatory pressure is expected from the EU ETS. However, Europe's non-GHG emission policies have and will continue to close significant amounts of coal-fired generation. 35GW of capacity have been closed by the Large Combustion Plant Directive, an amount that may still increase by the end of 2015. This scheme will transition to the Industrial Emissions Directive, which has the potential to close up to 40GW of Europe's remaining 150GW of coal-fired capacity by 2023.
The report concludes:
There is a strong case for financial institutions to utilise the information contained in this report to evaluate the risk of companies that hold subcritical assets and, where appropriate to then screen, engage, or divest. As part of further analysis and engagement with companies exposed to at risk subcritical assets, investors and civil society could encourage companies to: i) publicly confirm their exposure and the proportion of their total generation portfolio that is subcritical, ii) disclose what proportion of this is most at risk, for example, the bottom quartile in terms of carbon intensity, air pollution, and water stress, iii) disclose how much of their capex pipeline is subcritical and how this might change portfolio risk exposure, and iv) describe the strategies employed at an asset-level and across a portfolio to minimise carbon intensity and manage deleterious contributions to local air pollution and water stress.
That is, sell. Full report.