The Australian Bankers Association (ABA) will today release a paper attempting to dispel the view that Australia's housing market is a bubble, reportedly drawing on 25 years of data. From The Australian:
"House prices in Australia are currently in a period of strong growth. (But) there is insufficient evidence to conclude that house prices are unsustainably overvalued or that Australia is currently experiencing a speculative 'bubble'"…

"The recent rise of house prices in Australia is not unusual when compared with historical trends, and the current house price growth has not exceeded the peak rates we saw before the global financial crisis"…

But the ABA argues the recent boom is not unusual, pointing to "strong price gains" nationally in the lead up to the GFC and two periods of price declines in the years since…

"Borrowers are well placed financially to withstand an increase in interest rates or other event that may cause increased financial pressure"…
Let's examine some of the ABA's claims.
First, valuations, which are approaching all-time highs relative to GDP: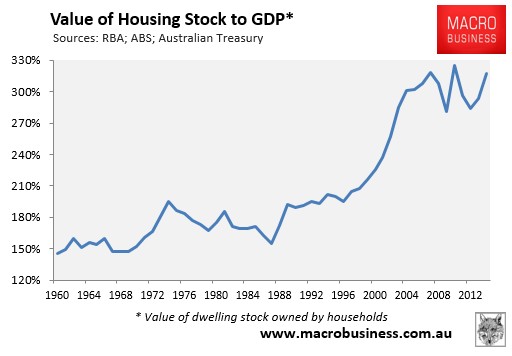 And incomes:

Note, the first chart above is current to September 2014, so there is a good chance that values have already surpassed previous highs.
Second, mortgage debt, which hit a record 89% of GDP in the December quarter: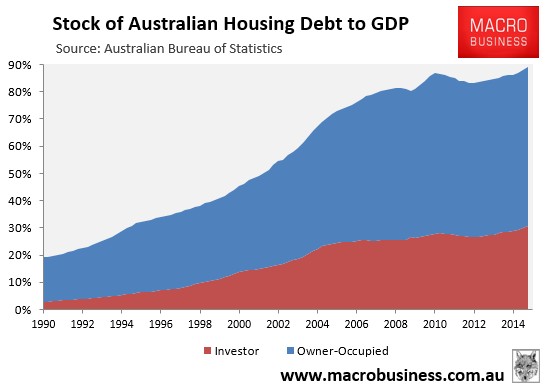 Mortgage credit growth also grew by 7.1% in the year to January 2015 – nearly three times as fast as wages (2.5%) and more than four times faster than nominal GDP (1.7%). This means that the ratio of mortgage debt to both incomes and GDP will continue to rise.
Third, the ABA's claim that Australian housing is not experiencing a "speculative bubble" is laughable when viewed in light of the housing finance data, which shows a record 49% of finance commitments (excluding refinancings) going to investors, with near parabolic growth (see chart).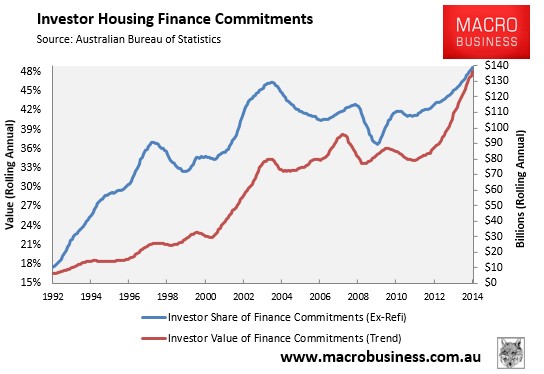 And of course, we know that most of these investors are negatively geared (see next chart) – effectively paying their home a dividend in the hope that it repays them with capital growth – the very definition of speculation.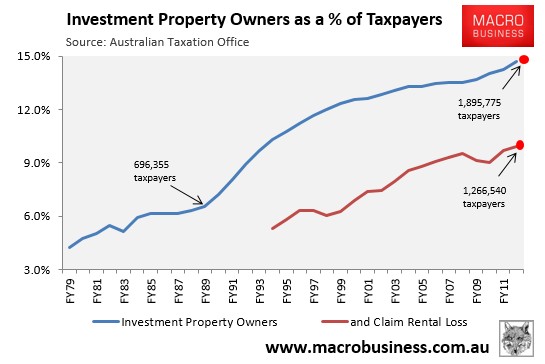 Fourth, the banks have funded this mortgage expansion by borrowing like drunken sailors from abroad: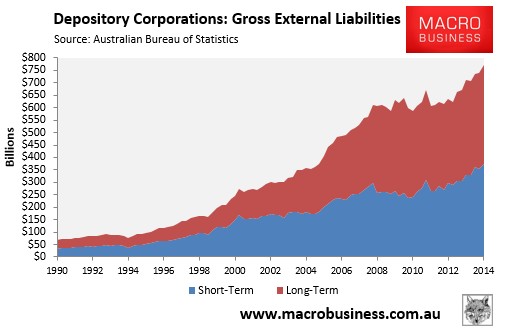 With the ratio of offshore borrowings to GDP fast approaching its pre-GFC high: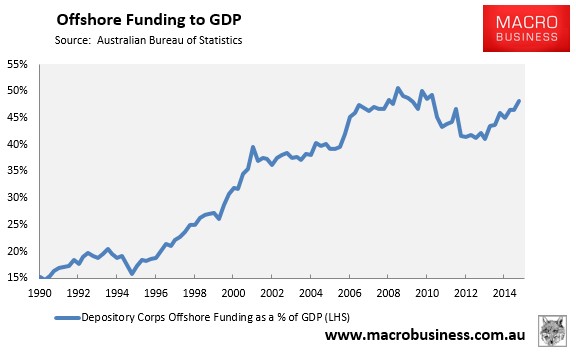 But no worries, this surge in house prices and mortgage debt is based purely on strong economic fundamentals, right? Not quite.
National disposable income is falling on the back of the slump in commodity prices and the terms-of-trade (see next chart).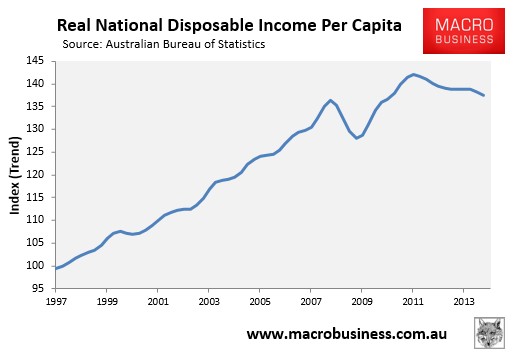 Wages growth is anaemic and decelerating: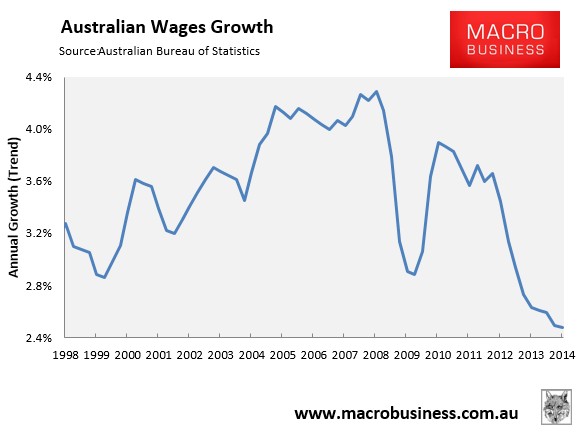 And unemployment is rising: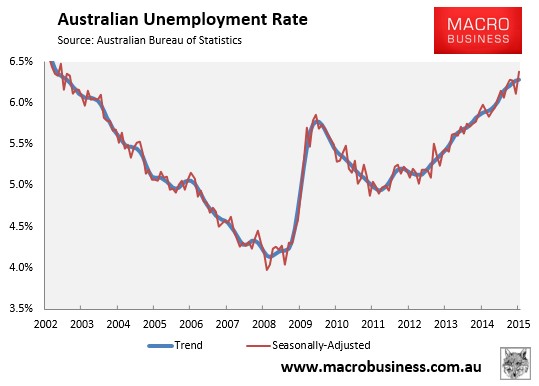 While the housing market was just as hot pre-GFC, values were at least supported by strong employment growth and falling unemployment, along with strongly rising incomes. However, the situation today is the polar opposite, with the labour market deteriorating and anaemic income growth.
The outlook for the economy is also poor. The once-in-a-century mining investment boom is set to decline sharply over the next few years as large mining projects are completed. And then there is the ongoing income shock as the terms-of-trade retreats back to historical norms, not to mention the shuttering of the local car industry by 2017, which will further increase unemployment.
Let's be honest, Australian housing is already pushing all time high valuations and is accelerating towards the (mining) cliff, making the risk of correction sometime in the near future arguably greater now than at any other time in living memory.
It's a bubble, pure and simple.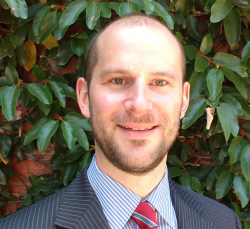 Latest posts by Unconventional Economist
(see all)