Yesterday's soggy labour force data for January revealed even more bad news for Australia's youth, with unemployment for those aged 15 to 24 years old rising to 14.0% in trend terms (from December's 13.9%) – the highest youth unemployment rate since October 1998 (see next chart).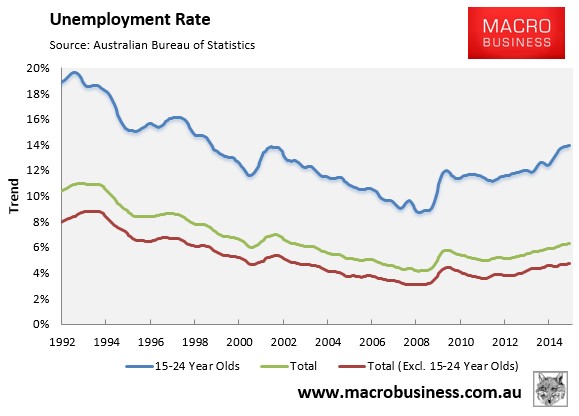 The internals were marginally better, however, with total employment growth for those aged 15-24 years of age climbing into positive territory, up 0.2% year-on-year, with most of this improvement full-time (see next chart).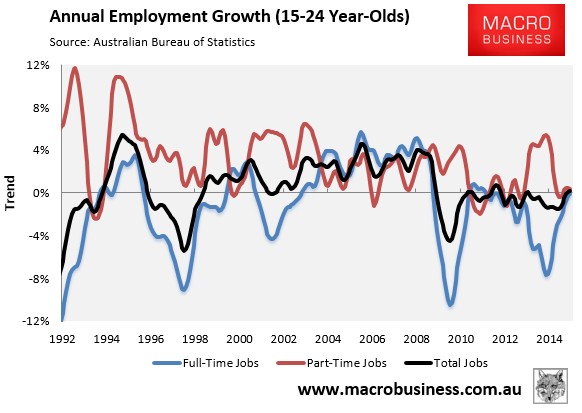 As you can see in the next chart, total employment growth for those aged 15-24 years of age had been more or less negative since the Global Financial Crisis (GFC), whilst the rest of the labour force has experienced positive growth, so the current improvement, albeit modest, is a welcome development (see next chart).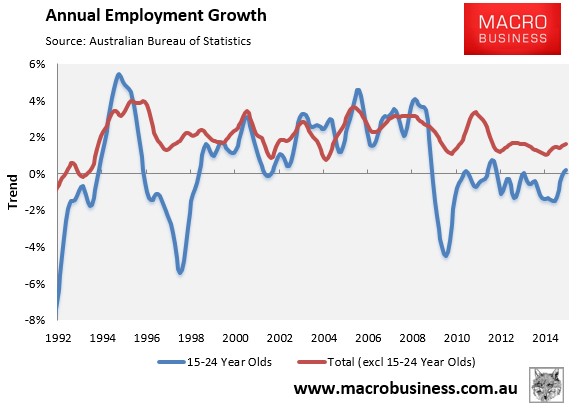 Another modest improvement coming from this release is that youth labour force participation rose again following the collapse in the wake of the GFC. Nevertheless, there remains substantial hidden youth unemployment (see next chart).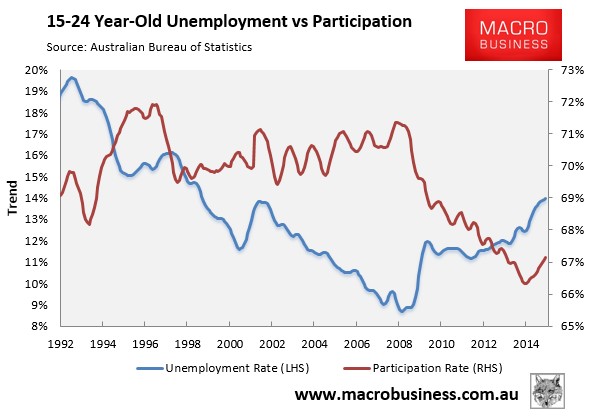 Since the GFC, overall youth employment has fallen by 5.5% in trend terms, despite the strong lift in the population over this time, with full-time jobs down an incredible 17.9%. By contrast, the overall number of jobs for the rest of the labour force has risen by 11.2%, with full-time employment up 8.0% (see below table).

Overall, it is an appalling situation which, once again, highlights the egregiousness of the Abbott Government's attempt to deny under-30s access to unemployment benefits, along with its Work-for-the-Dole program and open-slather approach to foreign work visas.
Australia's youth are already down trodden, and these policies are akin to pouring salt in their wounds.
Leith van Onselen is Chief Economist at the MB Fund and MB Super. Leith has previously worked at the Australian Treasury, Victorian Treasury and Goldman Sachs.
Latest posts by Leith van Onselen (see all)