From Gotti at Dad's Army:
RIO Tinto and its long-term shareholders know they have every reason to be fearful of Ivan Glasenberg, the chief executive of Glencore.

Glencore, which is based in the city of Zug in Switzerland, is among the most skilled operators in the world at engineering institutions and media to undermine a takeover target.

The firm needs Rio Tinto badly because it has run into the mining slump with more debt than it should have and book values of assets that will come under question if the slump extends out too long — as many expect it will.
And this turns into RIO being fearful how? GLEN is hobbled by debt and its equity is falling much faster than that of RIO: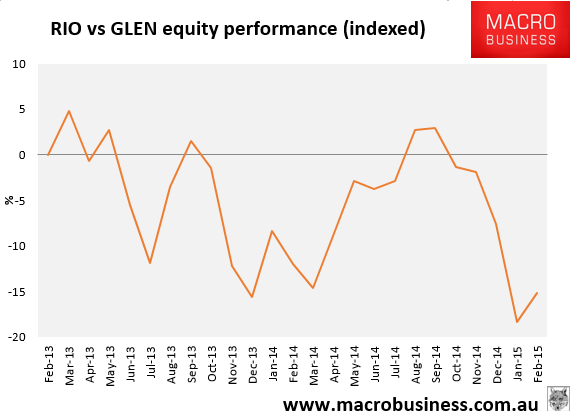 Though that may reverse as iron ore keeps falling, several other insurmountable problems stand in the way of any takeover or merger.
The first is RIO's largest shareholder, Chinalco, which will not be bought off by any offer from GLEN given it's sole purpose of being on the RIO register is to prevent any further consolidation among major iron ore majors. GLEN was the third largest trader of iron ore in the world last year, pushing some 60 million tonnes through its hands. Nobody in their right mind could conclude that China would want to see this kind of trading power vertically integrated with the world largest iron ore producer.
Second, GLEN really only has one competitive advantage. It's not a better miner or trader than anyone else. What it is exceptional at is tax minimisation, from the AFR:
The Uniting Church has revealed it hired a private investigator in a bid to uncover information about Glencore's dozens of coal subsidiaries in Australia and their tax affairs in a submission on corporate tax avoidance.

The church has raised a series of questions in its submission lodged this month to a Senate committee inquiry into corporate tax avoidance.

The Victorian and Tasmanian arms of the church hired a private investigator, a former Australian Federal Police and AUSTRAC officer, on a short-term contract to map the structure of Glencore's coal operations and subsidiaries.

Glencore has said it has more than 200 companies in Australia.
MIM, a large component of Xstrata, used be one of Australia's largest tax payers. Not any more.
RIO paid nearly $8 billion in tax last year, and much more than that in earlier years. Even a conservative government cannot afford to lose that.
One could perhaps have envisioned a merger approval from the Abbott Government previously, given its convulsions of self-destructive ideology, but post The Abbottalypse a slim chance has surely narrowed to none.
The Costello decision on Shell/Woodside is the precedent to be rolled out and that would be the end of it.