The Australian Bureau of Statistics (ABS) yesterday released its detailed monthly labour force statistics, which includes breakdowns of employment and unemployment across Australia's capital cities and regions.
According to this release, the unemployment rate in Australia's capital cities was 6.5% in January in raw terms, up 0.9% from December. By comparison, unemployment in Australia's rural and regional areas was 7.5% in January, which was up 1.1% from December.
The below chart, which is presented on a rolling 12 month average basis to smooth volatility, illustrates the worsening trend in unemployment in Australia's regions, and the improving trend for the nation's capitals: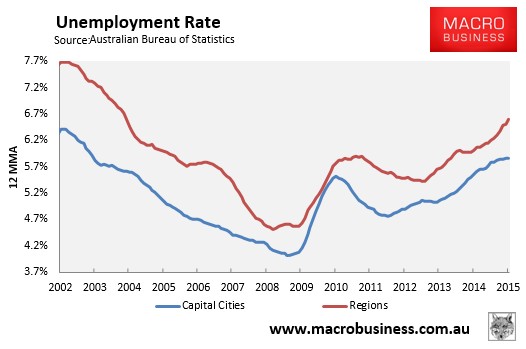 Taking a look at the break-down by individual capital city, you can see that the lowest unemployment rates are found in Darwin, Canberra, Perth, and Sydney, whereas capital city unemployment is highest in Adelaide, Melbourne, Hobart, and Brisbane. Unemployment in Perth is also trending up strongly, commensurate with the winding of the mining boom (see next chart).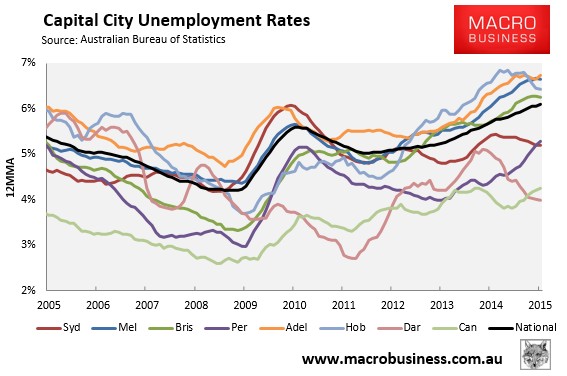 The lowest regional unemployment is found in Western Australia, Victoria and Queensland, whereas the highest unemployment is found in Tasmania, New South Wales, and South Australia (see next chart).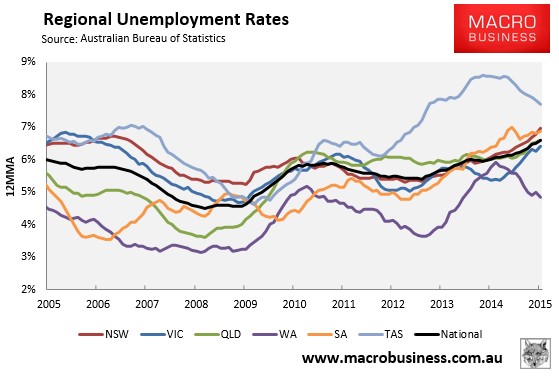 Strangely, unemployment in regional Western Australia is trending sharply lower just as it is rising sharply in Perth. This could reflect the construction of the Roy Hill iron ore mine, along with the various LNG projects underway, which is boosting regional jobs, at the same time as head offices and mining services-related jobs in Perth retrench. FIFO too will be playing a role.
Commensurate with the sharp jump in unemployment, jobs growth in regional areas had also taken a nose dive, whereas conditions in the capitals are improving (see next chart).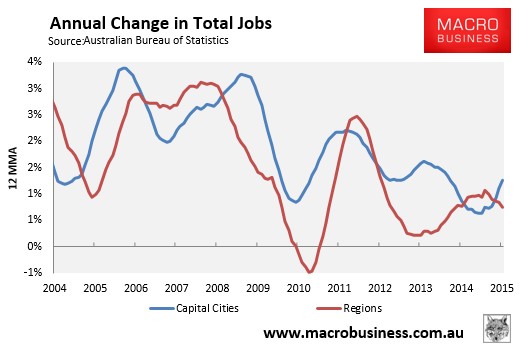 Since the GFC, regional areas have fared relatively badly on the jobs front compared against their capital city counterparts, with total jobs growth less than half that of the capital cities and full-time jobs falling over the period (see below table).

The mining capex cliff if upon us and its unemployment shock has begun. With large mining projects, such as the LNG plants in Gladstone and Western Australia, due for completion over the next year or so, there is every likelihood that regional unemployment will rise even more sharply, particularly in Queensland and Western Australia, widening the gap between city and country workers.