Just when you thought things couldn't get much worse for Australia's youth, where unemployment is already at its highest level since October 1998 (see next chart), The Canberra Times is reporting today that the proportion of under-25s in public service roles has halved since 2007, due to outsourcing and changing hiring policies, which has sought to employ older workers: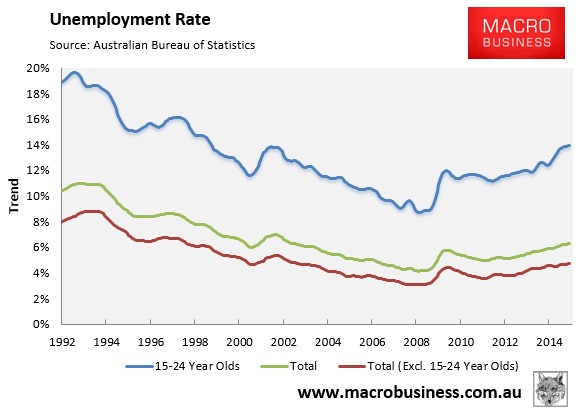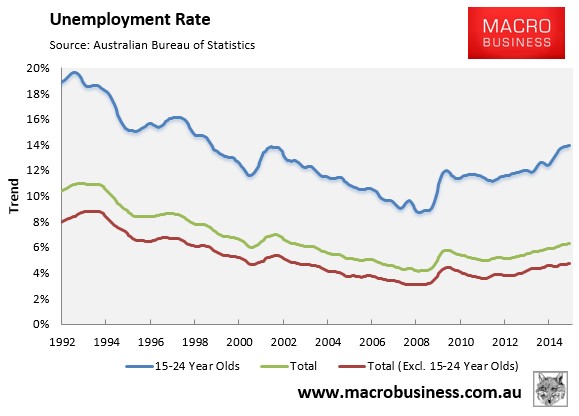 Only 2.5 per cent of federal public servants are under 25, the latest figures show, and their numbers are shrinking fast – down from 5 per cent in 2007…

Meantime, the Commonwealth's 55-plus brigade is the only age group in the bureaucracy that is growing.

Public sector workforce expert Linda Colley, of the of Central Queensland University, says changes in hiring practices and policies have resulted in the public service abandoning its traditional role of training Australia's young workers.

According to the latest Statistical Bulletin from the Public Service Commission, some departments risk becoming "Dad's Armies", with nearly 60 per cent of Defence bureaucrats and nearly 55 per cent of Veterans' Affairs staffers over 45…

"The 60-and-over age group had the largest growth, 0.4 per cent, in ongoing employment this year, followed by the 55- to 59-year age group, increasing by 0.2 per cent," the bulletin read.

"All other age groups decreased in size.

"The proportion of employees 50 years of age and over has grown strongly over time, increasing from 20 per cent of all ongoing employees at June 2000 to 31.4 per cent at June 2014."
Chalk this up to yet another loss for Australia's youth, who are already having to deal with the Government's open-slather approach to foreign work visas, tougher access to unemployment benefits, rising university fees, not to mention extortionate housing costs.