Welcome to the last bender for the great Australian current account deficit growth model. Our hosts for the year are DJs Glenn and Tony and they are on it!
DJ Glenn made it clear on Friday that he'll be pouring the punch until the bowl is empty:
Reserve Bank of Australia governor Glenn Stevens has conceded he is worried by the Sydney property market, but opted to ignore that risk by cutting the official cash rate last week because the economy's recovery is "unconvincing."

Speaking to a parliamentary committee in Sydney on Friday, Mr Stevens noted the Australian dollar is probably likely to fall further.

…"A decade ago, when there was, it seems, an underlying latent desire among households to borrow and spend, it was perhaps easier for a reduction in interest rates to spark additional demand in the economy," he said.

"Today, such a channel may be less effective. Nonetheless we do not think that monetary policy has reached the point where it has no ability at all to give additional support to demand.
That's a straight statement that all that matters to the party guv is that we sink piss, he doesn't care if it's Bollinger or unleaded. As for being worried about the Sydney property market, come now: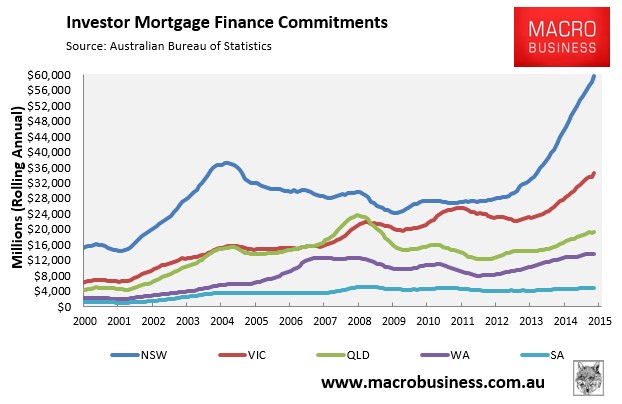 Interest rates are going to be cut in March and again whenever the above looks like sobering up. The party police at APRA will act, and foreign purchases are going to be squeezed, so the booze-up will narrow even more to the east coast. But let's face it, Sydney has been laced for three years already and it's all too late now. Get it indya!
The wonder of it, really, is that the greatest investment mortgage slosher in a thirty year history of the same is still not enough to get us over what's coming. We need to be more than sodden, we need to be crapulous. We need MDMA and Tony is going to mainline it right into our economic veins. Paul Kelly has already dropped the disco biscuit:
The government remains mired in contradictions on budget strategy. Abbott says it is "dead wrong" to think he will buckle on fiscal repair but concedes in future he will put to the Senate only measures likely to pass, a severe limitation.

…Having promised a new approach, Abbott must move quickly — that means an orchestrated retreat on these policies and, at the same time, he will probably concede on the defence force pay issue, a core Liberal constituency.

The new 2015 policy direction is confused but some benchmarks are apparent. First, Abbott will consult and "socialise" decisions far more. This means budget repair will continue but at a more incremental pace over a longer path.

Second, the savings will come from what Abbott calls the New Zealand method — avoiding "big cuts" that provoke a political backlash but imposing a tight clamp on new spending. Third, the Abbott-Hockey pledge is that new structural savings are off the agenda and that budget repair will not come at the cost of the household budget, another serious limitation.

Finally, Abbott wants to shift the focus more to hope and opportunity. Abbott puts a premium on the upcoming family package ­enshrining childcare initiatives plus the tax cut package for small business.

The aim is a 2015 budget that seeks both a focus on jobs and growth, plus ongoing fiscal repair. This is difficult because the extent of the budget and revenue deterioration is alarming.
Fiscal repair triggered The Abbottalypse, now we're going intravenous deficit!
Marvelously, it still won't be enough. The China party that was supposed to keep us bombed for 30 years is sobering up too fast. DJs Tony and Glenn will have to fire up a third party as mining profits crater and Australian interest rates tumble towards ZIRP. Let the the stock market rave begin: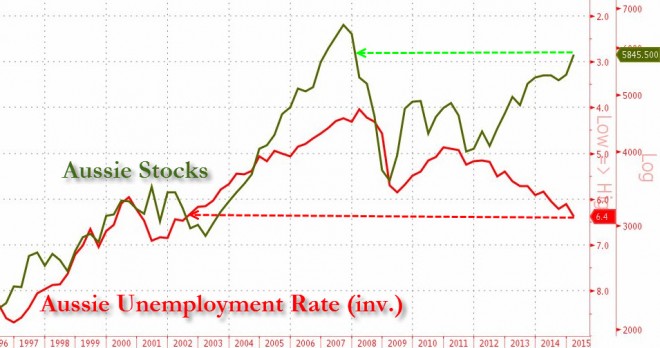 It's the bad news is good news bash!
So how do you get your slice? The property party is overrun with gatecrashers and attracting the attention of police in APRA and FIRB. But the stock market all-nighter is just getting started. There'll be no earnings growth to speak of but the downside ahead for interest rates as the commodities shock deepens ensures the doochy is passed to the price of yield. As it gets high, Blind Freddy can see the aeon flux:
Risks from the overheating property market are spreading into the bank-heavy domestic sharemarket, leaving investors doubly exposed to a potential downturn in the housing market.

The benchmarkS&P / ASX 200 Index has risen almost 9 per cent this calendar year-to-date despite concerns about unemployment hitting a 12-year high, fuelling worries the equity market is dislocating from the real economy. The rise in share prices is being driven up by a flood of offshore capital betting that already record-low interest rates will fall further next month, after release on Thursday of poor jobs figures.

The big four banks are driving the market's gains with Westpac and ANZ Bank both hitting fresh record highs on Friday. Commonwealth Bank of Australia closed a whisker off its all-time high at $93.15, with analysts tipping it will hit$99 before the end of the year.
More sherbert, stingray!
In getting buzzed, do recall that the Cory Worthington school of economic management is a trip. Further rallies in property, bonds and banks may look like Farah Fawcett prowling the dance floor, but only viewed through the ZIRP-goggles. As the light rises with a dawning economic shock, the rallies will be revealed as jerking and vomit-spattered cougars. Don't get caught chewing your investment arm off!
There's probably another 12-18 months of getting stewed ahead but it's time to drop some aspirin and load up the on the H2O. When this thirty year romp ends next year (assuming no global shock in the meantime), the whole neighbourhood is turning abandominium and the clear-eyed man, pockets stuffed with cash, will emerge as the lord of the slum.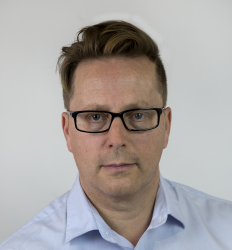 Latest posts by Houses and Holes
(see all)