The reporting season, the falling dollar and a minor rebound in the iron ore price suddenly has a feeling that the bottom is in pervading mining equities. There even a little panic buying setting in with RIO up 21% from its lows in 8 weeks. That's what the MCA thinks:
The embattled mining sector will stage a recovery as exports of key commodities accelerate over the next five years, the Minerals Council of Australia forecasts.
MCA chief executive Brendan Pearson denied the industry was going through "doggone days" but conceded it had been buffeted by world markets.

"It has been a tumultuous decade with coal prices doubling and iron ore quadrupling (during the boom)," Mr Pearson told the American Chamber of Commerce in Brisbane yesterday. "That was never going to last and it didn't."

But he said shipments of gold, coal, iron ore, copper and alumina were all expected to increase by 2019 as global markets stabilised.

The country's top five mineral exports were forecast to increase from $142 billion to $177 billion by 2019. That represented compound annual growth of 4 ½ percent.

"It may be an attractive argument to make with commodity prices on the canvas that these are doggone days for the sector," he said. "But the forecasts of a slow decline are wrong."
Yes they are. It will be much faster than that.
Let's not beat around the bush. There's only four commodities that matter: iron ore, coking coal, thermal coal and LNG. The cycle is not within cooee of the bottom for any of the four. This is a classic bear market rally.
The super-cycle bust
Three forces drove the commodities boom and are now reversing fast. The first was the rise of Chinese construction, which has passed its peak and will decline from here, much earlier and more steeply than anyone expected because the debt underpinning the boom has reached saturation. That means what was a huge supply deficit has suddenly turned into a huge supply surplus.
The second force was the relative decline of the US. Because commodities are priced in US dollars, their prices rise as the currency falls. That is also now reversing as US prospects improve relative to other nations, and interest rates tighten, largely because it took the pain necessary to improve its competitiveness following the thirty year credit inflation.
The third force was the rise of clever market instruments to hoard commodities and capitalise on the first two. But that strategy is pro-cyclical, given there is no yield component to the investment, so is now unwinding as investors wake up to price downside.
Iron ore
In the next three years iron ore will see a total gain in annual output capacity of 302 million tonnes per annum. There is another 100mtpa in low cost output per annum for which infrastructure will be fully in place that could also be added very cheaply. Add the current surplus of 50mtpa (could be more) and you get a 2017 surplus of 350mtpa, more or less.
On the demand side, we're more or less at peak steel for many years to come. That means all of the seaborne surplus must be absorbed via mine closures. 100mtpa in juniors will go bust worldwide, including all small Australian miners. 80mtpa of capacity will close in China leaving a 2017 surplus of 170mtpa, at least triple today's.
In short, one or several of the world's major iron ore miners will have go bust to balance the market. FMG is the most expensive at a breakeven in the high $50s so it's the prime candidate. To achieve that, prices are going to have to fall deeply below FMG's marginal cost of production for a long period. My guess is $35 at least will be needed: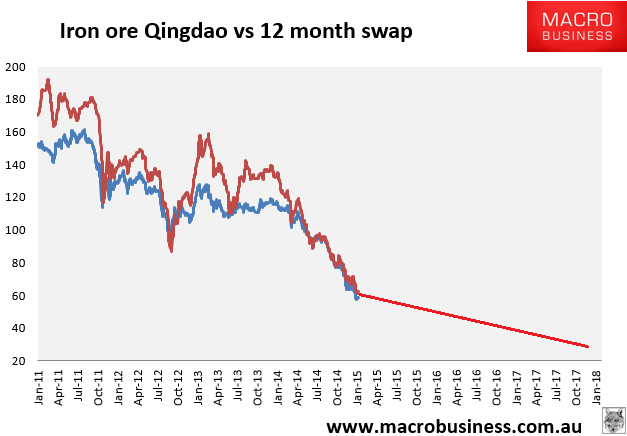 Coking coal
The steel-making coal is the best positioned of the four commodities. It's surplus is much smaller than iron ore (the market may already be considered getting back to balance) and the ongoing supply ramp up is largely complete. However, in the long run it's going to be dragged down in sympathy with iron ore and I really can't see much upside as the global deflationary cycle gripping commodities plays out for years to come (forecast in red):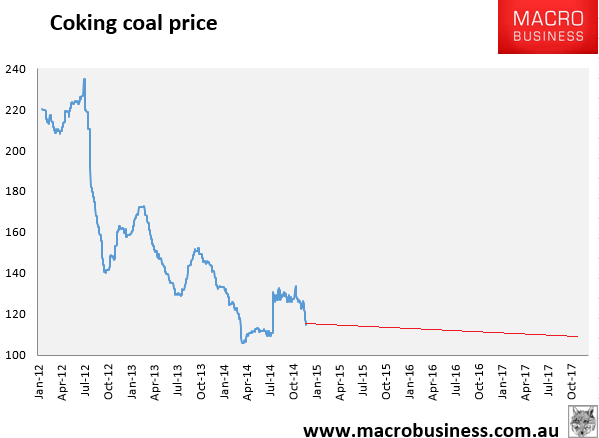 Thermal coal
Take your pick on the problems with this one: regulatory risk on climate change, mal-investment and oversupply, Chinese pollution problems etc. There is still a significant amount of supply to come on stream over the next four years with seaborne supply set to rise from around 870mtpa now to 930mtpa in three years. Much smaller than iron ore but still ahead of demand, which is also at or very near to an historic peak as China goes nuclear and renewable and the US heads for gas.
India is the wildcard with politically connected new mines still on the drawing board but it has also said it will aim for domestic self-sufficiency and push towards renewables.
The risks are very much skewed to the downside and the thermal coal price will most likely slide away towards $50 per tonne and below over the next four years, on its way back to its historic average price around $40: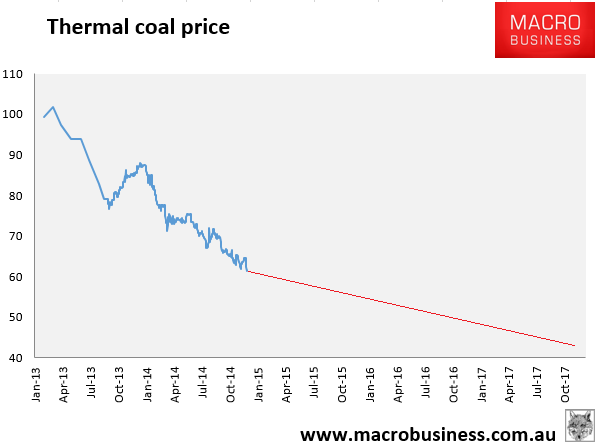 LNG
This one is a bit harder to forecast with precision given it's so tied to oil prices but market dynamics are probably closer to iron ore than they are the two coals in the long term, but better than that over the very long.
We're headed into an epic supply glut that will last for the next five years. Australia's 70mtpa of expansion will hit an Asian market growing at levels nothing like those projected when the projects were commissioned.
The current Asian seaborne LNG market is around 240mtpa so Australia's expansion alone is nearly a 30% increase. The US will add another 50mtpa before 2020 as well, taking the supply growth above an intimidating 50% of the current market in just five years.
Meanwhile, Japan, the major Asian LNG market, is slowly but surely making its way back to nuclear power resumption and China, the great growth market hope, is opening astonishingly high pipeline supply from Russia. You can probably expect roughly half of the great supply expansion to be absorbed by growing demand and the rest is going to have to displace other energy options via falling prices.
The new normal for oil is a price floor around $60 as US shale becomes the global marginal cost producer meaning long term LNG supply contracts at around $9mmBtu. Contracts absorb 85% of the market but they are not going to hold with a spot market swimming in surplus. As excess contract tonnages are resold as spot, live prices will crash far below oil-linkages. Contracts are going to bend or break. My best guess is that the Asian price of LNG (combined contract and spot) will return to its long run average over the next five years, which is around $6-7mmBtu, where the spot price is today: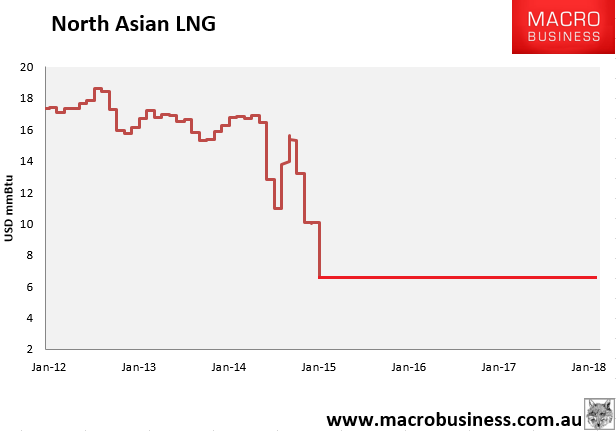 This is more or less the marginal cost of production for Australia's entire new expansion (and far below the all-in cost). There's no money to be made for a long time on any of them.
Conclusion
Global market share battles will be the prevailing price dynamic for the foreseeable future. Margin squeezes are the new normal and writedowns, cost-out as well as capex cuts will remain the dominant business strategies for as far as the eye can see.
There'll be an offset for local miners in the falling dollar, especially once the housing bubble bursts and it sinks to 50 cents and below. That will be the right re-entry point into low cost commodity producers given it will be accompanied by an equity market dislocation as the current global business cycle ends. The same event will also turn the grinding supply rationalisation into a crashing rout that sets up better market balances for the next cycle.
But until then, across the board, the future of Australian miners is best characterised as a gigantic mean reversion to 2002.
Super cycle = super bust.