By Chris Becker
Friday night's market action was characterised by two major economic data prints that surprised on the downside and the strike by US oil workers that saw oil prices rebound by nearly 10%.
First in Europe the CPI print for core and overall numbers surprised on the downside, with core inflation barely ticking over at 0.5% and overall falling directly into deflation territory at -0.6%
This pushed European bourses down with the FTSE off nearly 1% and the DAX off by only 0.4% but following the US markets down in post close futures trade.
The FTSE has broken down on the four hourly chart with a correction looming here:
With the DAX close behind, a Greek-led rout of German banks would send the DAX well below its 100000 support level. I'm short here on a swing, and will add to the short position on a break of 10450 points or so:
European bonds slipped further, with 10 year German bunds now at only 0.3%, UK gilts falling sharply to 1.33% while Greek 10 years added another 1% to almost 11%.
Indeed the bond market is firming up the deflation bet with the US GDP result coming in at an Australian-like 2.6% annualised, well below expectations of a 3% print. US Treasury yields fell 11 basis points to just 1.64% as capital flew out of the S&P500 and other equity markets, the former down 1.3% and looking very shaky here on the daily charts:
That is not a bullish pattern, and indeed I'm short already on a small swing but looking for a breakdown tonight below the 1970 level that would spark a correction down to 1800 points or so.
SPI futures are not as bearish, down around 40 points or less than 1%, although the recent rally has bounced off resistance overhead for the local bourse and the interim earnings season about to get underway is going to point to huge structural weakness in profits for the ASX200. This is a prime time to get the hell out of dodge and take profits, particularly if the RBA holds its fire this month, which will likely pull the rug out from underneath local equities, especially retailers.
In currency land, the USD remains king with the Dollar Index up slightly, losing some momentum but still dominating: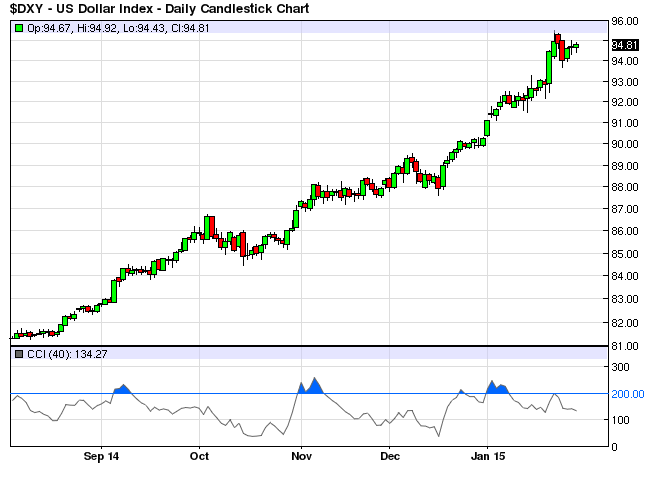 This is reflected in Euro, which remains around its point of control at 1.13 against USD but is slowly pushing down to support at 1.1260 where it could break in the week ahead.
Cable had a volatile week and cracked through the 1.50 handle briefly on Friday night. The daily and weekly charts for cable are pointing to a possible upswing on these very oversold conditions although the down target to 1.48 remains intact:
Yen has finally cracked, gapping down this morning in early trade with Friday night pushing it to just above the 117 handle. I'm looking at a move down to the 116 level which is primary support on the daily chart, and if broken could see a rout down to 106-110 levels:
Aussie oscillated around 77.50 for most of the London and US sessions, providing little to no opportunities for intraday action. The longer term chart shows a considerably oversold and high daily volatility, pointing to pre-positioning for the RBA meeting tomorrow. I am expecting a huge move from this particularly on the upside if the RBA disappoints and holds fire:
Finally to commodities and gold rallied during the NY session, up nearly 2% or almost $25USD per ounce to just below $1280USD per ounce. This has been a bullish one day reversal above the daily downtrend which points to another upleg and attempt to clearly breakthrough the $1300 barrier:
Oil was where the action was, thar she blows!
As I mentioned at the start, the reason behind the move was the first oil strike at US plants in over 30 years, as well as a tumbling US rig count, which sent crude up. Brent was up nearly $4USD a barrel, or under 8% to $53 while WTI crude finished up 8.3% but has not broken through the $49-50 level which is required for a sustained upswing as the chart above suggests. Still, a good opportunity here after the inevitable short swing.
Data today is heavy but all 3rd tier marginal stuff with markets absorbing the weekend prints from China (PMI).
Latest posts by Chris Becker
(see all)