The epic investor-driven Sydney property bubble has been well documented on this blog, with home prices there rising by around 26% over the past 18 months, according to RP Data (see next chart).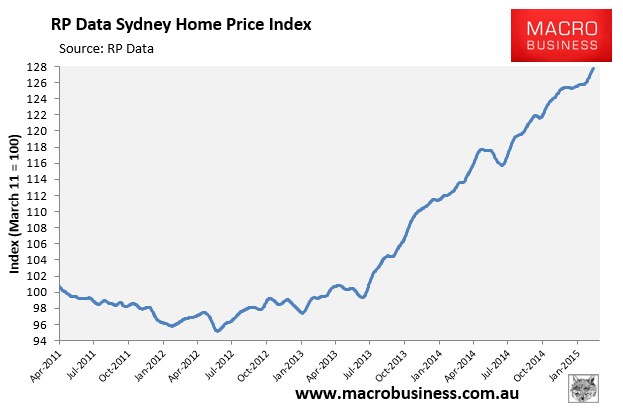 This surge in housing prices has, of course, been driven by an unprecedented orgy of investor speculation, whose share of total finance commitments (excluding refinancings) hit a record 57.8% in the year to December, with no end in sight (see next chart).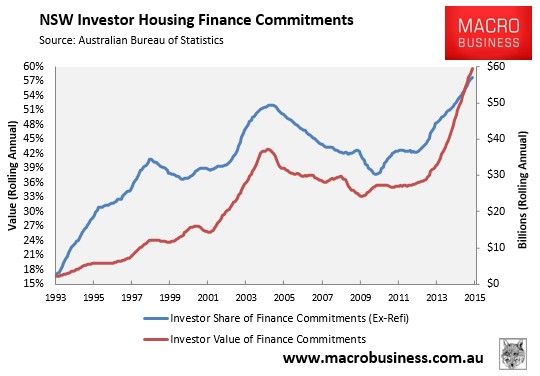 One stakeholder that has arguably been the biggest beneficiary of the spectacular Sydney property bubble is the State Government, which has enjoyed a massive escalation in stamp duty receipts. These have risen by more than 53% over the past 18-months to $5.3 billion in the year to January, on the back of a 22% rise in transaction volumes and the above price rises (see next chart).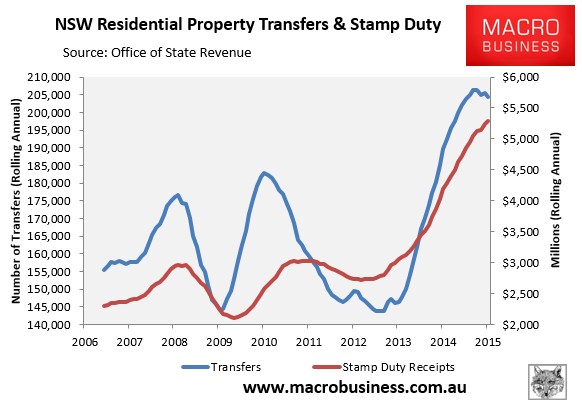 This surge of stamp duty receipts of course drove a massive reversal in New South Wales Budget forecasts, with the Half-Yearly Review for 2014-15 recording a massive turnaround of $555 million, from a forecast deficit of $283 million to a revised surplus of $272 million, with larger surpluses forecast over the forward estimates: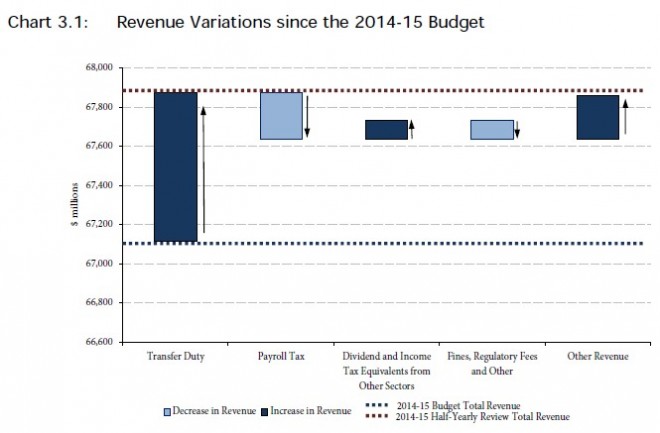 In announcing the result, New South Wales Treasurer, Andrew Constance, said that "while the Australian economy is facing its challenges, NSW is riding a wave of prosperity built on the tough choices we made on coming to government. We now control the budget. It doesn't control us".
The reality, of course, is that the massive boom in stamp duty drove the Budget improvement, which was due entirely to good luck rather than good economic management.
The New South Wales Government should enjoy the ride while it can. As shown in the next chart, stamp duty is an inherently volatile source of revenue, and looks to have already peaked, which is a bad omen for future New South Wales Budgets and will likely threaten the forecast surpluses.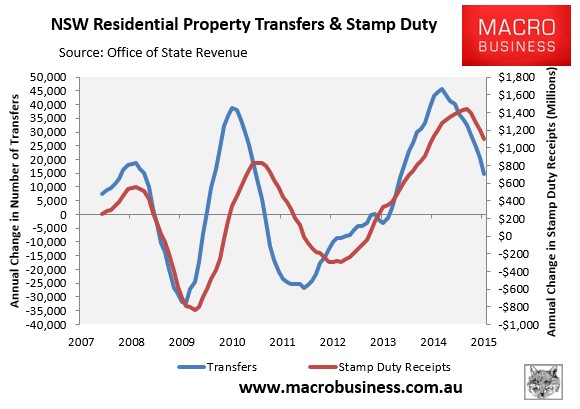 The inevitable downturn will just as likely wreak havoc on the state's finances.