The ANZ-Roy Morgan Research (RMR) consumer confidence index was down for a fourth consecutive week, falling 1.9 points to 109.8 in the week ended 15 February, to be tracking below the long-run average (see next chart).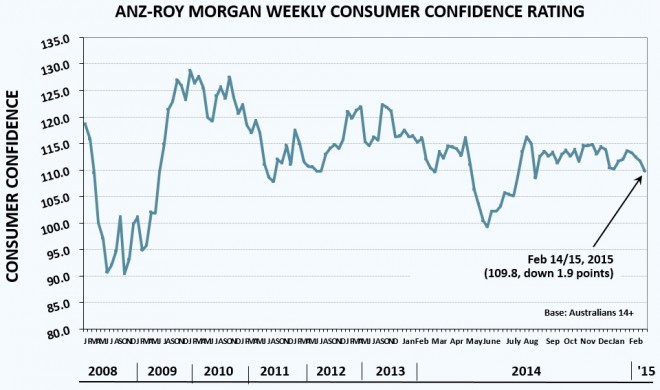 Consumer confidence is now at its lowest level since early August 2014.
ANZ attributes the fall in confidence to concerns about job security, sluggish wages growth, and the economic outlook, which are outweighing the boost from the recent interest rate cut, lower petrol prices, and rising asset values (houses and shares).
Confidence in the economic outlook over the next year and over the next five years declined to the lowest levels since June 2014 – down 4.3% and 3.2% respectively. This is likely due to last week's rise in the unemployment rate to 12-year highs, ongoing government instability, and the overall weakened outlook for the economy.
According to ANZ chief economist, Warren Hogan:
"The fragility of the consumer over the last year or so continues to surprise us. While we expect some bounce in coming months from lower interest rates, the question we increasingly debate is whether there can be a strong and sustained bounce in consumer confidence without an improvement in the labour market and a lift in wages growth"
The answer, Mr Hogan, is "no". The economy's woes are structural, and simply cratering interest rates and pumping asset values does not change this fact. Australian households seem to get this, so why don't you?
The below chart plots the most recent Westpac-Melbourne Institute Consumer Sentiment index against the latest ANZ-RM Consumer Confidence index. Note the historically large divergence that was present has narrowed: