From NineMSN:
The Western Australian government has called for calm as the state's mining boom slows, leaving thousands without jobs and slashing revenue.

The minerals industry has created billions of dollars for the region but with the price of iron ore plummeting, towns like Port Hedland in the Pilbara are facing unprecedented challenges.

…Locals are feeling the pinch, with many mining companies putting a freeze on hiring.

"The way things are going, this town is going to turn into a ghost town," local mechanic Camillo Blanco told 9NEWS.

…Premier Colin Barnett admitted the rapid spurt in jobs had slowed down markedly.

"It's lumpy, it's up and down. We're certainly seeing some job losses," he said.

"It's down but it's not catastrophic."

…"The iron ore industry will double this decade and the LNG industry will treble," he said.

"That is investment that Australia has never ever seen.

"There's a pause at the moment but that won't be permanent."
No, not permanent, but screwed for a generation. Iron ore double and LNG triple? I'm not sure on what metric.
Iron ore volumes aren't going anywhere near that and it sure won't be prices so he must be referring to his West Pilbara illusion, which is finished before it started, as Aurizon confessed yesterday
On LNG, yes volumes will triple, as well as shrinking 95% of the current jobs with no new investment as far as the eye can see. Try reading your own government's assessment, Colin: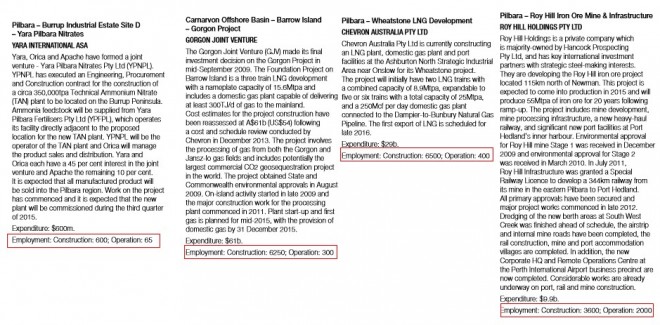 Sorry, Colin, you're a two-trick pony and they're both lying dead in the dirt so far as contributing to state growth is concerned. In fact, WA is on the verge of an historic bust. Unemployment is rocketing: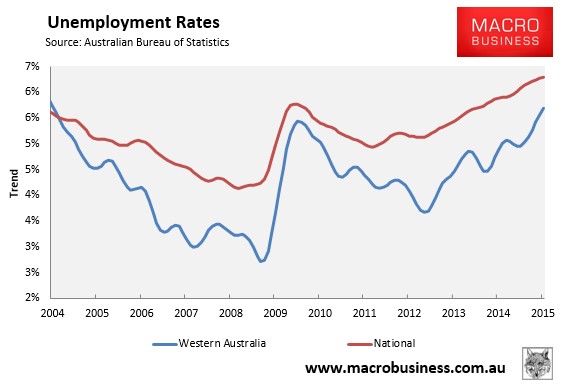 And that's before the capex cliff even gets going: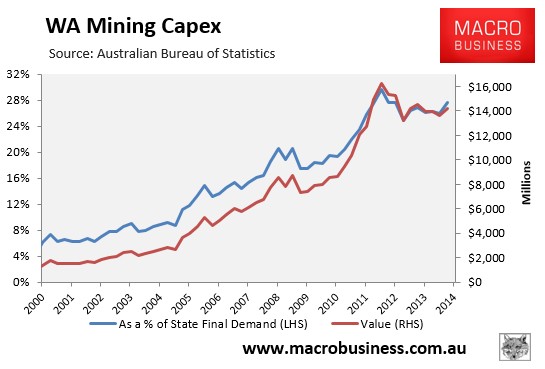 But housing is booming, you say: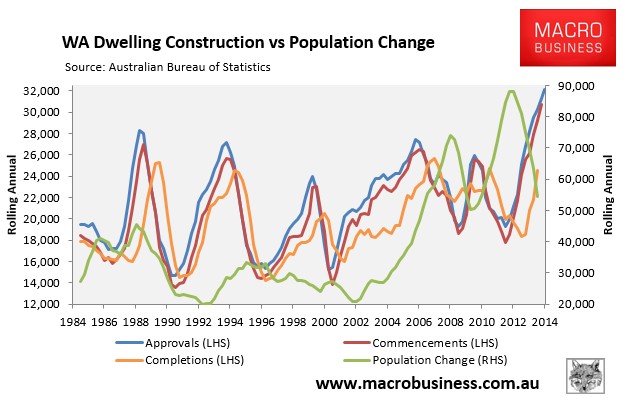 Sure, just as immigration goes into sharp reverse leaving you with oversupply.
Is it any wonder that public austerity is the next hammer to fall as delusional budget forecasts fall apart?
Colin, you're state is standing in front of the barreling mining truck of history that has the pedal to the metal in its haste to depart. You're about to be run down, mate.