The property lobby must be worried that the Government is considering winding back negative gearing tax concessions, with the Real Estate Institute of Australia (REIA) and the Property Council reportedly spending $60,000 on a new report aimed at combating claims that negative gearing distorts the housing market. From Perth Now:
Set for release early this year, REIA chief executive Amanda Lynch said the new data revealed mum and dad investors with incomes under $80,000 would be the hardest hit should negative gearing be scrapped…

WA Property Council executive director Joe Lenzo said changes to negative gearing would push Perth's rental prices up.

"Should negative gearing be abolished it would be very easy for us to get into a similar situation in the rental market we saw years ago when demand was high and prices skyrocketed"…

Property Club WA branch manager Garth Davis said the majority of middle-income club members were heavily reliant on negative gearing.

"They don't have as much wiggle room when it comes to cash flow, so if it was cut they would be out of the market," he said.
It appears that the upcoming report will once again trot out the same old tired argument that negative gearing is primarily a middle class affair that assists ordinary families to build-up a retirement nest egg and reduce reliance on the aged pension.
Such thinking is flawed on a number of grounds.
First, excessive demand from investors –  arising in part from negative gearing – has helped to push-up house prices to record levels against income, and forced younger Australians to devote a higher share of their lifetime's earnings to pay-off a home than would otherwise be the case.
Second, as illustrated beautifully in Saul Eslake's 50 Years of Housing Policy Failure presentation, Australia's home ownership rate has decreased over the past 50 years, despite favourable demographics, due to these rising home prices (see next chart).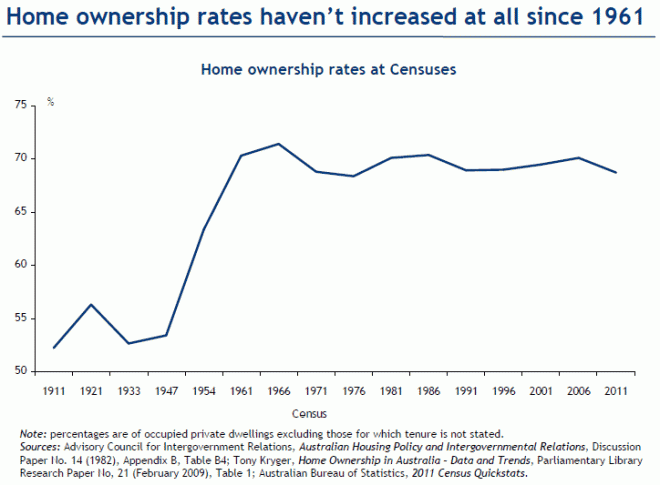 It follows, then, that the best way to ensure people's security in retirement is to increase access to first home buyers by making homes more affordable? Surely Australians would be in a far stronger financial position, and would be far better placed to save for their own retirement (and avoid the aged pension), if they were not required to pay-off some of the world's biggest mortgages, thanks to policies like negative gearing?
The argument that negative gearing is a middle-class affair is also only half right.
While the majority of rental properties are held by middle income earners: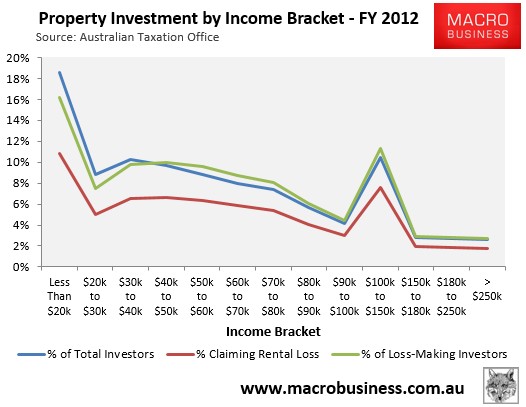 The fact remains that property investment is most popular amongst higher income earners, presumably due to the increased tax benefits on offer as one moves up the marginal tax scale.
In 2011-12, 35% of taxpayers earning over $180,000 held an investment property, with 24% negatively geared. By comparison, 15% of taxpayers earning between $50,000 and $60,000 held an investment property in 2011-12, with 11% negatively geared (see next chart).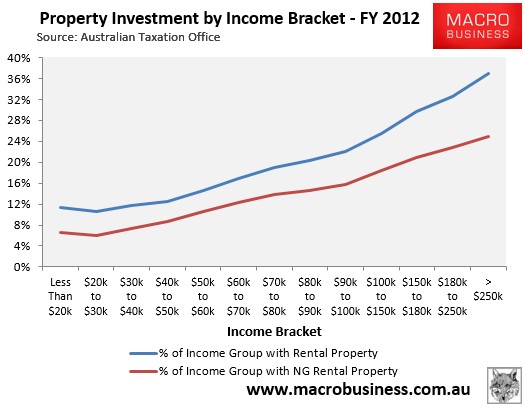 Average net rental losses are also much higher in dollar terms (but less in percentage terms) for higher income earners: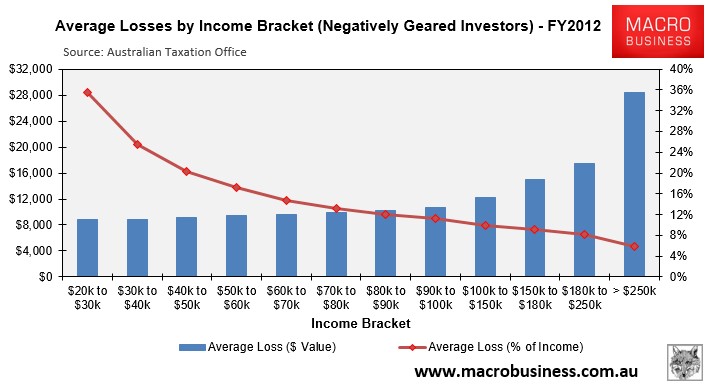 Finally, the Property Council's claim that winding-back negative gearing would cause rents to "skyrocket" is laughable. As has been shown many times before, the overwhelming majority of investors purchase existing housing (see next chart).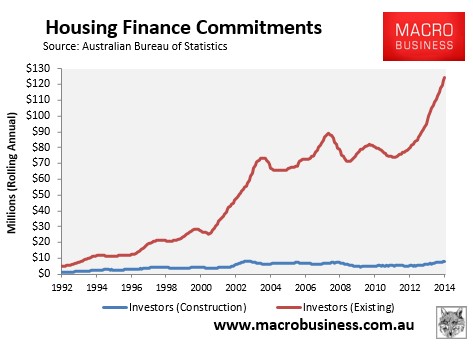 And since investors primarily purchase existing dwellings, negative gearing in its current form simply substitutes homes for sale into homes for let. Accordingly, the policy has done little to boost the overall supply of housing or improve rental supply or rental affordability.
In fact, the last time negative gearing was 'abolished' (quarantined) between 1985 and 1987 (shown in red below), there was no demonstrable impact on rents, with periods of higher rental growth recorded both prior to and subsequently: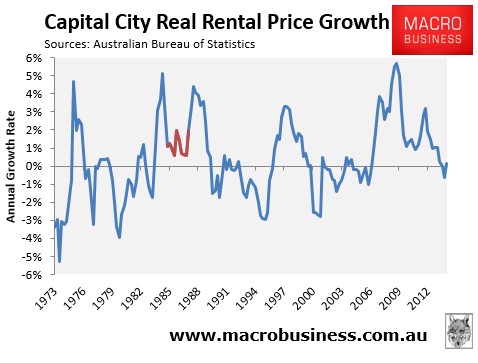 Seriously, why would property investors campaign so hard against a reform that would raise rents?
The truth is that if negative gearing was wound-back and a proportion of investment properties were sold, they would be purchased by renters (or other investors that would rent them out). In turn, those renters would be turned into owner-occupiers, reducing the demand for rental properties and leaving the rental supply-demand balance unchanged.
Expect this $60,000 report to be a grand exercise in propaganda and self-interest, rather than a well-meaning public policy discussion paper.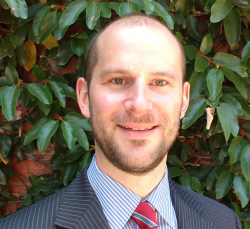 Latest posts by Unconventional Economist
(see all)