You know when your plodding through the ideological labyrinth that is Australian politics when this happens to the massive Abbot Point coal project:
The government has offered funds to help build shared-use infrastructure, such as a rail line or airport, from its asset privatisation and lease plan.

The LNP is yet to put a figure on how much it is willing to contribute, but an Indian media report put it at $400 million. Indian company Adani, which is hoping to raise funds to begin work on its Carmichael project, set to be the nation's biggest coal mine, has said it does not need the government's infrastructure assistance in order for the project to go ahead, but welcomed it nonetheless.

"So the government is doing the wrong thing by taxpayers by picking a winner and picking losers. It needs to stack up financially, it needs to be commercially viable and the market should decide that, not Campbell Newman," said [Opposition Leader Annastacia Palaszczuk].
Of course, we're really only splitting hairs over this. Both parties want the project. But it will be markets that decide the matter, and right now it's not looking good. The project is thought to have a breakeven point around $100 per tonne but we haven't seen that now for two years and prices are still making new lows, at $61.30 today: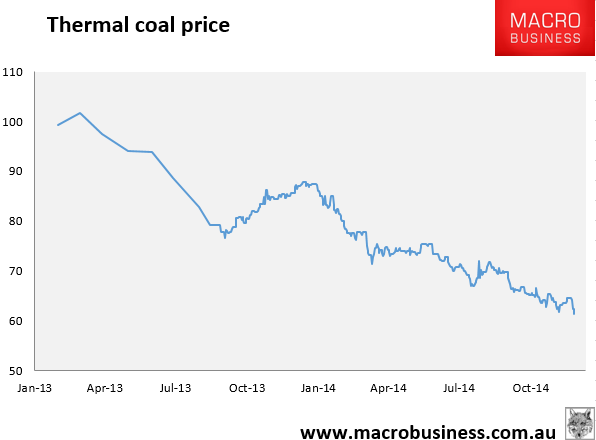 Moreover, futures are pricing mid $50s before long.
And from Crikey:
Newman's decision to call a snap poll in the holiday month of January is proving a double-edged sword. LNP strategists hoped it would catch voters when they were "relaxed and comfortable" and not wanting to do anything dramatic like changing the government. But an opposite mood is being detected in the electorate. Annoyed by Newman's decision to run early, they are just not listening to the LNP's message, and one voter has told Crikey: "I made up my mind about Newman and the LNP last year. Nothing they say now is going to change my vote."

Many voters regard Newman's "snap poll" as a barely disguised "cut-and-run poll", and they wish the vote were this Saturday and not next Saturday, January 31.

When voters from Cooktown to Cunnamulla are anxious to vote, it is never a good sign for those in power. It usually means the punters have started to oil their cricket bats.

No one doubts that the swing against the LNP is on, but just how big is it going to be in 10 days?
It's surely impossible for the current QLD politburo to lose from here, deservedly or not: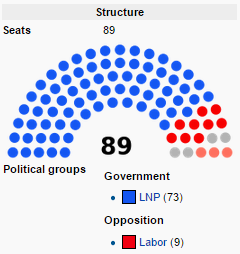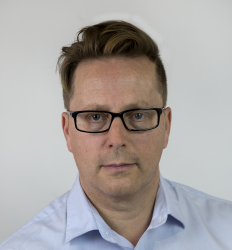 Latest posts by Houses and Holes
(see all)