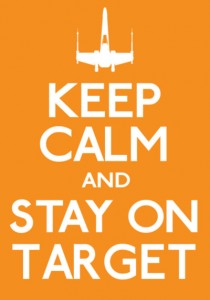 by Chris Becker
Welcome back to 2015 for Macro Morning – so what's been happening on the markets over the break?
Just a reminder that most markets "suffer" from very thin volume, and hence higher than usual volatility during the Christmas and following NY week, but that didn't stop a number of new trends emerging or an old one re-firming.
The US S&P500 had its worst start to a year since 2008, and on Friday night slipped below 2060 points, while futures fell further: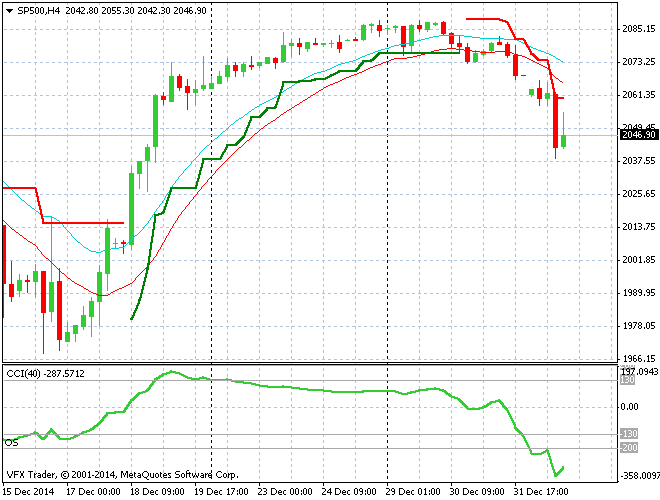 This was on the back of a slightly less than firm ISM manufacturing index print which fell from 58.7 to 55.5 in December, with construction spending also reversing unexpectedly.
I'm watching the 2030-2040 level on the SP500 very closely for signs of this intermediate trend turning into another correction, back down to the 1800 level experienced in October last year. However, the usual post-Christmas bounce is likely so don't be too concerned yet until all the US traders are back in Manhattan later this week.
With all the hoopla of a potential "Grexit" – Greece's exit from the EZ – European shares have fared fairly well with the FTSE off 0.3% on Friday and still holding onto temporary support around its daily hi/lows: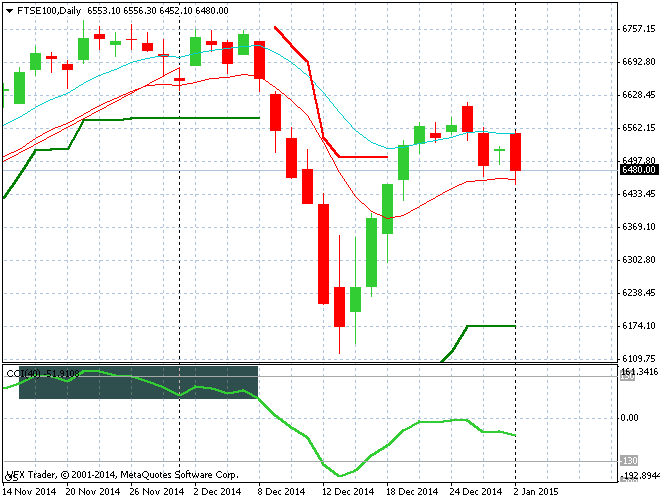 The DAX was off 0.4% to 9764 points while peripheral markets in Spain and Greece rose on speculation the ECB was going to save them (i.e buy everything in sight).
Bond markets have been relatively quiet, with US 10 years still hovering above 2% at 2.11%, falling on Friday as did 2 years, while German 10 year bund yields keep falling to the floor, now at only 0.5%! Greek 10 years are below 9% again for comparison….
Well the usual volatility in Monday morning FX is back with a vengeance! Already on the thin NZ open and now into the Asian open, we're seeing huge ranges and moves across all the majors. Euro gapped open below 1.20, Aussie almost broke through the 80 handle and Cable (GBPUSD) is nearly in a 200 pip range!
Euro has been in a downtrend the last two weeks, as speculation of ECB easing rises: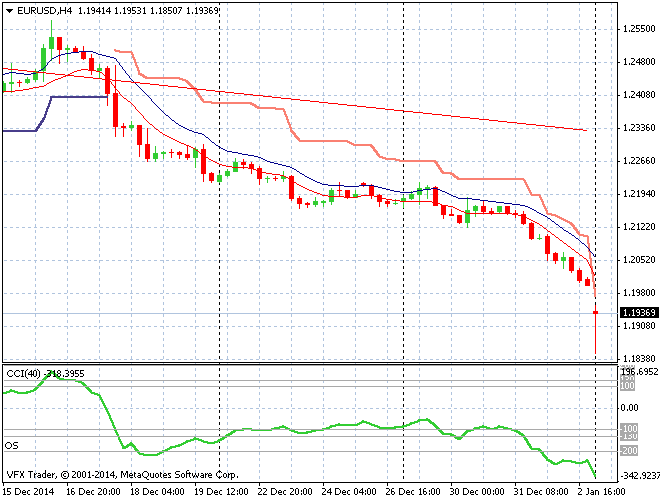 Cable also has been heavily sold off as USD remains king, breaking the 1.55 support level: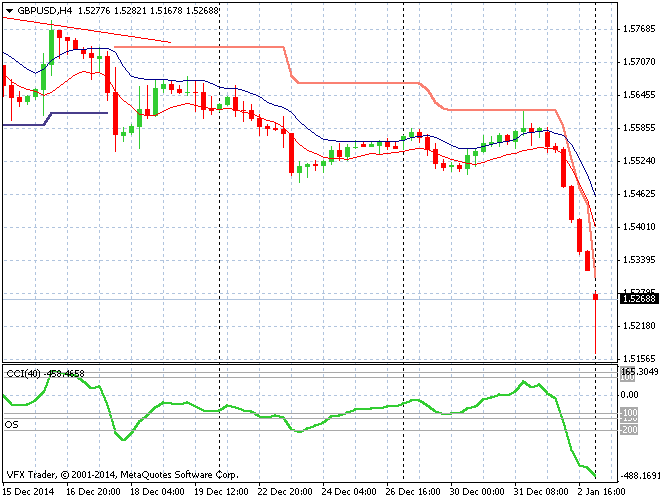 As for the Aussie battler, which is now at 1.05 against the NZD, rallying 1 cent during the break, the bears are circling after a false breakout during the Christmas cheer: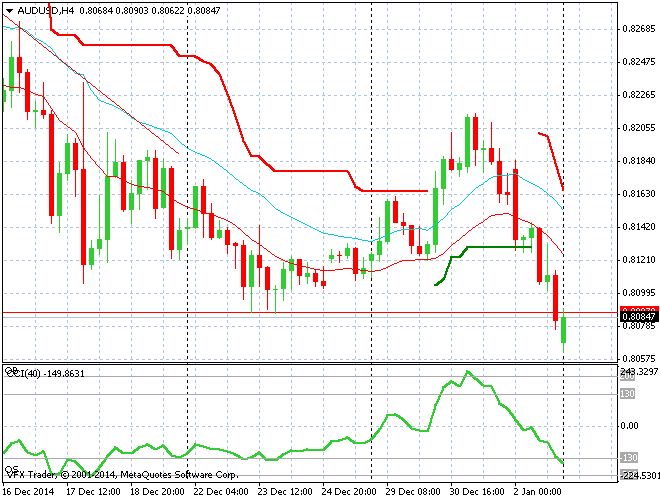 As I'll explain in a separate post later today, the 80 handle is critical for Aussie in the week(s) ahead as this represents long term support and a psychological barrier for all types of investors in the once-safe haven currency.
In the commodity complex the crisis continues, with oil prices continuing to slide amid a stronger USD and weak Euro demand. Brent especially is feeling the heat, down nearly a buck a barrel to $56.40 with WTI crude down only 1%: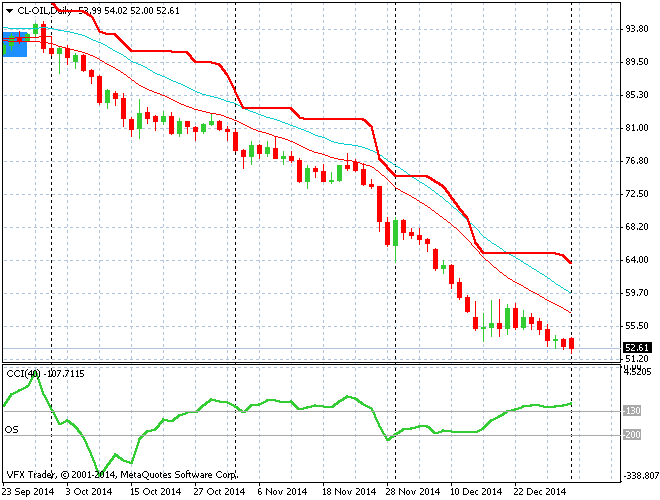 These are new lows for crude and the Christmas break gave no impetus to higher or even stable prices. With no production cut support coming from the key members of OPEC (remember, the Saudis currently don't care if crude goes to $30!) this market is steaming up as the one with the most volatility potential in the weeks and months ahead – up and down.
Metals are still feeling the pressure too, with gold extremely volatile, ranging around its point of control just below $1200USD per ounce, but also definitely unable to break above its former uptrend in the latter half of last year.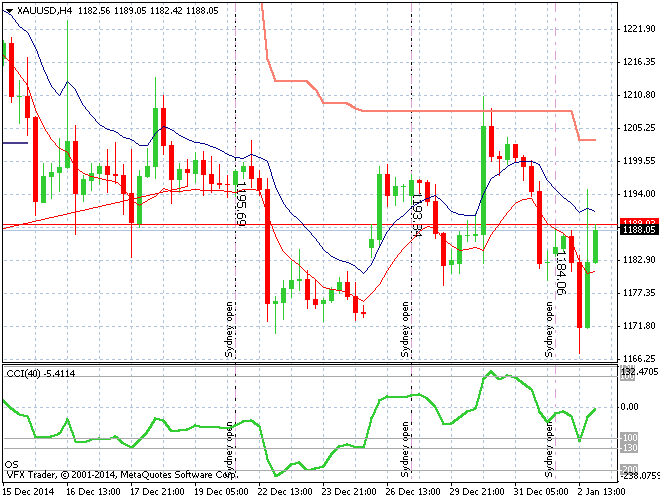 Silver is in a similiar, if more stable, boat, still below $16USD per ounce while other base metals have fallen 1 to 3% on thin volume.
SPI futures have opened sharply up taking back most of the falls of post-session trading from Friday night with the ASX200 expected to open about where it started on Friday at 5435 points or so. There is major support for the ASX200 as iron ore juniors get a rattle on due to the small bounce in iron ore prices while speculation mounts on a big Rio Tinto buyback.
Data today is light on in Asia, with the AIG PMI released already and only German retail sales and CPI to watch in Europe followed by December auto sales data in the US.
_____________________
If you missed it on the break, check out my "Trades of 2014" special report (for subscribers only) going over the best (or worst, depending on your view) moves in macro markets of the last year. I'll have a new special report out this week, "Opportunities for 2015", going after the potential winners and losers ahead.
Latest posts by Chris Becker
(see all)