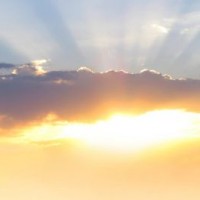 by Chris Becker
The Swiss Central Bank unpegged its currency from the Euro last night and sent markets reeling, with FX brokers (and highly leveraged customers) and macro hedge funds to the wall. USDCHF fell from 1.01 to 86 cents – yes you read that correctly – almost instantly (thats a daily chart):
With the peg removed the floor fell out of the arse in EURCHF, moving straight down from 1.20 to 87 then back above parity before resuming a small decline (I would have an MT4 chart but my provider is no longer trading EURCHF!)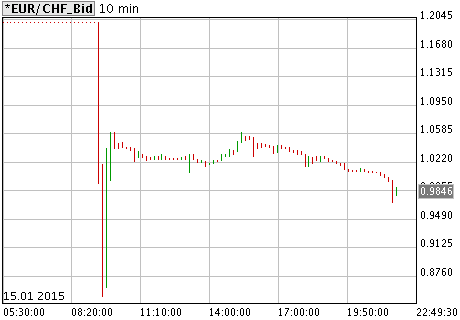 As an aside, I stopped trading CHF (including USDCHF) awhile ago, more because of an opportunity reason (I prefer Yen, Pound and Aussie for session/spread/liquidity reasons) than any Black Swan risk as happened last night. The key takeaway here is only trade with money you're prepared to lose – and there's a lot of losers out there today.
There was a big cascading effect to the unpeg across risk markets, coupled with the flash GDP result for Germany and weekly US initial jobless claims. Post the shock, European stocks did quite well, up 2% across the board with the DAX30 breaking out above 10000 points again:
The FTSE saw a slightly smaller bid, up 1.7% but this positive mood did not switch over to the US session. Earnings season in the US has not progressed smoothly with bank stocks dragging the main bourses down on 4Q downgrades. The S&P500 was off just under 1% for its fifth day in a row and is fast approaching its pre Christmas support:
SPI futures are pointing to a similar loss on the ASX200 this morning, with iron ore stocks to weigh but should get a good bounce from gold.
In currency land, the US Dollar Index (DXY) maintained a 92 point level as volatility erupted everywhere in the crosses. Euro fell straight through the 117 handle and then 116 hitting a new low at 1.1560 before stabilising:

Anyone wondering why the SNB is getting out of its long Euro positions just needs to look at the longterm chart…Doomed I tells ya!
Yen continues to strengthen with the four hourly chart coming up to support just below the 116 handle in what is now a sustained downtrend for USDJPY:

Cable was relatively stable (intraday shenanigans aside) and remains at its point of control while  Aussie saw a safe haven bid on the Swiss madness before gapping down this morning below the 82 handle:
Gold was the clear winner overnight, surging 2% in USD (and more across the other currencies), confirming its daily breakout and above its October 2014 highs. A new safe haven after the letdown of the Swiss?

Oil fell again overnight, unable to make headway in its very short term breakout as the hourly chart of WTI below shows:

Data today is very light in Asia as the week cycle ends with CPI results for EZ, Germany and the US and then industrial production and the Michigan consumer confidence print early Saturday morning AEDST.
Latest posts by Chris Becker
(see all)