by Chris Becker
Another QE cat is let out of the bag with the ECB announcing a 60 billion euro monthly purchase program overnight, as expected. The response on risk markets was one of relative calm, with almost all bourses up 1 to 1.7% across both sides of the Atlantic, the commodity complex including gold steady, haven haul-ass to the USD continued while European bond yields plummeted to new lows.
The German 10 year Bund is now at 0.44%, falling 0.08%, with Greek 10 year yields falling half a percent to 8.5% as peripheral bond yields fell between 0.1 and 0.2% across the board.
Here's a quick summary of what happened first with the DAX30 which extended its monthly high breaking out above the 10300 level on the intraday charts:
This looks overbought, but never short a bull market backed by QE! Well, do it for a swing (and giggles) but buy the dip is now the mantra on the continent. The FTSE has soared and is now hitting its November 2014 resistance level around 6700 points:
I expect a retracement here as this is too fast, but then another or third attempt to push through should be successful.
In US stocks, the gains were clear across the board, with the S&P500 up 1.5% to 2063 points, but there was a shakeout in the midst of the ECB action as weekly jobless claims were announced:
I think you can tell by that action why I was up all night trading (and why I'm late this morning), but it gets more interesting as we look at currencies.
The US dollar is on an absolute tear as you can see in the USD Index(DXY) chart below: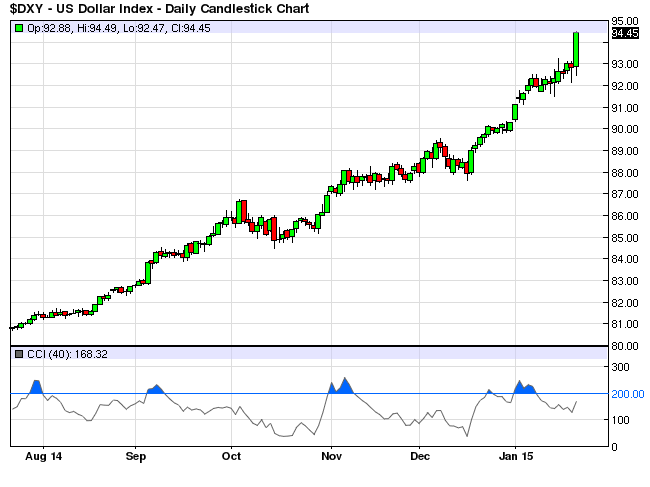 As the bottom completely fell out of the Euro on the QE action, falling from 1.1650 to 1.1350 in a relatively calm manner (I added to my shorts on each half hour here):
Indeed where the bottom will be in this move (don't think you've missed it if you didn't go short last night) no one knows as there is literally no support below this level, save a psychological one at parity.
The pound broke out in the London session before an overbought peak slammed it back down almost 200 pips to just above 1.50 against the USD:
As Aussie behaved almost exactly the same way in sympathy and actually broke through the 80 handle for a moment before rebounding:
A break through 80, particularly over the weekend close probably will nail the coffin shut for the rest of the year as the last remaining longs take their bets off the table.
Yen is range trading again as the USD strengthened, coming back up to its former resistance level on what could be a double top pattern or simply a distribution before another leg up in the megatrend:
In commodities, oil tried to break free, especially WTI crude which hit the $49 handle before – you guessed it – was sold off on USD strength back down to $46USD per barrel in a pretty wild intraday ride (oh yeah!). This morning the longs are back pushing it up $1USD already:
Gold had an inverted pattern to oil intra-session last night and has now consolidated above the $1300USD per ounce level, seemingly decoupling from the USD strong trade as the idea of safe haven for the shiny, but mostly useless metal, rises again.
For a longer term view, look at the weekly chart – if gold can close above this level the breakout is clear and the upside target is $1390-1400:
Data today begins with Chinese preliminary manufacturing PMI for January and then expands later tonight into German and European PMI prints before US and then US home sales to boot. It'll be an anti-climax after last night!
Latest posts by Chris Becker
(see all)