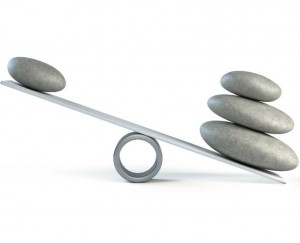 by Chris Becker
Normally, you should cheer on lower inflation as your disposable income becomes more valuable. And with oil prices falling and mortgage rates at record lows, its doubly cheerful! But in Europe, unless you're German, tough luck.
Overnight we saw two very important prints that will shake the ECB up when it meets on the 22nd later this month. First, German unemployment fell to a twenty year low at 6.5% (even though jobs were lost over the month), while Italian unemployment was steady at a depressing 13.4%
This divergence is key to understanding why the German-dominated ECB has failed to act in arresting the depressing unemployment levels in peripheral Europe. Because as long as German unemployment and moreover, inflation, remains moderate and contained, the rest of the continent can go to hell.
However, the lack of demand outside the central power has now slipped the Eurozone into deflation:
The eurozone slipped into negative inflation in December, giving the European Central Bank as much of a shot in the arm as it needs to launch outright quantitative easinglater this month.

Consumer prices fell 0.2% on the year to December, far short of the ECB's near-but-below 2% target (and if you want to know why this, according to the ECB, is still negative inflation, rather than deflation, read this).

Meanwhile, ECB measures announced during the past six months or so to pump liquidity into the system have so far failed to produce hoped-for results.

Which leaves the ECB with the option that the U.S. Federal Reserve, the Bank of England and the Bank of Japan have relied on to achieve the same result: buying government debt, or quantitative easing.
Even after stripping out the effect of plunging oil prices, which keeps the core CPI gauge just below 1% and significantly below the 2% target, the risk of a deflationary spiral as aggregate demand slumps is ever present.
More from Bloomberg on why we should expect some sort of QE soon, and probably repeated throughout 2015:
ECB Chief Economist Peter Praet told Germany's Boersen-Zeitung last month that in an environment in which inflation expectations are "extremely fragile," officials cannot "simply look through" the slide in energy costs. Praet makes a recommendation at the start of each monetary-policy meeting.

Central bank staff have worked on QE proposals in the past two months, and Dutch newspaper Het Financieele Dagblad reported yesterday that governors may be offered three different options to choose from at their Jan. 22 meeting.

"According to the ECB's own logic, with sub-zero inflation, no sign of a material pickup on the horizon, and inflation expectations de-anchoring, there is a compelling case for further monetary easing," said Teunis Brosens, an economist at ING Groep NV in Amsterdam. "The question no longer seems 'if' the ECB is going to announce QE, but 'how' it will be tailored."
The ECB needs to act soon and for the sake of all Europeans, not just the Germans.
Latest posts by Chris Becker
(see all)