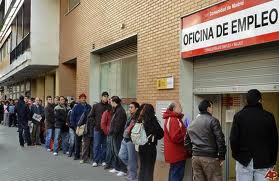 by Chris Becker
Today's chart is a sorry pair out of Fitch's 2015 Global Housing and Mortgage Outlook, that we previewed earlier today with regard to Australian house prices.
While the chart highlighting nominal house price growth was both awesome and disgusting, showing Australia leading the way, the detailed specs on Spain were equally sobering.
For those unaware of the state of the Spanish economy, it continues to suffer in the extreme in the wake of its burst housing bubble, with unemployment at depressing levels, ca. 25% (youth unemployment is at 54%!):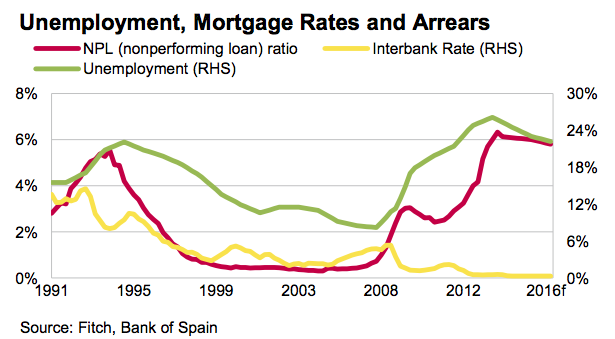 Almost nothing has arrested this abhorent state of affairs, including lower rates (now zero), as non-performing loans continue to drag with no recovery in sight. The diagnosis is quite simple. The orgy in mortgage lending before the GFC is a debt that cannot be repaid.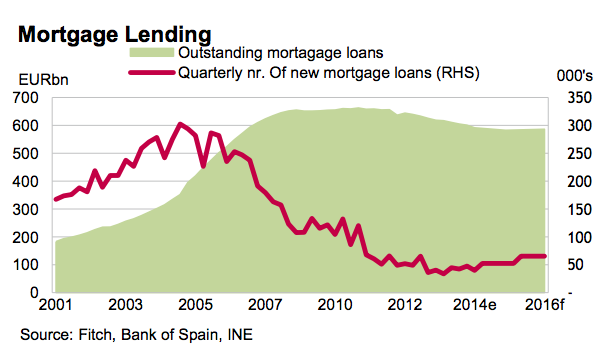 The lifeblood of an economy is credit creation, that is new mortgages and business loans that create aggregate demand that creates spending which creates employment and therefore revenue for government. When an economy is saturated in debt, usually of the non productive kind that is sucked up by speculation, aggregate demand growth reverses, spending retracts,  unemployment spikes, revenues disappear.
Most of the time this cycle restarts as government spending (automatic stabilisers) fills the gap, interest rates come down a little, prices fall, malinvestments are cleared, more modest and conservative business loans are created, confidence rises and off we go!
The problem is interest rates are at zero and can't go lower and the government cannot spend more (Spanish debt to GDP has more than doubled to over 90% since the GFC) as markets are unwilling to purchase sovereign debt (hence the call for the ECB to do so).
The solution for Spain is simple but unpalatable. Don't worry about the government debt. Get rid of the mortgage debt.
Latest posts by Chris Becker
(see all)