From Banking Day:
Credit spreads for the banks moved wider over the second half of 2014, and continue to do so.

For example, in August National Australia Bank raised A$1.7 billion for 5.25 years at a credit spread of 82 basis points over the bank bill swap rate, in the domestic market. In November, ANZ paid 85 bps over swaps for A$2.0 billion of five-year funds in the same market.

Last week, Commonwealth Bank sold €1 billion of five-year floating rate notes in the Euromarket. The cost of this funding hedged back into to Australian dollars for the Commonwealth Bank equates to 90 bps over bank bills.

A credit spread of 90 bps is exactly what Westpac paid for A$2.8 billion of five-year bonds and floating rate notes issued in the domestic market last week.

If further confirmation of widening credit spreads is required, ANZ paid 53 bps on A$1 billion of three-year floating rate notes issued in the domestic market last May. Last week, the banksold US$500 million of the three-year floating rate notes in the US s144A market, and incurred a swapped back cost of 74 bps over bank bills.

And in the credit default swap market, five-year risk on the major Australian banks was priced at 50 bps at the end of September. The spread is now 66 bps. 
That was this morning. Today the CBA CDS price is at 76.5bps. Here's the chart: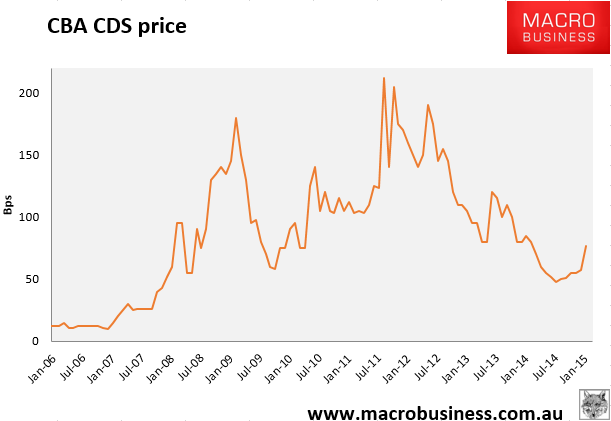 We're a long way yet from trouble but it's a solid six month uptrend now with a big spike in the past few days. We're almost certainly past the bottom for the cycle.
The causes are manifold. The cycle turned with falling iron ore and oil shredding Australia's medium term economic outlook; housing has been too hot with bad loans on the horizon; regulatory risk is up after foreign buyers restrictions, macroprudential and the Murray Inquiry, and in the past few days counter-party risk is up after the Swiss decision and Grexit worries.
Plenty of reasons to re-price loans to externally funded and property dependent banks in a commodity jurisdiction. Worth watching.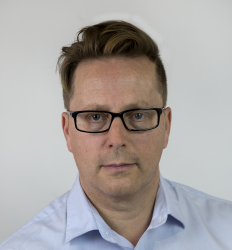 Latest posts by David Llewellyn-Smith
(see all)