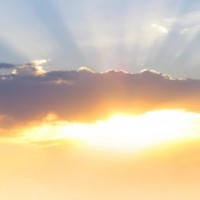 By Chris Becker
A quite amazing night of volatility on equity and currency markets last night as the Taper Tantrum (well put HnH!), embiggened by continued Ebola scares, Greek wobbles and poorer than expected US data reaching a crescendo before collapsing under its own weight.
First, look at the CBOE VIX – there is no clearer picture out there that current moves in markets go beyond the normal dips and blips: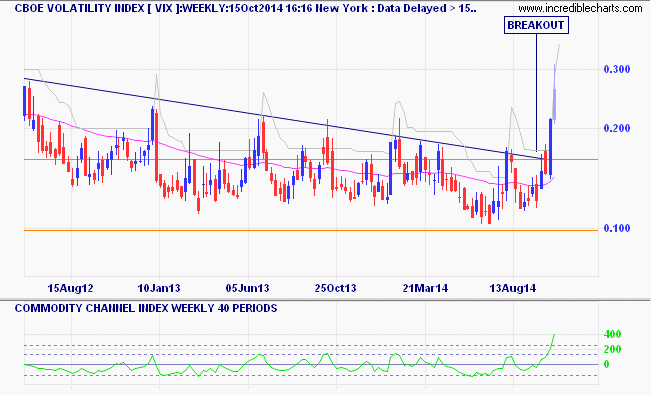 In my VIX study (I check this every day, but more importantly the close each week analysing the true range) the two orange horizontal lines point to periods of "too-low" or Minsky volatility levels, the upper being the previous lows reached before the May 2010 and August 2011 corrections, the lower the most recent lows.
Periods of low volatility are not conducive to stability and, for me at least, change how I manage my positions and indicate what systems I should employ or put aside. Last night I was in "FOG" mode – i.e shorting everything with the fist of an angry god, ready for the inevitable PPT (plunge protection team) to step in, on very low time frames. And this happened across the board, except in bonds, where it was a story of "Get the hell out of USD" then, buy it back:
The S&P500 was down 3%, a huge move, before only finishing down 0.5% – notice how my usually smooth ATR lines (blue positive, red negative) are all over the place, signalling the sort of volatility out there:
It was the release of some soft US economic data, namely contracting retail sales for September, a deflationary PPI print and a disappointing Empire manufacturing survey that saw the USD unwind begin in earnest. Look at EURUSD, up over 200 pips:
While Yen was bid strongly, breaking the 107 and 106 handles in quick succession:
The ride in Aussie dollar was epic, but I didn't catch the second leg breakdown and reversal, as the US Beige book was announced (amid some Yellen Fed rumors) as it cracked the 88 handle and accelerated above where it sits today – more jawbone Mr Stevens!
Gold was equally impressive (and paid off nicely thank you, even on increased spreads) where it soared over $20USD per ounce making a lot of headway into its recent bounce sitting at $1240USD per ounce this morning:
Whereas the oil complex reflected the soft retail numbers and WTI cracked $80 on the futures before moderating – this looks extremely weak:
What does this mean coming into the Asian session? There's sure to be a lot of spooked trading desks out there in Sydney and Tokyo this morning, with risk management plans in place (like e.g Nomura which is unwinding its huge USD position). Last night saw the biggest bids in bonds (nearly 3/4 of a trillion) on repositioning of risk, so this maybe signalling a temporary bottom in this extremely oversold move.
Here's the daily chart of the S&P500 for perspective: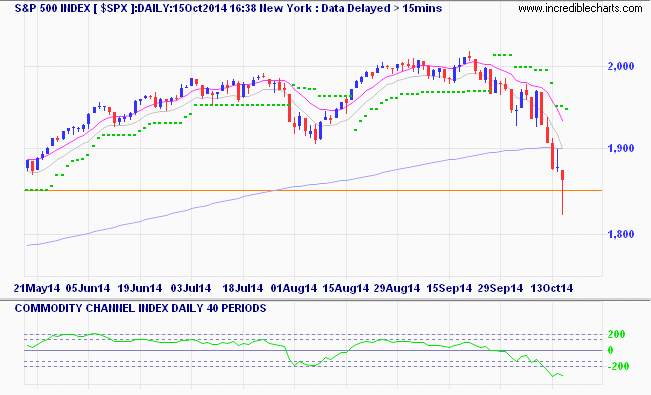 The momentum reading is literally off the charts (more than 3 standard deviations) and combined with last nights candle pattern, the probability of a correction bottom has increased immensely. This does not necessarily mean an instant rebound or rally back to new highs, but more likely a sideways distribution with some large outside and inside day patterns before a more clearer direction is at hand.
As for the ASX200, the rewind in iron ore fortunes may put a damper on any rebound this morning, as SPI futures indicating about a 0.5% loss on the open, but I expect huge volatility today across the board (looking at you banks and miners).
Data that could move markets today includes NZ PMI, job ads and confidence prints (following the dairy auction last night), some mid tier European final prints this evening before a possible knock out punch in the US with initial job claims, industrial production and Philly Fed prints.
Latest posts by Chris Becker
(see all)