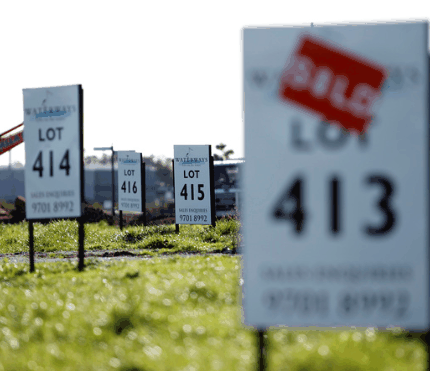 Prosper's David Collyer has released an excellent new report examining listed developer land banks in Australia, using data derived from ASX annual reports. Below are the key extracts.
First Collyer examines some of the underlying reasons behind land banking, which support my own views (outlined here):
Listed property developers report their land holdings to the Australian Stock Exchange, which opens a window into the murky world of 'englobo' landbanking. Their 2014 annual accounts show they have 272,000 lots in development, with a disclosed end value of $81 billion.

Sharemarket-listed developers are a minority of developers. Their lot sales are around 25.7 per cent of the approximately 65,000 national residential land sales in the same period identified by the Housing Industry Association.

Land banking – an especially damaging form of rent-seeking – is more prevalent where land supply is constrained and planning approval processes slow and uncertain. Land banking is also only profitable where the market price of land is rising faster than the cost of capital.

In Australia, land cost increases have four drivers:
• restrictive planning,
• the easy availability of credit,
• the speculative appetite of buyers, and
• taxes, notably who pays and where it is taken.

Government has an evergreen task ensuring developers cannot corner the market by confirming and reconfirming land supply is contestable – i.e. there is always the opportunity for someone further afield to compete on price and undercut. Planning constraints, like urban growth boundaries, reduce contestability and the ability of competition (or the threat of competition) to hold down prices. They effectively allow oligopolistic returns by conferring market power upon landowners.

Withholding vacant land from use displaces activity and drives up land costs – to the great advantage of all who own developable land. Central to affordable, available land is whether land owners on the fringe are allocating land to best use according to price signals; or speculating in an asset class rather like gold bullion – holding rather than selling land into use…
Advertisement
Next Collyer examines listed developers' land banks, which have fallen significantly over the past year to 14.9 years supply from 19.3 years in 2013 (see below table).
Listed developers debt has also reduced:
Advertisement
Australia's listed developers have significantly and painfully reduced their debt since 2007 via capital raisings and asset sales. What little they do have is likely secured on their income-producing commercial and industrial properties. Organisationally, they could easily survive a major land price correction, though shareholders equity will shrivel mightily.
Collyer then shifts to an analysis of planning policy, which has reduced competition amongst developers and helped to force-up lot prices (again supporting my own views):
Planners err in thinking their rationing of urban land is a 'flow control valve' whereby the pressure on price can be carefully controlled. The reality is that they have an on/off switch for a nuclear chain reaction. This is why there are no urban economies that are just "slightly unaffordable"; data sets of median multiples (median house prices over median wages) tend to cluster around 3, and then around 6, with a tail going up to 12.

The removal or modification of regulatory constraints on the supply of land, along with more permissive planning policies and infrastructure provision, would increase competition amongst both developers and land owners, and limit their ability to ration sales and sustain high prices. Higher levels of competition would also deter land banking by increasing holding risk, as another nearby owner would always have the opportunity to offer into the market ahead of the land bankers.

While developers can rightly argue they are constrained by government planning controls, in practice, this is a feature not a bug. It provides an extremely high barrier to entry, confining development activity to those with deep, patient capital and the expertise to negotiate effectively with government – over years in some cases.

Land under restrictive planning conditions switches from being regarded as a resource to be allocated to best use by the market, to a speculative commodity where motivations become inverted; because once the prices have started rising, the incentive is to withhold it while prices rise some more.

In unconstrained markets, developers tend to just watch out for farms coming up for sale as farms, somewhere within a brief drive of the existing urban area. The turnover of farms tends to be high enough for developers to avoid door-knocking and begging land owners to sell. Instead, developers are forced by urban planning into a gladiatorial contest to outbid each other for uncommitted, zoned land.
A consequence of these planning constraints has been shrinking lots sizes, as developers seek to deliver 'affordable' stock to the market whilst maximising profits:
Advertisement
One of the few matters solely in the control of developers is the rate of release, drip-feeding sections at their preferred prices. Not content with this, developers have added a new wheeze: reducing lot sizes.

The argument floated around is that somehow all home buyers have abandoned the dream of a villa on a garden and now want a townhouse on 350 m2 – never mind it will be on the outskirts. In Melbourne or Sydney this could be 60 km from the CBD.

Smaller lot sizes are mainly achieved by reducing the depth of lots. Yes, the developer gets more lots per hectare, but must install more roads and utilities to achieve this. The loss of the prized Australian backyard and private open space will have major future social consequences.
Another consequence is rocketing land values:
Australia's residential property price bubble is a land-only bubble. Construction costs have not budged for thirty years, as the chart below makes abundantly clear.

Australians already enjoy spacious and comfortable housing. Imagine if we could back this with inexpensive land – as it was until the mid-1990's.
Along with planning, state taxation policies have encouraged this situation (shrinking lot sizes / escalating land prices) to occur by rewarding (or at least not penalising) land banking:
Advertisement
In one of the most anti-citizen regulatory changes I have ever observed, Victorian Planning Minister Matthew Guy recently issued a blanket exemption from State Land Tax for all land within Melbourne's Urban Growth Boundary , even 'shovel ready' land in competed Precinct Structure Zones.

The cost of freshly subdivided land on the outskirts of cities affects the market all the way to the centre. SLT is a small but insistent charge prompting owners to put land into use. Minister Guy removed one of the few levers government has available to oblige developers to act.
Thus, The Great Australian Land Bubble goes on…
The full report can be read here.