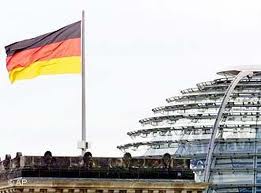 by Chris Becker
I tend to give the Germans a hard time when it comes to their intra-European policy  – i.e take the benefits of a cheaper Mark (euro), overburden southern Europeans with cheap debt, delight in the profits and massive current account surplus and then demand fiscal austerity when it all goes pear-shaped.
But they do get the majority of their domestic economic policies right, especially in education (free tertiary), the superb Mittelstand SME system, and to the surprise of many – housing.
There is no question that the Anglo-sphere economies, that is Great Britain and her former colonies, have a passion bordering on obsession with housing. The latter half of the 20th century saw a broad move toward an expanding middle class (gaining the prosperity of a post WW2 world) using residential property to create "wealth", turning what was once just a consumption good into a speculative asset.
It seems that recent history has been forgotten and those economies are hell bent on repeating the mistakes of the past, as the devastating GFC seems to have taught almost no one – the regulators, the retirees, the new entrants to the "property ladder", let alone the politicians in charge of dictating policy – that hitching entire economies to that of a speculative bubble cannot end well.
A recent article in Forbes has highlighted how different the German approach to housing is, and why in the long run – even given severe demographic and macro-political challenges – they are likely to have a more robust, prosperous future than their Anglo-Saxon cousins.
It is hard to quarrel with the results. On figures cited in 2012 by the British housing consultant Colin Wiles, one-bedroom apartments in Berlin were then selling for as little as $55,000, and four-bedroom detached houses in the Rhineland for just $80,000. Broadly equivalent properties in New York City and Silicon Valley were selling for as much as ten times higher.

Although conventional wisdom in the English-speaking world holds that bureaucratic intervention in prices makes for subpar outcomes, the fact is that the German economy is by any standards one of the world's most successful.

On Wiles's figures, German house prices in 2012 represented a 10 percent decrease in real terms compared to thirty years ago. That is a particularly astounding performance compared to the UK, where real prices rose by more than 230 percent in the same period.
The Economist's house price index indicators paint a similar picture over the long run – Germany is in green there on the bottom.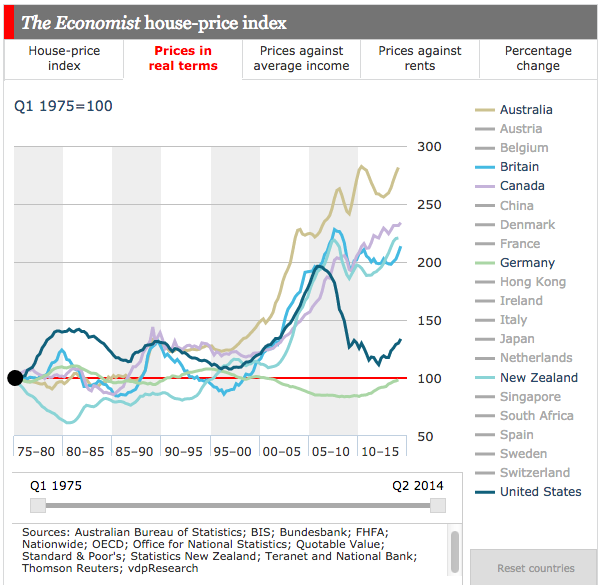 Unfortunately the real house prices since the nadir of the GFC have broadly followed others: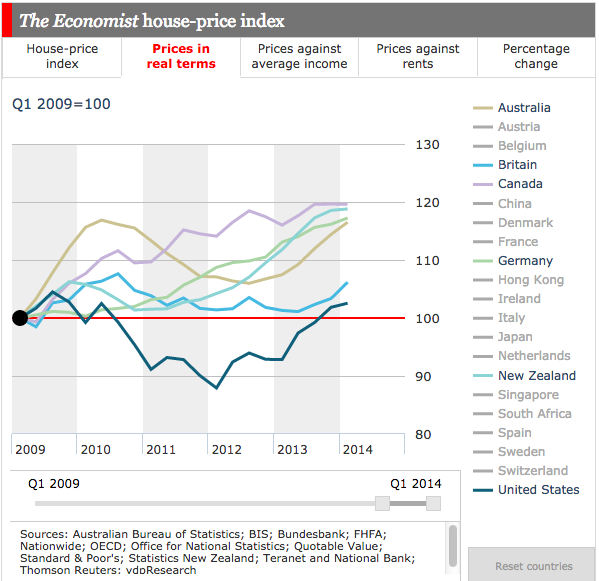 Beyond this very short-term view, it is important to understand the structural underpinnings of the German real estate market. Which is properly regulated on both the supply and demand side, its policy aims intact:
…municipal authorities consistently increase housing supply by releasing land for development on a regular basis. The ultimate driver is a  central government policy of providing financial support to municipalities based on an up-to-date and accurate count of the number of residents in each area.
Macroprudential has always ruled, not as a second to last thought, as per the RBA's snail-like reluctance, and the taxation system is designed not to encourage speculation, but to ensure a steady supply of affordable housing:
Meanwhile demand for owner occupation is curbed by German regulation. German banks, for instance, are rarely permitted to lend more than 80 percent of the value of a property, thus a would-be home buyer first needs to accumulate a deposit of at least 20 percent.

To cap it all, ownership of a home is subject to a serious consumption tax, while landlords are encouraged by favorable tax treatment to maximize the availability of rental properties.
Renting is a cornerstone of this sound policy – seen here in Australia as akin to being a brown-skinned refugee arriving on a leaky boat – whereas in Germany it is encouraged over home ownership with the rights of tenants strongly protected.
What is the outcome of all this meddling in the economy? (my emphasis added)
Germany's managed housing market helps smooth the availability of labor. And by virtually eliminating  bubbles, the German system minimizes the sort of misallocation of resources that is more or less unavoidable in the Anglo-American boom-bust cycle. That cycle is exacerbated by tax incentives which encourage citizens to view home ownership as an investment, resulting in much hoarding and underutilization of space.

….house-builders  rarely accumulate the huge large land banks that are such a dangerous distraction for U.S. house-builders like Pulte Homes, D. R. Horton, Lennar, and Toll Brothers.

German house-builders just focus on building good-quality homes cheaply, secure in the knowledge that additional land will become available at reasonable cost when needed.
Cheap but high quality housing (both owning and renting), low unemployment, easy access to skilled labor by small/medium business, no land banking, low working hours, oh and great beer.
Where do I sign? Auf wiedersehen.
Latest posts by Chris Becker
(see all)