Here are the iron ore price charts for September 4, 2014:

All markets still in free fall. And still no convincing contango signaling a turn. Rebar futures are leading everything down, falling sharply again yesterday to end at 2838.
Miners continued to trade as if this is nothing more than a cyclical blip yesterday. And of course, Goldman was out suggesting there's not much prospect of a deep destocking by steel mills. If you're on board with this line of thinking then Kimber Capital suggests you go long the living dead.
But there are good reasons to be concerned that what started as a supply side issue for iron ore is very quickly swinging to a demand side problem for steel.
The August/September period often sees weakening steel prices but CISA high-frequency steel output data for the recent period didn't just slow, it crashed a very unusual 8.35% from the previous ten days to 1.6768 million tonnes per day. Here is the chart: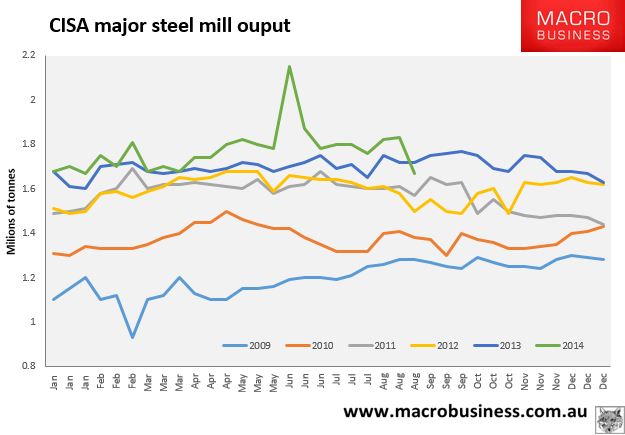 As you can see, the magnitude of the sudden stop is unusual and only matched by the late 2011 rout, the last time that Chinese property threatened to bust. It is even more strange when one considers that steel margins are relatively healthy, also hinting that this may be a growing demand side problem, not the result of a needed inventory run down to boost profitability.
The circumstantial evidence is obvious enough. We all know that Chinese property, especially new builds, is shaking out. Nobody really knows how bad it is at any given point because the data lags but it's certainly not good. The risk-tolerant RBA confessed this week it is on alert about it so you know it's non-trivial. The latest official data we have on construction from the NBS is as follows:
In the first seven months, the floor space under construction by the real estate development enterprises accounted for 6,326.85 million square meters, up by 11.3 percent year-on-year, remained at the same level over the first six months. Of which, the floor space of residential building construction area was 4,515.77 million square meters, up by 8.2 percent. The floor space started this year was 982.32 millions square meters, down by 12.8 percent, and the pace of decline narrowed 3.6 percentage points. Specifically, the floor space of residential buildings started in the year amounted to 690.69 million square meters, down by 16.4 percent. The floor space of buildings completed stood at 435.24 million square meters, went up by 4.5 percent, a decrease of 3.6 percentage points. Of which, the floor space completed of residential buildings stood at 332.70 million square meters, went up by 2.7 percent.
That's a circumstance in which falling construction starts are slowly overwhelming the backlog of work and one wonders if this is not reaching a point where demand for steel is beginning to take a serious hit, perhaps as demand begins to fall year-on-year.
As well, Goldman noted yesterday that cement prices are foreshadowing weak demand: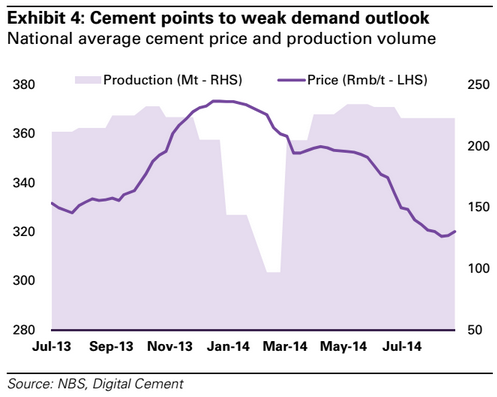 There are also persistent rumours about the viability of some very large steel mills which is again strange, given margins are decent. CISA executive vice president Zhu Jimin said at the 7th China International Metal Recycling Conference explained it thus:
Government policies to reduce overcapacity have resulted in banks tightening loans to steel companies, while indirect financing through other means, such as bond issues, have proven costly, Jimin said. "The share price of some listed steel enterprises is lower than their net asset value, which means the stock market has lost its financing capacity."

Due to low profitability, iron and steel companies are having difficulty generating capital from their own operations and many have reduced business due to high debt-to-capital ratios, he said.
Falling demand will only make this worse and will precipitate crisis for troubled mills.
On the plus side, this week's non-manufacturing PMIs, which cover construction, were robust so that's some reassurance(though also likely pushed back further fiscal support). But there is enough evidence to suggest that the steel crash is more than just a cyclical blip. The Chinese steel sector may be entering its first real phase of structural adjustment and could get worse – in output and prices – before it gets better.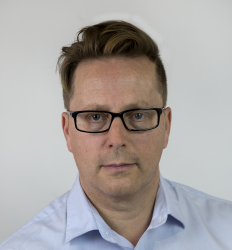 Latest posts by Houses and Holes
(see all)