Find below the iron ore price charts for August 29, 2014: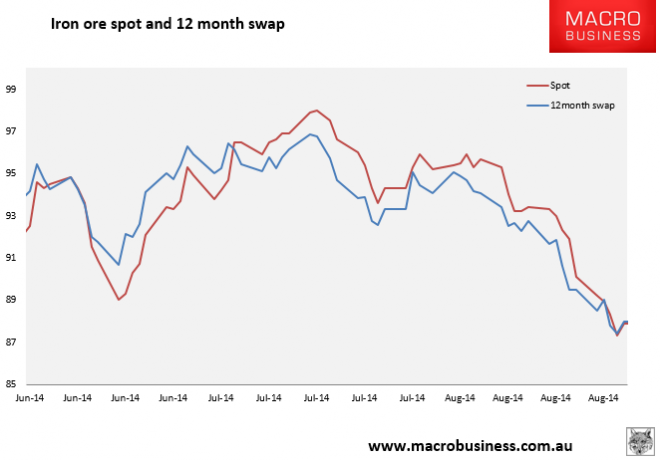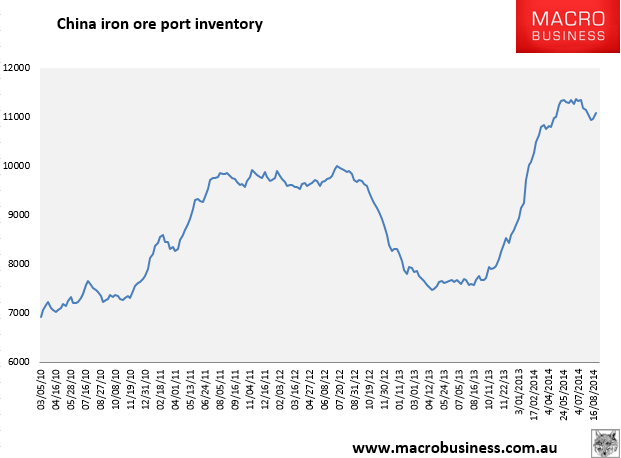 Paper markets caught a break and stopped falling. The 12 month swap even managed a small rise. However, that's closed the paltry contango with spot, which also firmed.
There are definitely punters on a bottom emerging, as seen in the big upwards reversal of miner equity prices on Friday.
I don't buy it yet. We've not moved into contango, which the market usually does before a turn in the cycle. As well, port inventories rose again last week by another 425k tonnes. I've warned many times not to take port inventory shifts too literally – they do not directly match the ebbs and flows of mill stocking – but there is clearly no consistent destock underway as yet (although that looks like the making of an epic head and shoulders top on the chart). That suggests that some considerable portion of the current price weakness is flowing from shitty demand, a thesis confirmed by more falls in rebar average.
Moreover, the Chinese property bust is looking more serious by the day and the news that the anti-corruption campaign is now targeting the local government land ponzi is potentially a very serious escalation of pressure upon developers. Anyone with an ounce of knowledge on China knows that the relationship between developers and local governments won't not stand up in court. Somewhere between one third and half of Chinese steel goes into residential construction, a lot of which is dodgy.
Texture from Bloomie:
"Iron ore demand appears to be cooling in China," Daniel Briesemann, an analyst at Commerzbank AG in Frankfurt, said by e-mail in response to Bloomberg questions before today's price was released. "The usual seasonal uptick in Chinese demand will likely fail to materialize this year. Supply in the seaborne market also remains plentiful."

…"Buyers are unwilling to purchase large amounts of cargo, which has in turn forced sellers to slash offers further," said Kash Kamal, an analyst at Sucden Financial in London. "We could struggle with lower prices for the remainder of the year."
Sounds like the new normal to me. I still think we'll break the 2012 low as this dead cat bounce returns to earth.
In news, CITIC has reported a loss for the half owing largely to its still struggling Sino Iron project in the Pilbara:
China's CITIC Ltd reported a HK$1 billion ($129-million) half-year loss on its Australian iron ore operation, which shipped its first ore in December but is still struggling to get the first of six production lines working well.

The $9.6-billion Sino Iron project, China's biggest overseas mining investment, has sold 1.4-million tonnes of iron-ore so far, after starting exports more than three years behind schedule and nearly four times over budget.

It is a long way from reaching its planned capacity of 24-million tonnes a year.

"Operationally, production line one has been producing quality iron ore concentrate. However, it has yet to reach the desired capacity," CITIC Chairman Chang Zhenming said in a letter to shareholders released with the group's results.

Sino Iron's second unit is in trial production and the remaining four lines are under construction, he said. The first-half loss on the project was in line with the loss booked a year earlier.
This is fascinating. First, I was unaware that Sino production was still so low. That means we have here another 20 million tonnes per annum (mtpa) to phase-in over the next year to add to Anglo's 20mtpa, India's 20mpta, as well as BHP's and Rio's next phase-in of 150mtpa and Roy Hill adding 55 mtpa this time next year plus 90mtpa from Vale just after that. Hilarity ensues!
Second, the Sino project has seen its costs explode largely because it is a magnetite producer. Most Pilbara iron ore is hematite, which is much higher quality out of the ground and requires less processing before shipping. Magnetite gives a better ultimate product but is quite expensive and complex to produce.
Though it will also attract a premium price, Sino's magnetite project is high cost. Nobody knows exactly how high but it's a fair bet that it's already marginal with prices where they are.
So! With prices set to fall further, and probably below Sino's break even, what next? Surely it can't close up shop the moment it opens. The Baosteel play in West Pilbara suggests China inc (whatever that is) is still interested in strategic investments that may be loss-making to keep pressure on prices.
Yet it's got to be tempting to shut Sino on another front. The royalty stream from the mine is a huge part of Clive Palmer's future cash flow. Taking that away would come with its own satisfaction, I'm sure.