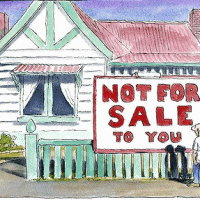 The Age's Clay Lucas has written a good article today summarising an upcoming report from the Tenants Union showing the strong shift towards renting by Victorian families since the early-1980s:
…families now rent 42 per cent of the state's privately leased homes.

Experts say the change is the consequence of the massive spike in home prices since 1997, and argue Victoria needs to dramatically change its laws around renting to give more power to tenants and make it harder for landlords to evict long-term renters.

…the research shows renting for a decade or more has become the norm for a generation of families and middle-aged people.

It is in stark contrast to 1981, when single people living by themselves made up almost half of Victoria's renters. Families at that time represented only a quarter of all rentals.
I am not surprised by these results. According to an AHURI investigation, the percentage of affordable dwellings available for low-to-moderate income purchasers worsened materially in Melbourne between the years of 1981 and 2006, as illustrated here (the darker areas are the 'most' affordable, while the white patches are the least):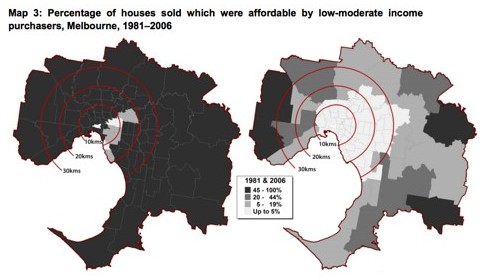 There are a number of issues at play, which have driven the sharp lift in rentals.
First, Australia's negative gearing laws, combined with the halving of capital gains tax in 1999, has caused an explosion of property investment, both in absolute number and as a proportion of the population (see next chart).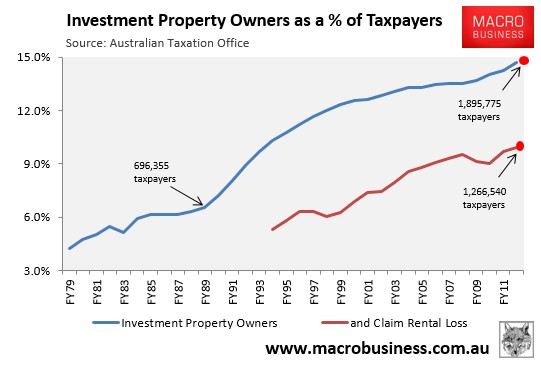 Moreover, the overwhelming majority of investors have purchased existing dwellings, and so have crowded-out would-be owner-occupiers rather than add to supply (see below charts).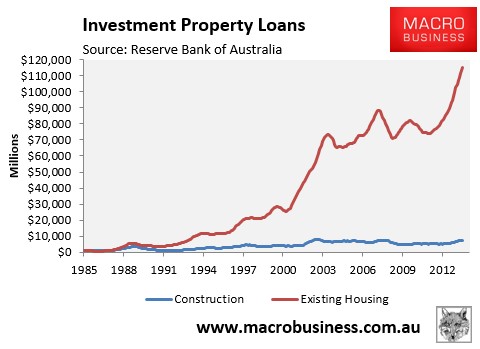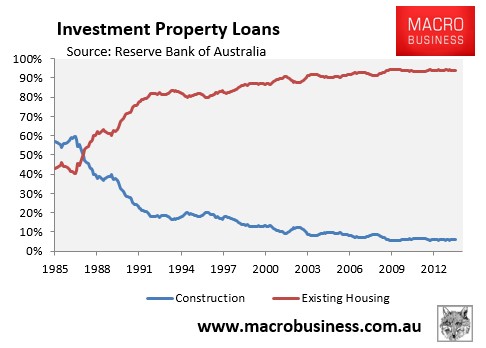 Second, increasing constraints on the supply of new housing have reduced the level of affordable new housing supply, making it harder for families to become home owners.
The rise in the proportion of young families renting wouldn't be so bad if Australia had sounder tenancy laws, as exists in many European nations. However, rental security in Australia is poor, making renters second class citizens, as noted by the Tenants Union:
Australian renters experience some of the lightest-touch regulations in the western world.

Laws in other western countries offered more secure rental tenure, with longer lease terms, narrower reasons for eviction, and longer notice periods before a landlord could demand a tenant move…

Tenants in other countries also have more rights to keep a pet or make minor alterations such as small holes in the wall without the landlord's permission, it found.

In Australia, a typical lease lasts from six to 12 months compared to two to three years in France and Hong Kong. Germany and the Netherlands offer indefinite lease terms…
Indeed, one of the great strengths of the German housing market is that it provides strong protections for tenants. Specifically, rents are regulated and prices are prevented from increasing sharply. Tenants also have security of tenure as long as they pay the rent and behave well, except on the rare occassion when a member of the landlord's family needs the accomodation or when the building is going to be replaced.
Further, because renting is the dominant housing choice in Germany (see below chart), the political system is highly sensitive to tenants' rights and perceived threats to the status quo typically receives prominent media attention and political responses.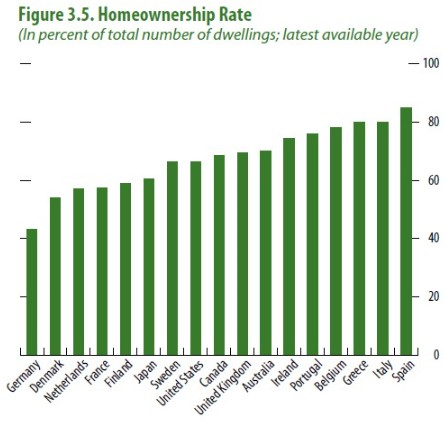 Finally, because renters enjoy secure tenure (and housing supply is fairly responsive), Germans have little incentive to rush into owner occupation. As such, Germany doesn't suffer from the 'panic buying' and speculation often present in bubble housing markets, like Australia's.
Obviously, some key reforms that would improve outcomes for younger Australians either locked-out of home ownership or stuck in the rental market would be to:
Quarantine negative gearing losses, so that they cannot be applied against non-related income (i.e. wages and salary), or restrict negative gearing to new builds;
Liberalise planning and remove the first-user pays all approach to infrastructure financing (preferably in favour of broad-based land taxes); and
Strengthen tenancy laws along the lines of many European countries, such as Germany.