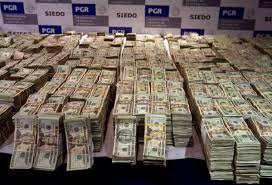 It was the story that best captured the madness of the iron ore price. Mexican drug cartels abandoned crystal meth and cocaine in favour of iron ore shipments to China. Now, the dream is over:
Mexican authorities have shut down 946 iron ore mines in three states as part of a crackdown on infiltration by crime gangs, mining leaders said.

Government agencies have closed mines lacking proper paperwork as part of efforts to stamp out drug gang involvement in iron ore mining, particularly in Michoacán state, from where the Knights Templar drug cartel is thought to have illegally exported more than 1Mt/y to China via Lázaro Cárdenas port for at least three years.

The vast majority of the closures have been in Michoacán (854), with 72 in Colima and 20 in Guerrero states, which border Michoacán, union and mining association bosses in the states were quoted as saying by local daily Reforma.

The closures have resulted in the loss of 34,000 jobs in the three states alone, with authorities reluctant to grant permits for legal operations, the report said.

In June, environmental protection agency Profepa said shipments totaling 720,000t iron ore lacking the required documentation had been seized in recent months.

Crime gangs receive up to US$13/t iron ore by charging levies on mine owners and transportation and export fees, according to one mine owner.

Mexico produced 716,827t iron pellets in May, 1.6% up on the same month last year, according to statistics agency Inegi.
Back to white gold then!