From LNGworldnews:
Prices of spot liquefied natural gas for September delivery to Asia plummeted 33.1% year over year to an average $10.702 per million British thermal units (/MMBtu), the latest Platts Japan/Korea Marker (Platts JKM) for month-ahead delivery showed.

The drop came as increased supply in the region continued to outweigh lackluster demand.

On a month-over-month basis, the September JKM was down 5.8% from August. The data reflects the daily Platts JKM for September assessed between July 16 and August 15, and expressed as a monthly average.

"The results of Australia's North West Shelf LNG tender for cargoes loading in September, October and November showed a steep contango building into the traditionally high-demand winter season," said Stephanie Wilson, managing editor of Asia LNG at Platts. "This prompted some buyers in Japan to purchase cargoes for October at prices significantly above those seen in September."

At $10.702/MMBtu, the average Platts JKM for September was the lowest monthly average on record since April 2011, and reflected the largest year-over-year decrease in 2014.

Despite the year-over-year plunge for average September-delivery prices, the month-over-month decline was the narrowest since March, when prices began their rapid descent.

After beginning the assessment period at $10.775/MMBtu July 16, spot prices bottomed at $10.525/MMBtu August 1 as a slew of supply tenders in the Asia-Pacific basin hit the market. It was the lowest daily spot price seen since Friday, March 11, 2011, when the JKM was $9.90/MMBtu. The spot JKM had spiked to $10.95/MMBtu on March 15, 2011, in the wake of the Great Eastern Earthquake and resulting Fukushima crisis in Japan.

The Platts JKM began its rebound on August 8, gaining a total of 40 cents before ending the assessment period at $11.025/MMBtu August 15. This brought a close to five consecutive months of declines and reversed the downtrend in spot prices.

"The removal of deferment clauses on cargoes loading from train 1 of the new ExxonMobil-led Papua New Guinea integrated LNG project also fuelled the more bullish sentiment, as traders and sellers can now compete for these cargoes too,"Wilson explained. "On the other hand, end-user inventories remained high despite higher temperatures in Japan and South Korea in recent weeks, giving buyers flexibility in their delivery schedules. Numerous projects in Asia also continued to offer additional supply to the spot market, which could suggest a cap to potential price increases."
Like so many vital Australian commodities these prices are very tightly held so I have to rely on doctored charts. Here's my best effort to give you an idea of how unusual this is: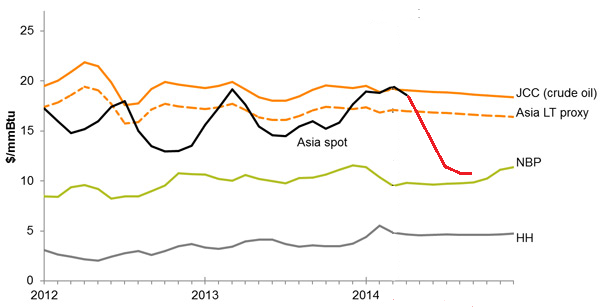 If one new project of 7 million tonnes per annum (mtpa) in PNG is enough to trigger this kind of price rout (in conjunction with a mild summer) then what is the 44 million tonnes coming on stream from Australia and Sabine Pass in the next year going to do, I ask ya?