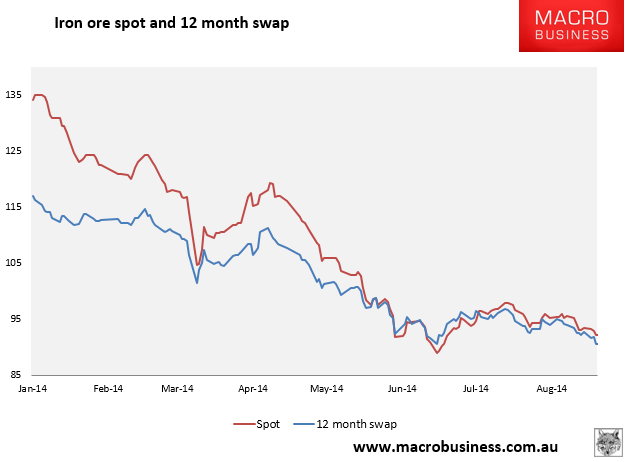 That's a bad day. The 12 month swap took out its all time low. Dalian was weak too. Rebar futures were poll-axed and sit at 2991. That's free fall in the three main futures.
In physical, rebar average held up but the backwardation is widening and it should keep falling too. Spot iron ore cracked and looks destined to retest its June low below $90. Rumours are that port stocks are selling well below $90 so more downside in spot still looks good. The BDI cape resumed its rocket, for what it's worth!
Right now technicals and shitty demand are giving the bird to seasonality. The equilibrium is still in place but oversupply is causing a perpetual bleed.
Reuters has texture:
"I'm just observing the market to see where I can make a profit. If there are price differences between the Dalian Commodity Exchange and the ports, for example, we can sometimes make money, but right now there isn't much of an opportunity,"
said a trader based in Beijing.

"Right now, the price for iron ore is going down and down, and I personally believe we need to wait until September or October before it goes up again," he said.

Illegal production capacity remains too strong, and as soon as capacity is shut down, illegal capacity comes and replaces it," according to a research note from online steel trading platform GTXH.com.
That means mills must send the deflation up the supply chain, though margins are still decent at this point.
Yesterday Fortescue reported full year earnings and in its conference call argued that grade discounts are diminishing as the market rebalances, though I see no evidence of that in the 62/58 price spread. FMG also said it's focused on producing higher quality ores so perhaps that's the source of the tightening spread for them. Regardless, more ore is coming off, from Bloomie:
MMX Mineracao & Metalicos SA (MMXM3), the mining unit of former billionaire Eike Batista, will temporarily stop operations at its only producing mine as it seeks to avoid bankruptcy protection amid lower metal prices.

The Brazilian iron-ore producer will give workers at its Serra Azul unit in Minas Gerais state a 30-day "collective vacation," MMX said in a statement today. The furlough will begin during the first week of September.

"The necessity of the collective vacation and temporary stop of the production activities at the Serra Azul Unit is a consequence of the significant and prolonged decline of the iron-ore price," MMX said in the statement.
That's about 6 million tonnes per annum gone. Others are fighting back. From Reuters:
Iran is to delay the introduction of a 10 percent tax on exports of unprocessed iron ore until March next year, a source with knowledge of the plan said, as the market is struggling and a number of private mines in the Islamic state have been halted. A 31 percent fall in iron ore prices this year, stoked by increased shipments from major suppliers Australia and Brazil, has led to a sixfold jump in stockpiles at Iranian ports as exporters held off sales, leading to the closure of around half the private mines at one stage. "The government has agreed to postpone the tax to the beginning of next year because right now the market is too low and they're afraid to lose the market when they apply this duty," said a source who met with officials of Iran's Ministry of Mine, Trade.
Good luck with that. Iran already has various export tariffs that will be cut in due course.