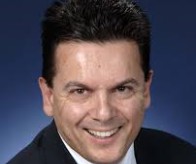 By Lindsay David , Paul Egan & Philip Soos, cross-posted from the Australia: Boom to Bust Blog
"With more and more Australians finding it difficult to break into home ownership, adopting the Canadian scheme would make a difference to thousands of Australians each year," Senator Xenaphon said:
"As HomeStart Finance said this week, there's something strange about being able to access your super fund if you are about to default on your housing loan, but you can't access it to put a deposit on a home in the first place," he said.
Australia is in the midst of a chronic housing affordability crisis. Housing price inflation has outstripped both rents and household incomes for over a decade, leading to a residential property market considered unaffordable both historically and internationally. Yet, instead of helping to resolve the crisis, Australia's political class is apparently determined to maintain world-beating prices with poorly but purposefully designed policies to maximise prices.
Advertisement
The public should ask "Are the property holdings of our federal politicians negatively influencing policy and causing them to ignore evidence?" The parliamentary register of members' interests may help to answer this question, allowing for a summary report of real estate holdings for each Australian federal politician (which may be jointly owned with their spouse).
It is evident that politicians are heavily invested in the property game, with the 226 members in both houses of parliament with an ownership stake in a total of 563 properties – an average of 2.5 properties per member, conservatively estimated at around $300 million (563 multiplied by the median dwelling price of $530,000 as of July 2014).
The real total is probably higher considering well-off politicians are likely to purchase real estate in prime suburban and coastal areas above the median (and not all property holdings are residential such as farmland and commercial properties). Property investment is popular across the political spectrum and is a common thread binding the normally divided and bickering politicians together.
Advertisement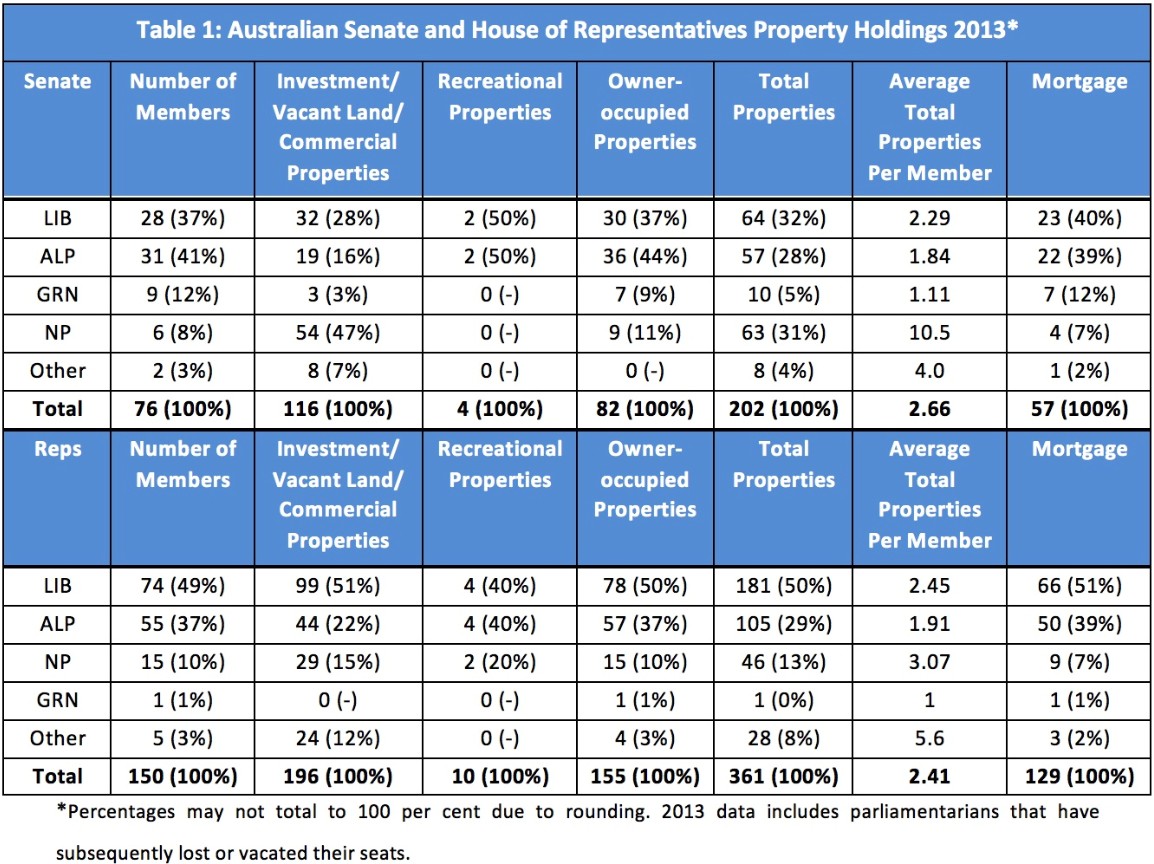 Australia's federal political class own an enormous property portfolio, with only 13 of the 226 members (6 per cent) not holding any real estate. In the Senate, 76 members own a total of 202 properties – 2.7 properties per Senator – estimated to be worth around $107 million.
Further, 91 per cent of all Senators own real estate (57 per cent investment/commercial property/vacant land, 41 per cent owner-occupied and 2 per cent recreational), 75 per cent have a mortgage, and the top ten control a colossal 95 properties.
Advertisement
Senator Xenophon maintains an impressive portfolio of eight investment properties, along with Senator Barry O'Sullivan from the National Party who owns an incredible fifty properties (see Table 2). The high concentration of landed gentry in the Senate acts as a vested interest to pass policies which inflates housing (land) prices.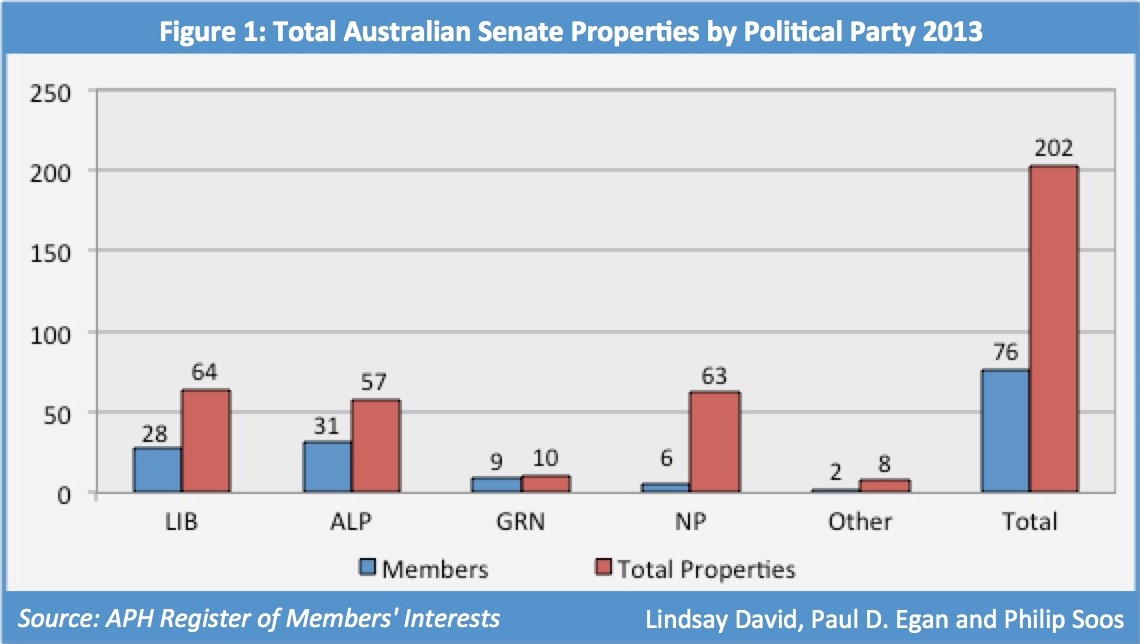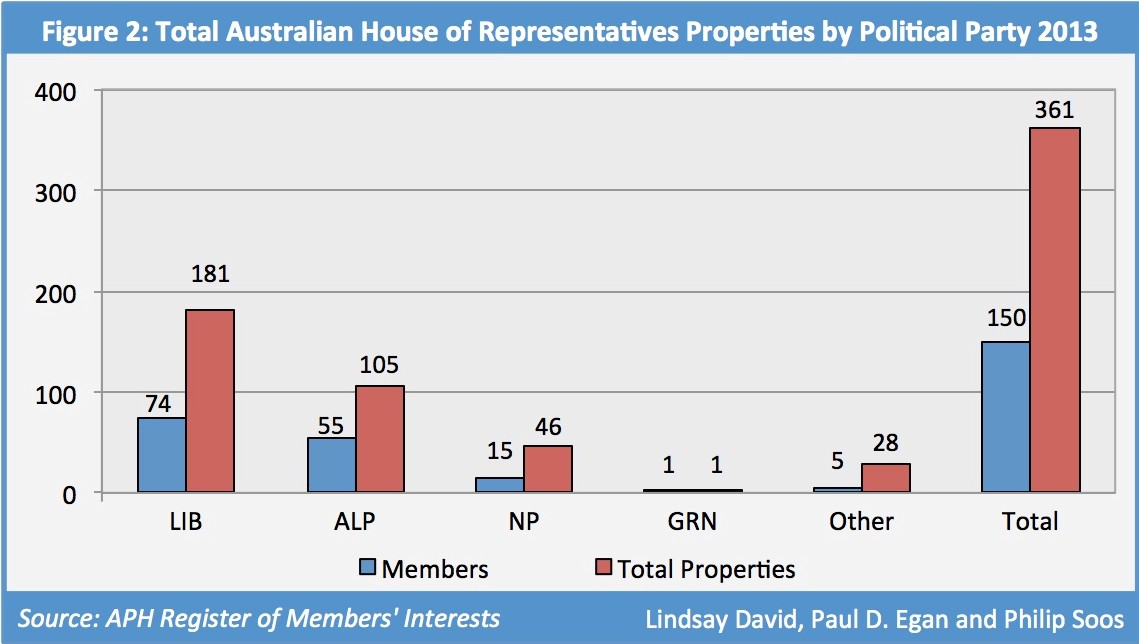 Advertisement
The 150 members in the House of Representatives also have substantial property interests. In total, they own 361 properties – 2.41 properties per member – estimated to be worth around $191 million.
Moreover, 95 per cent of all Representatives own real estate (54 per cent investment/commercial property/vacant land, 43 per cent owner-occupied and 3 per cent recreational), 86 per cent have a mortgage, and the top ten own an astonishing 92 properties. Double-digit property holdings are maintained by David Gillespie (NP, 18 properties), Clive Palmer (PUP, 13 properties), Natasha Griggs (CLP, 12 properties) and Karen Andrews (LIB, 10 properties) (see Table 2).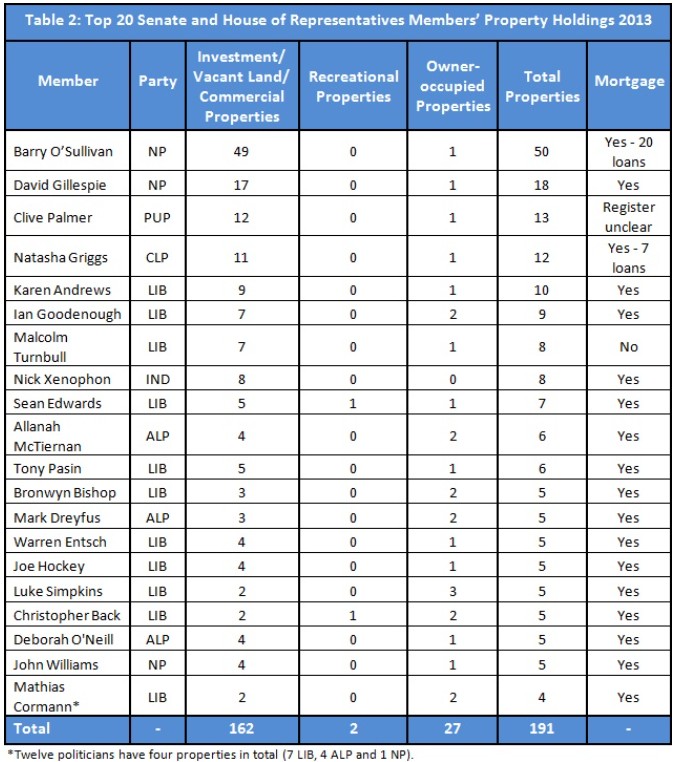 Advertisement
The trends in the data suggest a sizeable majority of federal politicians have a vested interest in maintaining high housing prices, particularly since most have mortgages over their own investments. A fall in housing prices may cause many politicians to fall into negative equity, providing a strong incentive for politicians to enact legislation which has helped fuel a housing bubble, enriching owners.
When the top twenty members of the landed gentry in federal parliament own 191 properties, it is difficult to believe that politicians will address the real causes of housing unaffordability, despite the recommendations from government reports.
If federal senators like Xenophon are looking for solutions, the focus should be on negative gearing, capital gains tax concessions and exemptions, liberalised SMSF and foreign property investment, first home owner grants and boosts, deregulated bank lending, land-banking, town planning, local infrastructure and development levies and the absence of a uniform land value tax.
Advertisement
The property-rich Senate and House of Representatives cannot be trusted to act in good faith on matters concerning real estate. Aversion to evidence-based housing policy has a long and tortured history, owing to federal politicians' interest in maintaining the value of their collective real estate bounty, and also fearing a voter backlash following any substantive reforms that reduces prices, let alone the corrosive lobbying (legalised bribery) by the FIRE sector.
Politicians regularly demonstrate flagrant ignorance of policies which lead to more affordable housing, having consistently implemented flawed reforms that actually increase prices. Negligence and indifference has become par for the political course, suggesting the direction of housing policy must be freed from the vested interests of an unrepresentative parliament.
Click Here to purchase a copy of the book 'Australia: Boom to Bust' from your preferred book retailer.
Advertisement
Click Here for a copy of Bubble Economics by Philip Soos and Paul Egan.