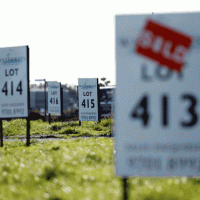 The Housing Industry Association (HIA) has released its latest Residential Land Report, which reveals that median vacant lot price across Australia hit a record $205,248 as at March 2014 after rising by 2.0% over the quarter (see next chart).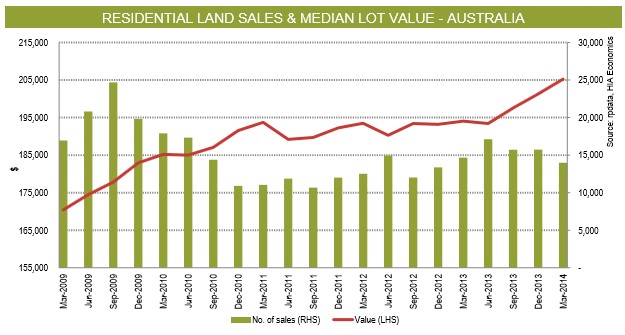 Residential lot sales also continue to trend lower, with the number of sales declining 4.7% in the year to March 2014.
According to the HIA, supply-side bottlenecks are once again starting to bite, brought about by the usual culprits: inadequate land release, cumbersome planning approval processes, and excessive taxes and charges on development:
"The upward trajectory for residential land prices since mid-last year is steeper than it should be. There is clearly a policy failure this cycle, as in many before it, to ensure a supply of shovel-ready land commensurate with the demand for new housing," concluded Harley Dale.
Meanwhile, the RBA's plans for housing to fill the hole left as the mining boom unwinds could take a hit, according to the HIA:
"There is a close relationship between residential land sales and detached house starts. The indication is that the upcycle in detached housing will peak during 2014," said HIA Chief Economist, Harley Dale.
RP Data agrees:
According to RP Data's research director, Tim Lawless, the early peak in land sales is likely to dampen expectations that investment in new housing construction will help to support Australia's economic transition away from resources related infrastructure projects. "Policy makers were placing a great deal of importance on renewed levels of housing construction to act as a new pillar for economic expansion. While there has been uplift in approvals and new housing starts, the trend towards fewer land sales since September last year suggests that the housing construction cycle, at least for detached housing, is close to peaking."

"The ongoing rise in land prices at a time when sales are falling is a worry…
When will Australia learn?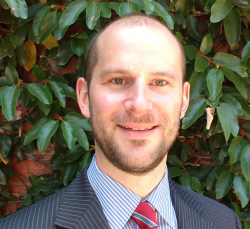 Latest posts by Unconventional Economist
(see all)