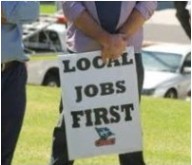 The Government's planned relaxing of 457 visa rules so that employers can hire an unlimited number of foreign workers under a temporary working visa, potentially opening the system to widespread rorting, is looking even more egregious following the release today of the Department of Employment's preliminary skills shortages report, which reveals that the number of occupations suffering skills shortages is at an "historic low":
Employers continue to recruit skilled workers without marked difficulty, and the number of occupations in shortage is at an historical low.

Shortages are more likely to be for trades (with 18 in shortage) than for professions (5).

In 2013-14, there were generally large fields of applicants vying for skilled jobs and employers filled a high proportion of their vacancies.

The number of suitable applicants has not changed markedly over the past few years, but qualitative information from employers suggests they are now more selective, overlooking some applicants who would have been considered suitable in a tighter labour market.

Almost all employers attract applicants. Just 4 per cent did not receive any interest in their vacancies.

There is now little disparity between employers' recruitment experiences across the states and territories, as activity has slowed in the resources states.

Resource related occupations were the hardest to fill in 2012-13 but are now among the easiest, with large numbers of applicants competing for the available positions…

By Location:

Filling vacancies is hardest in New South Wales (66 per cent of vacancies were filled compared with 73 per cent nationally) and easiest in South Australia (82 per cent filled).

It is now relatively easy to recruit in Western Australia. This state recorded the largest increase in the proportion of vacancies filled, up by 15 percentage points over the year, to 78 per cent in 2013-14.

There are large fields of candidates in Victoria, but relatively few in the Northern Territory.

Employers in Queensland, Western Australia and Victoria attract large numbers of suitable applicants.

Employers in regional locations continue to fill a lower proportion of their vacancies than their metropolitan counterparts, but the difference has narrowed over the past year.

By Occupation:

The labour market has been easing in recent years, with the number of applicants, suitable applicants, and vacancies filled all increasing steadily between 2010-11 and 2013-14. This softening has been more pronounced for professions than for technicians and trades.

Employers recruiting for technicians and trades workers filled 69 per cent of vacancies in 2013-14, significantly lower than the 81 per cent recorded for professions. They also continue to attract markedly lower numbers of applicants and suitable applicants than those recruiting for professions.

While the proportion of occupations in shortage fell for both groups between 2007-08 and 2013-14, shortages remain more prevalent for technicians and trades workers.
I mean, really, the 457 visa flies in the face of the Government's primary duty of care for its people.
Leith van Onselen is Chief Economist at the MB Fund and MB Super. Leith is an economist and has previously worked at the Australian Treasury, Victorian Treasury and Goldman Sachs.
Latest posts by Unconventional Economist (see all)