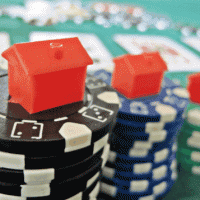 From The AFR comes some interesting analysis from Moody's estimating that allowing property investors to deduct rental property losses against unrelated wage and salary income – known as "negative gearing" in Australia – has added some 9% or $44,000 to the typical Australian home value:
The report said that negative gearing costs the federal government around $4 billion in lost revenue and recognised by some economists as an "unfair and unproductive" distortion…

With low interest rates the impact of the subsidy has fallen from a 2008 peak of 15 per cent, "yet even today's 9 per cent support is a substantial subsidy to the nation's homeowners"…
I can't say that I am surprised. However, what is most disappointing about this result is that the extra investor demand from negative gearing has not alleviated Australia's "housing shortage" one iota, with the RBA statistics clearly showing that the overwhelming majority of investors – over 90% – invest in existing dwellings rather than construction, and that the proportion of investors constructing dwellings has fallen spectacularly since negative gearing was re-introduced in September 1987 (see below charts).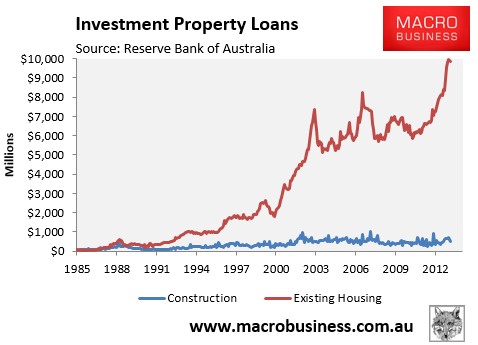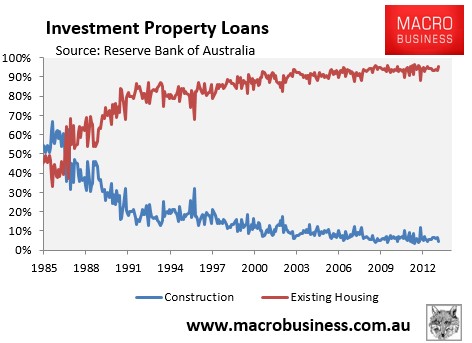 Talk about  a monumental policy failure. Not only is the Budget losing billions of dollars a year in foregone revenue – funds that could instead be used on any number of worthwhile projects. But by forcing-up home prices, negative gearing is depriving many younger Australians of home ownership, while also failing to expand rental supply and affordability.
Go Australia.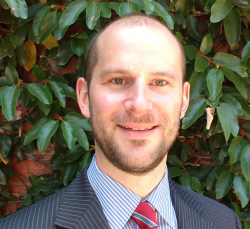 Latest posts by Unconventional Economist
(see all)