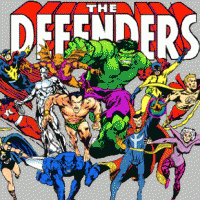 Right on cue, the property lobby has rallied to the defence of Australia's negative gearing regime, slamming the Murray Inquiry into Australia's financial system's Interim Report for claiming that negative gearing "encourages leveraged and speculative investment in housing" and recommending that the Abbott Government's upcoming Tax White Paper examine its efficacy (see here for details).
According to The AFR, Housing Industry Association (HIA) chief economist, Harley Dale, has hit back at the Inquiry stating that:
…singling out negative gearing and its role in investment demand "provides an inaccurate and misleading picture of the current dynamics at play in Australia's housing markets".

According to Mr Dale, while there is "strong housing demand evident from investors in some parts of some markets", trade-up buyers are also fuelling the rise in house prices.

"In a market like Queensland, where demand is recovering from a very low base, first home buyer, trade-up buyer and investor demand is well in the mix," he said.
One only has to present the below chart showing record investor demand for Australian housing to debunk the HIA's claim that investors are not primarily responsible for rising house prices: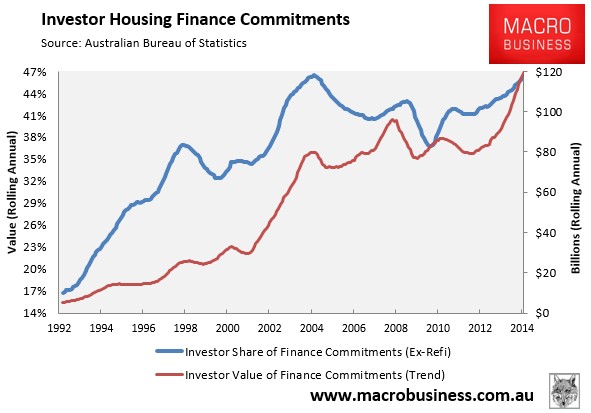 That's right, over the three months to May 2014, investors accounted for an incredible 47.9% of total housing finance commitments (excluding refinancings) in Australia. If that is not an investor-led market, then I don't know what is.
The HIA's constant spurious defences of negative gearing (read previous efforts here, here, here and here) sure is getting tiresome, and is damaging the Association's brand.
What is particularly odd is why the HIA doesn't support targeting negative gearing at new builds? After all, such a policy would stimulate construction and benefit its homebuilder members. I can only speculate that the HIA cares more about protecting the value of its member's land banks, rather than actually boosting construction.
This is why builders should split from the HIA.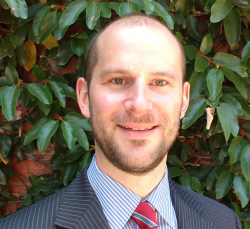 Latest posts by Unconventional Economist
(see all)