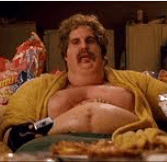 Roy Morgan Research (RMR) has released its latest State of the Nation report, which reveals that Aussies are fatter and more anxious than ever, despite solid improvements in some areas, such as in reduced incidence and consumption of smoking cigarettes.
The results are highlighted in the next chart, which tracks how Australians are faring across seven key health areas: smoking, alcohol consumption, nutrition, activity levels, illnesses, Body Mass Index (BMI) and psychological wellbeing.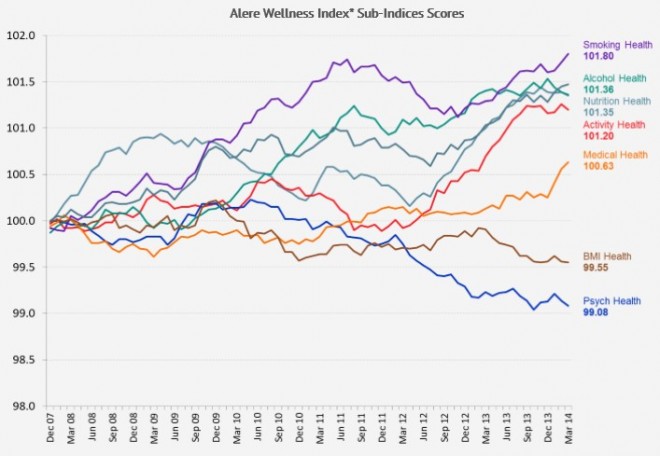 According to RMR chief executive, Michele Levine, the reduction in smoking and alcohol consumption is due to:
"…the fact there's been a very strong anti-smoking campaign and anti-smoking lobby with increased taxes and a focus on plain labels…[and]…a fairly strong anti-drink-driving campaign. And there's been enough information to get people to curb their drinking".
And yet, the increase in obesity comes despite Australia becoming "a nation of weight watchers", possibly necessitating further research:
"We worry about our weight. We think about our weight. We say that we're monitoring the calories we eat and yet our weight continues to increase…

"Some of the clues in all of this data I suppose remain to be uncovered, but things like being overweight, it's largely an older person's issue."
Meanwhile, younger Aussies have experienced the most anxiety in the past year – perhaps not surprising given their increasingly precarious employment situation and the lack of affordable housing options:
"The really big increase there has been around anxiety. About 20 per cent of young people have actually expressed feeling anxiety in the last 12 months, but other people, it's increased from something like 7 or 8 per cent seven years ago to about 15 or 16 per cent today.

"It was increasing gently but it really starts to pick up around 2012, and that's the time also that unemployment and underemployment really started to kick up.
Again, how exactly is the Abbott Government's tightened eligibility requirements for under-30s seeking welfare, as well as the proposed dramatic lift in university fees, supposed to improve anxiety levels amongst the nation's youth?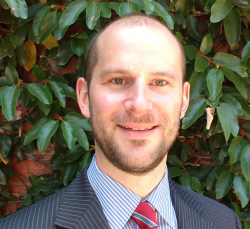 Latest posts by Unconventional Economist
(see all)