Cross-posted from Investing in Chinese Stocks.
Whenever money is printed or there is growth in credit, there is the Cantillon Effect. Very simply, inflation is not evenly distributed; it works through the economy unevenly. Print money in the 1970s and it flows into energy and commodities. Print money at the end of the 1990s and it flows into a technology stock bubble. Print money in 2009-2010 in China and it flows into real estate. Where the money flows depends upon on demographics, tastes and preferences of those first receiving the money, or existing investment trends.
This often causes bad economic policy because the public demands a response to inflation-caused distortions. In the 1970s, inflation caused oil prices to surge and the U.S. government instituted price controls, which led to gasoline shortages.
Today, the Federal Reserve prints money and this is aimed squarely at financial markets and Wall Street banks. The result is rising wealth inequality. For people worried about wealth inequality, there is a simple solution: stop printing money. The wealth gap will close very quickly. Instead, there are proposals such as Piketty's, to have global tax and redistribution schemes. Intervention for the intervention. And when that screws up the economy, there will be another intervention and then another…
China provides many examples of the Cantillon Effect. Not only does China print like mad, but when the Federal Reserve prints money, lots of it eventually flows into China. China then exports this inflation to the world based on what it demands. Milk powder, gold, luxury handbags, homes etc.
From 2010, Andy Xie on China's demand for French wine:
What's bubbling in China today? Fine wine in general, and particularly bottles of the French wine Chateau Lafite Rothschild, whose prices have skyrocketed in recent months for some vintages, following a pattern set by NASDAQ in 2000. What I've seen and heard over the past few months has convinced me that the whole fine wine market is a bubble.

I wrote a few months ago about why the market for Carruades de Lafite wine is a bubble in China. I never expected the Lafite bubble to continue inflating at such a rapid rate. And prices are still climbing thanks to demand for this classic wine in China.

What's happening? The Chinese impact on Lafite mirrors the LV bags price phenomenon and similar patterns for popular luxury goods, although wines are even more susceptible to liquidity bubbles. And like any asset, the force behind the wine price bubble is a low interest rate environment.
I remember Xie discussing how one brand wasn't even that good, but because the price was soaring, it kept on soaring.
The Chinese moved from wine on to real estate in Vancouver, Sydney, London, New York, Palo Alto and San Francisco:
PHIL MATIER: What have we got going on here with these cash sales? They're phenomenal, up in excess of a million, two million dollars.

MARK McLAUGHLIN: Yeah, it's a phenomenon that's very active in the marketplace. Some of it is being driven by the liquidity in the Silicon Valley and the city of San Francisco but also, at Pacific Union, we're seeing a large influx of foreign capital — particularly coming from China.

MATIER: What is driving the capital here … what's [causing] people from China to invest this kind of money in San Francisco?

McLAUGHLIN: I think we're seeing three different phenomena. One is asset diversification, people trying to move money out of China. Two would be education for their families. And three would be lifestyle, this is a beautiful place to live.

MATIER: Are they actually living here or are they just buying houses here the way we might be puttting money in a safety deposit box — it would be safe here, it's free from any government moves in China and the value would be appreciating?

McLAUGHLIN: It's difficult to generalize on that but I'd say that probably fifty percent of them are living here. Whether they're living here to get their education or whether they're living here for a change in lifestyle. Undoubtedly, there is real demand for homes abroad, but this type of behavior is not normal. It is the hallmark of an inflation.
Indications from China show this inflation may be coming to an end. An early report on May home prices in China slipped in May for the first time in two years:
China's housing prices fell in May for the first time in nearly two years, as fresh data indicate more cities with price declines and weaker sales.

Average new-home prices fell 0.3% in May from April, a turnaround from the 0.1% monthly gain recorded for April and the first decline since June 2012, data provider China Real Estate Index System said.
And from Ifeng, Beijing home sales fell in May: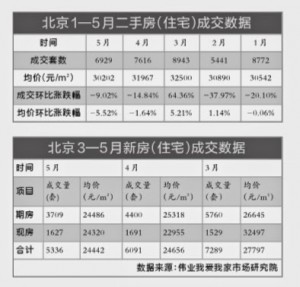 The table shows that existing home sales (top table) fell 9% mom in May, and the average price fell 5.52%. (Data is from the Beijing Municipal Construction Committee.) Prices are fairly steady from January, down only 1%, but the bounce from March and April is now gone.
The bottom table shows new home data from March through May. The first row of numbers are advanced sales of unfinished homes, the second row finished new homes, the third row the combined data.
New homes sales were down slightly from May, but the price actually rebounded 6%. All of these numbers are volatile month to month, but new homes that are ready to live in should have stronger demand due to end user demand. It is the advance sales that are the playground of speculators. Unfinished home sales fell 15.7% from April and prices fell 3.3%. In total, sales of new homes fell 12.4% and prices fell 0.8%.
On the
supply side
, in May, 37 new projects were scheduled to come onto the market. In the past 20 days, inventory climbed nearly 6000 units, or more than 8%, to more than 76,000 homes.The months of inventory number is volatile due to large numbers of new homes coming to market and rapidly slowing sales. Were home sales to return to January levels, there's about 11 months of new home supply in the Beijing market. If June sales are worse than May's, Beijing could see its months of inventory jump to 14 or even 16 months.
Finally today and also from
Ifeng
, a number of reasons are listed for why Chinese banks have curtailed mortgage lending. One is rising costs that are being passed on to mortgage borrowers. Another is competition from Internet banking that's pushing up deposit rates. Due to the rising costs, one mid-sized bank president went so far as to say doing mortgages is basically volunteer work. Due to the 20% reserve requirement, in order to meet the market's 5% deposit rate on interest, banks need to charge [5% / 0.8] or 6.25% interest, close to the 6.55% benchmark rate for intermediate/long-term loans.

The second effect is loan quotas. Banks rush to lend at the start of the year and then many run out of their quote by November or December. Banks are making loans to customers who applied in 2013, which is eating up the lending quotas for 2014.Banks are also worried about the devaluation of collateral. Banks notice that home prices are tied to non-performing loan rates (NPLs) and they are conducting repeated stress tests.
Alarms are going off about the Wenzhou "jingle mail" situation as well, where homeowners have given the house back to the bank. Banks are seeing collateral auctions go poorly, with second round bids 20% below the first, and third round bids 20% below the second.
Eventually, the trend we are seeing in China will spread overseas and the all-cash buyers paying far above asking prices will disappear as quickly as they arrived.