Here are the iron ore charts for April 30, 2014: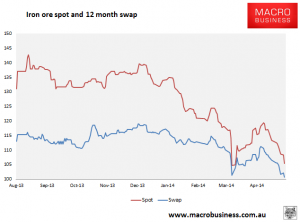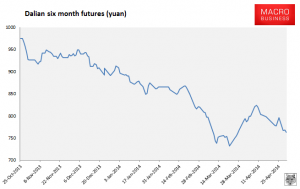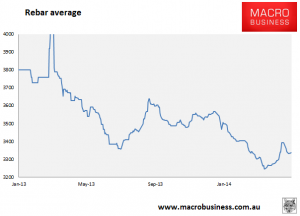 The Baltic Dry capesize was down 1% and rebar futures eased to their lows.
What can one say? We're going down. This kind of price action can only be associated with destocking. It could be mill inventories or it could be port stock liquidation after the Chinese declaration of war on margin speculators. Or both.
That it's happening while steel output is firm suggests the latter. If margins have been jacked on speculator loans and they're forced to dump stock then the falling price will increase the pressure for more sales as collateral values fall. A price crash through the 2012 low is a very real risk if a speculator margin squeeze transpires.
Baosteel is crowing, from Reuters:
Baosteel, which has long complained about the high cost of iron ore, said it still expected prices to hold around $100 a tonne in the medium term, not far below current levels, despite a big increase in output by miners.

…"Financing deals on imported iron ore are facing risks, but as far as steel manufacturers are concerned, if the loosening of these risks can bring iron ore prices back to a rational level, it can only be a good thing," Baosteel chairman He Wenbo said after the company reported a 7 percent fall in quarterly profit.

…"Port inventories are too high and overseas supplies will increase by a large amount from the second half," said Fu Yang, an analyst with Shanghai's Guotai Junan Futures.

"For steel mills and traders, the problem is that banks are still squeezing credit and if they can't repay loans when the letter of credit is due, they will have to sell iron ore to obtain cash, which might cause overselling in market and drag down prices to maybe even $90 a tonne."

…Traders and mills, which are already struggling with cash flow, are expected to repay loans in May, raising market fears that they might have to sell their stocks to survive if banks decide to further raise the size of the deposit needed to obtain credit or cut access to credit.

"There are more steel mills starting to resell iron ore cargoes that they have purchased from global miners on annual contracts at index plus to lock in profit and get cash," said an iron ore buying official with a state-owned steelmaker.

Baosteel's He said the steel sector would continue to struggle, but the company did not expect new central government measures aimed at stimulating demand.
$100 is fair for the second half average, much lower next year.
Adding to woes for equities today, Vale was out with an earnings fizzer. Also from Reuters:
The company's profit fell by nearly a fifth from a year ago as iron ore prices fell, and executives on the call said Vale had overestimated expected ore prices for the quarter.
It didn't stop them from doing it again. Stand by for a wave of iron ore earnings downgrades here.
The iron ore dream is over, my friends.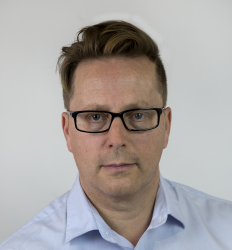 Latest posts by Houses and Holes
(see all)