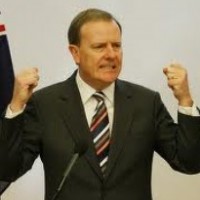 It seems the Abbott Government's proposed Budget debt levy has no friends, with senior Liberal elders lining up against the tax.
Yesterday, The Australian reported that former Howard Government minister, Peter Reith, had received numerous angry phone calls from die hard Liberal supporters and revealed that he himself opposes the tax:
"People were not happy, I mean they were angry and I'm talking about solid Liberal party people who have supported the party for years," [Reith] said.

"I don't like the deficit tax, I don't like it at all"…

Mr Reith said the government was now "stuck with" the levy, even though public opinion was against it, amid a tough economic environment.

"I don't think in any of my years in politics I don't think we've ever had anything like the challenge we've got this time."
Meanwhile, former treasurer in the Howard Government, Peter Costello, has today penned an opinion piece in the Daily Telegraph lashing-out against the deficit levy, arguing that it has no economic benefit and is a purely political move:
Australia has a spending problem. Labor geared up spending to stimulate the economy and never stopped. The public understands. They know spending has to be cut…

[But] the proposed tax "levy" has no economic benefit. It will detract from growth by reducing consumption. It will produce no interest rate reduction and, if it lasts four years and raises $10 billion, the most it could save would be $400 million in annual interest — hardly enough to touch the sides of the annual $12 billion government financing requirement…

The argument for increasing income taxes through some kind of levy is all about the politics. That's why it was floated — to gauge reaction.

…it will not go through the Senate ­unless the Palmer United Party (PUP) votes for it. PUP will only vote for it if it can create maximum damage to its No. 1 political enemy — the Coalition.

The Liberal Party could be caught campaigning for a tax rise that will never be law. All on the grounds it has to be seen to do something to the middle and upper-middle wage earners who voted for it.
It is a little ironic that Costello is lobbying against the levy, seeing as it was his government that is partly to blame for placing the Federal Budget in its current predicament, necessitating such a measure in the first place.
As argued yesterday, it was the Howard/Costello Government that was largely responsible for the ballooning of entitlement spending aimed at middle class families, the aged, and wealthy retirees, which has arguably contributed much more to Australia's structural budget deficit than any policies implemented under Labor. Such largesse included baby bonuses, increases in aged pensions, and generous tax breaks for superannuation – including tax free superannuation for retirees and cuts to the superannuation contributions surcharge on higher income earners. His government also made the short-sighted decision to end indexation of petrol excise, which now costs the Budget some $5 billion per year, as well as halving the rate of capital gains tax.
While I agree that abandoning the levy would be no bad thing, since it does absolutely nothing to fix the crumbling structure of Australia's taxation system, whereby the tax base is shrinking via falling (or soon to fall) company and indirect taxes, as well as the declining workforce participation as the population ages. It would be nice if Costello, and the Coalition more generally, showed some intellectual honesty and admitted its own role in Australia's deteriorating budgetary position.
Lumping all of the budgetary blame on Labor, while ignoring its own mistakes, is likely to only breed cynicism and opposition, and further erode electoral support for reform.