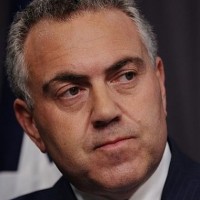 If there was a catchphrase from Treasurer Joe Hockey's Budget speech last night, it was "If we all contribute" . He stated the phrase over and over during the introduction, seemingly in a bid to warm us up for the Budget cuts that followed. And to give Hockey some credit, he did at least deliver.
Few groups will be spared from this Budget – the young, the old, families, the sick and disabled, and higher income earners – will all be called upon to bear expenditure cuts and/or tax increases.
The twice yearly re-indexation of the fuel excise and the 2% deficit tax on people earning more than $180,000 per year were implemented as flagged during the lead-up to Budget night, with the excise lift sweetened by a promise to hypothecate all funds raised to new road funding. This is no tax grab, according to the Government, but rather an investment in nation building. High income earners are also placated somewhat by the three year sunset clause placed on the deficit levy.
In a gutsy move, the Government has also placed Aged Pension reform on the table, more or less adopting some of the recommendations from the Commission of Audit.
From September 2017, increases in pensions will be linked twice a year to inflation, rather than male wages as is currently the case for the Aged Pension. Asset and associated income test thresholds will also be indexed for three years from 2017, whereas the age of eligibility for the Aged Pension will be raised to 70 by 2035. Importantly, untaxed superannuation will also be included in the income test for new recipients of the Commonwealth Seniors Health Card, and the annual Seniors Supplement will be abolished from 1 July this year.
These are sensible measures that should not only improve equity vis-a-vis other welfare recipients, but also help to contain a fast growing area of Budget expenditure. They also take courage politically, given the large and powerful grey vote.
Families will also see their benefits pared-back. As widely flagged during the pre-Budget build-up, the Family Tax Benefit Part B income threshold will be reduced to $100,000 (from $150,000), and will no longer be available when a family's youngest child turns six and is at school. Whereas for families receiving the base rate of Family Tax Benefit Part A, payments will start to reduce when family income exceeds $94,316 per year.
Young Australians aged under 30 will be hit particularly hard under this Budget, with the Government pursuing its "earning or learning" initiatives.
Starting next year, unemployed Australians aged under 25 will receive the lower Youth Allowance, not Newstart. People aged under the age of 30 will also have to wait up to six months before getting unemployment benefits, and then will have to participate in Work for the Dole, in order to be eligible for income support.
By contrast, older unemployed recipients will receive extra help to find a job, with the Government to provide a payment of up to $10,000 to a business that employs an Australian over the age of 50 who has been on unemployment benefits or the Disability Support Pension for six months. That said, older workers will lose the mature age worker tax offset, worth $760m over four years.
Those attending universities will be charged a higher interest rate on their HELP debts, raising $3.2 billion over five years, with repayments kicking in at a lower threshold of $50,000 per year. University fees will also be deregulated and funding cut by $1.2 billion over three years, which will likely lead to increases in fees charged.
By contrast, trade apprentices will benefit from concessional interest loans (similar to HELP) of up to $20,000, but will lose a subsidy for tools.
And everyone will pay more to see a doctor, with the Government proceeding with its planned $7 payment for GP visits, with all funds raised to be hypothecated into a Medical Research Future Fund until its pool reaches $20 billion.
The foreign aid budget will also be cut by $7.6 billion – although I doubt few will notice or care.
The Budget also explicitly acknowledges the expected unwinding of the once-in-a-century mining investment boom, and the deleterious impact that it will have on employment. To see Australia through this challenge, the Government announced an $11.6 billion infrastructure growth package, which aims to boost total investment (both public and private) to $125 billion by 2020 – although as always it is unclear how much is actually new funding.
Finally, the Government seems intent to genuinely tackle duplication across federal and state governments – an admirable goal – and plans to work with State and Territory Governments to reduce overlap. It also announced the abolishment of some 230 bureaucratic programs and 70 government bodies – moves that will ultimately see 16,500 public servants lose their jobs, but supposedly "without compromising frontline services".
The give the Government some credit, it has at least delivered on its promise to "share the burden" of adjustment, with virtually all segments of society sharing the pain.
That said, opponents will argue that too much is coming out of health and welfare budgets, which are responsible for 88% ($25.8 billion) of the $30 billion of the government spending cuts over four years, with the young, disabled and families bearing the most of the pain. There were also no cuts to egregious tax lurks like superannuation concessions for higher income earners and negative gearing; although hopefully these will be addressed in the Government's upcoming taxation review.
As mentioned earlier, a big plus from this Budget is that the Government has not shied away from the need for long-term reform of the Aged Pension, and has implemented sensible measures starting after the next election. It is a particularly gutsy move in light of the large and vocal grey vote, which could savage the Government at the polls.
While not perfect, and arguably a bit too regressive, this Budget has succeeded in placing the Budget on the path to long-term structural reform, without smashing the economy in the process.