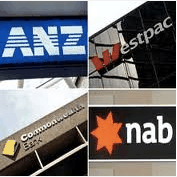 Business Spectator's Stephen Bartholomeusz ('Bartho') has written a broad-ranging article today in which he questions the Big Four banks' over-exposure to housing, and argues for an increase in capital requirements on mortgages:
The exposure of the system to housing is an increasingly topical issue as prices continue to rise, affordability continues to fall and investors continue to pour funds into a sector that has supply-side issues…

The majors have all achieved 'advanced' status under the Basel regime which in practice means they need to hold far less capital against a housing loan than their regional counterparts. For every dollar of capital they can lend more than twice as much as the regionals and generate returns on equity more than twice those of the smaller banks…

The regulatory settings currently in place create massive incentives for the banks to lend against housing relative to other types of assets. They generate returns on equity in the mid-30 per cent range on housing loans…

…fine-tuning the weightings could both create a more level playing field and reduce the scale of the large skew within the system towards housing…
It's hard to disagree with Bartho's concerns.
Under the Basel II framework, implemented in 2006, the standard risk-weight required on mortgages with loan-to-value ratios (LVRs) below 80% was dropped to 35% (from 50% previously), implying a lower capital charge of 2.8% on each dollar of mortgages written (from 4% previously).
However, Basel II also permitted the larger banks to use their own Advanced Internal Ratings-Based (IRB) models to determine their capital charge based on "probability of default" and "loss given default" metrics. Under their IRB models, the big four banks were able lower their capital requirements on mortgages even further than under the standardised approach.
According to their pillar 3 disclosures, the amount of capital held against total credit exposures ranges from only 2.7% (Westpac) to 4.3% (NAB), with capital held against mortgages at around half that level [note: calculations are around one-year old, so are indicative only]: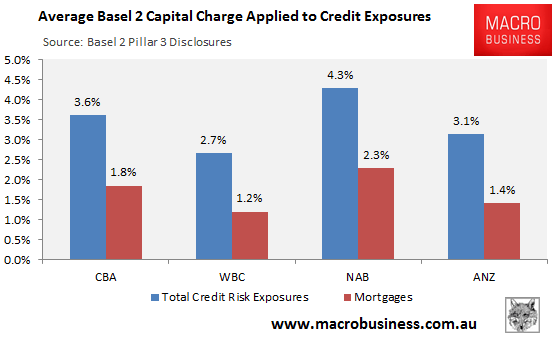 The effect of the Big Four's under-capitalisation of mortgages are two-fold.
First, it has ensured that too much of the banks' loans are channeled into housing. Yesterday's private sector credit aggregates data released by the RBA revealed that the share of bank loans going to housing hit a record high 60.3% in February 2014, whereas loans to businesses hit an all-time low 33.4%: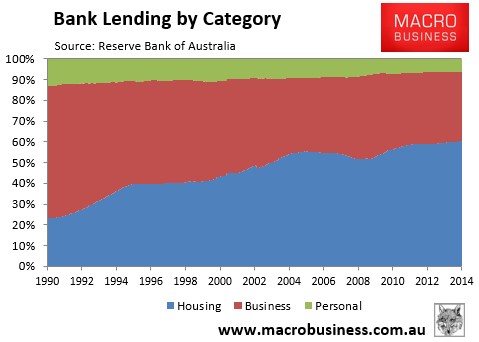 Second, it has skewed the competitive environment towards the Big Four and away from smaller deposit-taking institutions, who are bound to the higher capital charges under the standardised approach.
While the low level of capitalisation has dramatically boosted the Big Four's profits by raising their return on equity, it obviously leaves creditors and potentially taxpayers exposed in the event that there is a severe downturn in the economy and asset prices, as well as sucks capital from the productive economy.
Raising capital requirements on mortgage lending would, therefore, be a wise move.
Latest posts by Leith van Onselen (see all)