From the AFR:
US natural gas prices could rise by more than half and LNG exports would still match up economically against supplies from traditional shippers to Japan such as Australia, according to the International Energy Agency's head of global gas markets research.

Speaking in Sydney on Thursday, Anne-Sophie Corbeau, senior gas analyst at the Paris-based IEA, said that LNG exports from the US would be "competitive" in north Asia with US benchmark gas prices of up to $US7 per million British thermal units.

The forecast sounds a warning for producers in higher-cost supply countries such as Australia, which will face increasing competition from the many LNG export terminal projects being developed on the US Gulf Coast.

…"I don't know who is going to invest in new liquefaction projects in Australia," she said.
This is not new, or news, really, as I noted in my LNG special report four months ago:
In that event, the International Energy Agency (IEA) projects that its local gas price will rise to $7 eventually, so more projects are a reasonable bet. The IEA also reckons that the widening of the Panama Canal plus increasing efficiencies in US gasification could push its production cost component down further, meaning higher volumes are possible without rising breakeven costs.

Thus, if the US pushes its export production towards 100mpta then the IEA sees the impact on North Asian prices shown in Chart 4. Follow the solid purple line. It falls right down to the $12 breakeven point for Australian projects sometime after 2020. That's not necessarily a problem given Australian production is big enough that it can't be taken out. But it does mean that whenever the supply demand balance slips towards buyers, it is Australian LNG that will be under pressure to limit output.

In short, Australia's magnificently expensive seven represent the highest marginal cost production for LNG markets globally over the next two decades – and a constant threat to the profits of their owners.
Here's the Australian project cost curve: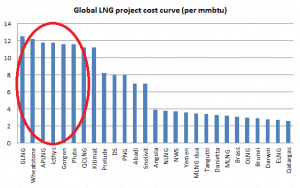 But I've seen estimates of up $14mmbtu break even for the QLD projects…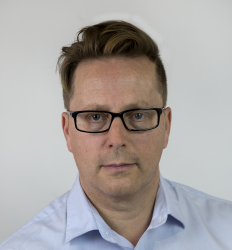 Latest posts by David Llewellyn-Smith
(see all)