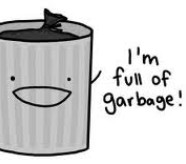 The Australian's Adam Creighton has written a good article today questioning economist's infatuation with Gross Domestic Product (GDP), which Creighton argues is next to useless as a measure of economic progress:
At best, gross domestic product is a harmless, if increasingly muddled, artefact of a bygone era; at worst it is a ruse underpinning the fallacy that bureaucrats can measure and politicians can control economic activity…

A higher divorce rate boosts payments for childcare, lawyers and paid housekeeping, so it helps GDP, as do heatwaves and wars because of their demand on power. GDP considers frivolous debt-fuelled consumption as worthy of inclusion in "economic growth" as considered long-term investment, public or private. It treats mindless government spending, valued at cost of provision, with the same reverence as individual purchases valued at prices determined by the free market.

The occasional fool even suggests natural disasters are "good for the economy" because GDP…

Proponents of GDP retort that it's not meant to be a measure of welfare. Well, what is it meant to be, then?..

The pace of technological change has made it much harder to meaningfully compare incomes or output at more distant periods of time. It's misleading to say incomes today are some multiple of their level 50 years ago, specified in dollars, when the goods and services those incomes can buy have changed so much?..

Perhaps the biggest GDP-induced disaster in recent times stems from how financial services have been included…

Pandering to vested financial interests suddenly paid political dividends for politicians keen to boost "growth". Perhaps it isn't surprising finance's share of modern economies has surged about fourfold since World War II.
Leaving aside Creighton's concerns about GDP, which are all valid, there's also the issue with economists', media's, and Government's infatuation with headline (overall) GDP, while per capita GDP is ignored.
This infatuation has led to spurious policies like the pursuit of endless population growth on the basis that it stimulates headline GDP (more inputs equals more outputs), even though it provides next to no benefits to everyone's share of the economic pie, as measured by GDP per capita (see next chart), and arguably reduces living standards of the pre-existing population.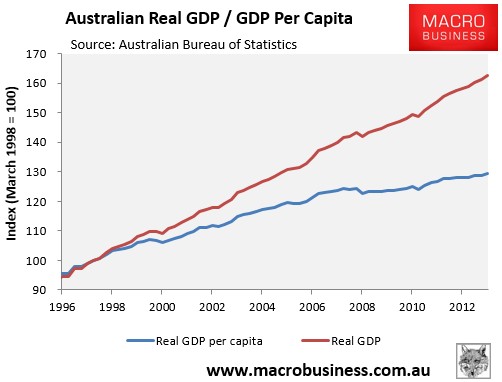 Then there is the focus on the quantity of growth in GDP, rather than the quality (and sustainability) of growth, such as the Government and RBA's never ending drive to increase house (land) prices and private debt, which creates structural imbalances and damages longer-run productivity.
Finally, there are other anomalies with GDP, as illustrated by the upcoming pick-up in the volume of commodity exports as the mining investment boom ends. The transition from the mining investment boom to an export boom will see the loss of a large number of jobs – up to 100,000 according to NAB. And yet the rising export volumes will largely offset the negative growth impact from falling mining investment, effectively supporting GDP as unemployment rises materially. Moreover, the increase in export volumes will likely lower export prices (i.e. more goods will be sold at lower prices), yet this reduction in income will not be captured in headline GDP, which only measures volumes produced within an economy.
Thankfully, the ABS is developing new ways of measuring Australia's progress, which includes a bunch of qualitative factors such as health, safety, equality, etc. Let's hope that it gains greater prominence amongst commentators and policy makers.
Latest posts by Leith van Onselen (see all)