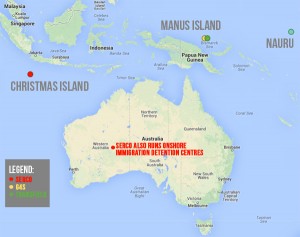 From Crikey today, for your edification and action if you believe in ethical investment, here are some profiles in brief of the managers of Australia's gulag archipelago.
G4s:
The London-based security giant had a $244.5 million contract from the Australian government to run the Manus Island camp ("operational and maintenance services"). It lost the contract a few months ago and will formally handover to Transfield in early March. G4S was in charge of the camp when Berati died, and has defended its staff and promised to co-operate with the government's investigation.

G4S employs almost 625,000 people in 125 countries…It provides guards, watches over ATMs, and works in prisons, court escort and data protection. It's a risky business; 18 staff died from "attacks" in 2012.

…The firm was placed under a criminal fraud investigation for overcharging the UK government for the cost of e-monitoring offenders.
Transfield
The large Sydney-based construction firm has just confirmed a $1.22 billion Australian government contract to run the centres on Nauru and Manus Island for 20 months. It will provide "garrison and welfare services" but not medical and counselling services, and it will contract out security to Wilson Security. Last February it was awarded a $175 million contract to run Nauru.

…The company employs 24,000 people in 11 countries, but much of its work remains in Australia, and it's listed on the ASX. It works in the United States but is scaling back in Asia. It mostly works in construction and asset management in resources, energy, industry, property and defence. It's doing a lot on coal seam gas in Queensland — installing wells and rigs — and works in iron ore, oil and gas (for Rio Tinto, Boral, Woodside, etc). Transfield has a $366 million contract with NBN Co…
Serco
…it runs the Christmas Island immigration centre (which is part of Australia) and onshore centres including Villawood in New South Wales, Curtin in Western Australia and the Darwin Airport Lodge. Note that the contract to do this expires late this year. Last year there were claims Serco had disciplined four staff on Christmas Island for having sex with detainees or drinking alcohol.

Serco is based in the United Kingdom — just over half its revenue is from Europe — although it's active in the US and Asia. It employs more than 100,000 people in 30 countries. It's a nebulous company, providing catch-all "services" to governments and private companies in many ways.

…Serco was accused of overcharging the UK government, had to repay 68.5 million pounds, and was subject to a critical government review and more allegations of poor performance. The UK government's Serious Fraud Office is investigating.
It's a charming business of which we can all be proud.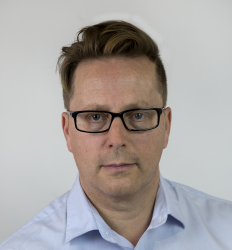 Latest posts by David Llewellyn-Smith
(see all)