See the latest Australian dollar analysis here:
Deutsche Bank has produced a study into the Australian dollar with which I completely agree as a base case for the currency and economy:
As a house DB expects the RBA to be on hold over 2014, 2015 and H1-2016. In the US we expect the Fed to start increasing the Fed Funds rate around mid-2015.

Somewhat related to the latter point we also expect a general strengthening in the USD over the coming years.

The sum of these views presents us with a somewhat dramatic conclusion for AUD/USD. Namely that it could be trading with a '6 handle' – in fact well into the 60's come end-2015.

Critically, we would view this as a benign 'collapse' in the AUD; not one sparked by a domestic or offshore 'crisis'. Of course that won't stop people constructing bearish China scenarios, or continuing to claim that Australian housing is a 'bubble'. (That latter claim is, we think, now entering its tenth year…)

Our point instead is that a much lower AUD should be considered a 'base case' and reflective of a 'central forecast'; not some 'tail risk' event.

Indeed, should the world pan out as DB expects, AUD weakness over coming years could ultimately prove to be an important element in managing the headwinds faced by Australia as the mining boom ebbs.

…Over the near-term, however, (i.e. over the next few months) we remain of the view that the risks to the AUD are to the upside, with the labour market likely to strengthen.
The key to Deutsche's forecast is a forecast narrowing in the US/Australia bond spread and thus collapse of the carry trade: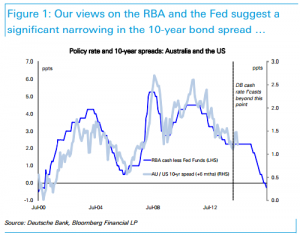 A few points to add:
readers will recognise this as one of MB's "five drivers" of Australian dollar valuation. That it is very important tells you that the RBA could have reduced the dollar any time it liked had it compressed this spread via macroprudential reform;
the risks of the very obvious housing bubble (its duration is only matched by the evolving distortions to the political-economy needed to keep it inflated) and/or a China hard landing would mean a malevolent collapse of the dollar. But that is the tail risk.
other than these points, Deutsche is spot on.
Latest posts by David Llewellyn-Smith (see all)