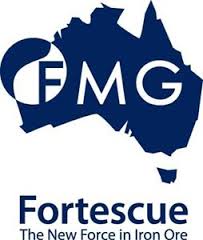 Here are the details of FMG's December QTR production report.
Record shipments of 28 million tonnes (mt) achieved in the December 2013 quarter, despite the operational impacts of

Tropical Cyclone Christine which caused a three day shutdown at the Port.

Total shipments for the half year were 53.9mt, a 51 per cent increase over the prior comparable period.

Fortescue's average realised CFR price increased to US$125 per dry metric tonne (dmt) in the December 2013 quarter indicating the continued strength of iron ore markets.

C1 costs of US$32.99 per wet metric tonne (wmt) reflect the focus on operating efficiencies, lower cost Solomon production and a lower Australian dollar.

First ore from Kings was delivered in November 2013 with operations scheduled to ramp-up to the targeted 155mtpa rate by the end of March 2014.

Debt reduction programmes commenced during the December 2013 quarter with the early voluntary redemption of A$140 million in preference shares and US$1.0 billion of Senior Unsecured Notes.

Cash balances were US$2.9 billion at the end of December 2013 due to the continued strength of operational cash flows, reduced capital outflows and customer prepayments of US$250 million.

In January 2014, a further US$1.6 billion repayment of Senior Unsecured Notes was announced and the Christmas Creek OPF finance leases were paid out.
Although FMG missed on its full year forecast for production it's C1 costs fell more than expected , which is probably why its share price rallied agressively after a 4% dump.
For me the most important point is that the production run rate will 155 million tonnes per annum by the end of March, another 40 million tones from December QTR rate.